Audi A5 and S5 (2010-2016) – fuse box
Audi A5 and S5 – fuse box diagram
Year of production: 2010, 2011, 2012, 2013, 2014, 2015, 2016.
The fuses for the cigarette lighter and power sockets on the Audi A5 and S5 are fuses in the red D fuse panel # 1 (rear center console outlet), # 2 (front center console outlet), # 3 (trunk outlet), and # 4 (Cigarette lighter) in the trunk ( 2010-2011) or fuse No.2 (brown fuse panel C) in the trunk (2013-2016).
Location of the fuse box
Instrument panel fuse boxes
They are located on the right and left side of the dashboard.
Trunk
The fuse box is located on the right side of the trunk.
Diagrams of fuse boxes
2010, 2011
Instrument panel, driver's side (left)
Fuses assignment in instrument panel (driver's side) (2010, 2011)
| Number | Description | Amperes [A] |
| --- | --- | --- |
| Black panel A | | |
| 1 | Dynamic steering | 5 |
| 2 | – | – |
| 3 | HomeLink | 5 |
| 4 | Lane assistant | 10 |
| 5 | Climate control | 5 |
| 6 | Right headlight range adjustment | 5 |
| 7 | Left headlight range adjustment | 5 |
| 8 | Vehicle electrical system control module 1 | 5 |
| 9 | Adaptive cruise control | 5 |
| 10 | Transmission | 5 |
| 11 | Heated washer nozzles | 5 |
| 12 | Climate control | 5 |
| 13 | Preparing a mobile phone | 5 |
| 14 | Airbag | 5 |
| 15 | Terminal 15 | 25 |
| 16 | Terminal 15 of the engine | 40 |
| | | |
| Brown panel B | | |
| 1 | Automatic dimming interior rearview mirror | 5 |
| 2 | – | – |
| 3 | Gasoline fuel pump | 25 |
| 4 | Auxiliary water pump 3.2L FSI | 5 |
| 5 | Left seat heating with / without seat heating | 15/30 |
| 6 | Electronic stabilization program | 10 |
| 7 | Horn | 25 |
| 8 | Left door window regulator motor | 30 |
| 9 | Wiper motor | 30 |
| 10 | Electronic stabilization program | 25 |
| 11 | Door control on the driver's side and module | 15 |
| 12 | Rain and light sensor | 5 |
| | | |
| Red panel C | | |
| 1 | – | – |
| 2 | – | – |
| 3 | Lumbar support | 10 |
| 4 | Dynamic steering | 35 |
| 5 | – | – |
| 6 | Vehicle electrical system control module 1 | 35 |
| 7 | Vehicle electrical system control module 1 | 20 |
| 8 | Vehicle electrical system control module 1 | 30 |
| 9 | Left rear window adjuster motor | 7.5 |
| 10 | Vehicle electrical system control module 1 | 30 |
| 11 | Right rear window adjuster motor | 7.5 |
| 12 | Convenient electronics | 5 |
Instrument panel, right side
(2010, 2011)
| Number | Description | Amperes [A] |
| --- | --- | --- |
| Black panel A | | |
| 1 | – | – |
| 2 | – | – |
| 3 | – | – |
| 4 | – | – |
| 5 | Steering column switch module | 5 |
| 6 | Electronic stabilization program | 5 |
| 7 | Terminal 15 diagnostic socket | 5 |
| 8 | Gateway (Databus diagnostic interface) | 5 |
| 9 | – | – |
| 10 | – | – |
| 11 | – | – |
| 12 | – | – |
| | | |
| Brown panel B | | |
| 1 | CD / DVD player | 5 |
| 2 | Audi drive select switch module | 5 |
| 3 | MMI / Radio | 5/20 |
| 4 | Instrument cluster | 5 |
| 5 | Gateway (instrument cluster control module) | 5 |
| 6 | Ignition lock | 5 |
| 7 | Rotary light switch | 5 |
| 8 | Air conditioning blower | 40 |
| 9 | Steering column lock | 5 |
| 10 | Climate control | 10 |
| 11 | Terminal 30 diagnostic socket | 10 |
| 12 | Steering column switch module | 5 |
Trunk
(2010, 2011)
Number
Description
Amperes [A]
Black panel B
1
Top control module power supply
10
2
Trailer control module
15
3
Trailer control module
20
4
Trailer control module
20
5
Electromechanical parking brake
5
6
Electronic damping control
15
7
Electromechanical parking brake
30
8
Vehicle electrical system control module 2
30
9
Quattro Sport
35
10
Vehicle electrical system control module 2
30
11
Vehicle electrical system control module
20
12
Terminal 30
5
Brown panel C
1
Trunk lid control module;

Vehicle electrical system control module.

30
2
Right front seat heating
15
3
DC DC converter path 1
40
4
DC DC converter path 2
40
5
–
–
6
Right upper cabin heating
30
7
Electromechanical parking brake
30
8
Rear seat heating
30
9
Passenger's door control module
30
10
Left upper cabin heating
30
11
Passenger's door control module
15
12
–
–
Red panel D
1
Rear center console output
15
2
Front center console outlet
15
3
Trunk outlet
15
4
Lighter
15
5
V6FSI
5
6
Rear seat entertainment delivery
5
7
Parking system
7.5
8
–
–
9
Electromechanical parking brake switch
5
10
Audi side assistant
5
11
Rear seat heating
5
12
Terminal 15 control modules
5
Black panel E
1
–
–
2
–
–
3
DSP amplifier;

Radio.

30/20
4
MMI
7.5
5
Preparation of radio / navigation / mobile phone
7.5
6
Rear camera
5
7
–
–
8
–
–
9
–
–
10
–
–
11
–
–
12
–
–
2013, 2014, 2015, 2016
Instrument panel on driver's side (left cockpit)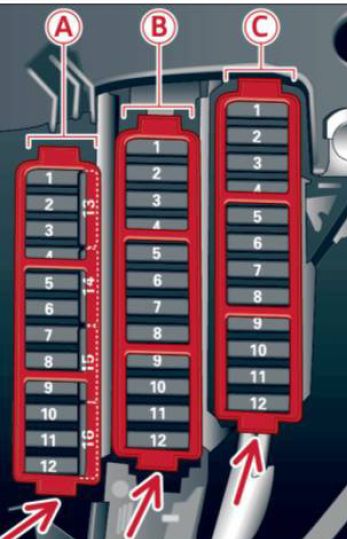 Number
Description
Amperes [A]
Black panel A
1
Dynamic steering
5
2
Electronic Stabilization Control (module)
5
3
Air conditioning pressure sensor;

Electromechanical parking brake;

Homelink;

Auto-dimming interior rear-view mirror;

Air quality sensor;

Outdoor air sensor;

Electronic stabilization control (button).

5
4
–
–
5
Sound actuator
5
6
Headlight range control / front light (cornering light)
5 / 7.5
7
Headlight (cornering light)
7.5
8
Control modules (electromechanical parking brake, shock absorber, quattro sport);

DCDC converter.

5
9
Adaptive cruise control
5
10
Gear shift / clutch sensor
5
11
Side help
5
12
Headlamp range control;

Parking system.

5
13
Airbag
5
14
Rear wiper ( allroad )
15
15
Auxiliary fuse (instrument panel)
10
16
Auxiliary fuse terminal 15 (engine area)
40
Brown panel B
1
–
–
2
Brake light sensor
5
3
Fuel pump
25
4
Clutch sensor
5
5
Left seat heating with and without seat ventilation
15/30
6
Electronic stabilization control (electric)
5
7
horn
15
8
Left front door (window regulator, central lock, mirror, switch, lighting)
30
9
Windshield wiper motor
30
10
Electronic stabilization control (valves)
25
11
Two-door models:

left rear window regulator;

Four-door models:

rear left door (window regulator, central lock, switch, lighting).

30
12
Rain and light sensor
5
Red panel C
1
–
–
2
–
–
3
Lumbar support
10
4
Dynamic steering
35
5
Interior lighting (Cabriolet)
5
6
Windshield washer system;

Headlight washer system.

35
7
Vehicle electrical system control module 1
20
8
Vehicle electrical system control module 1
30
9
Left rear window (Cabriolet) / sunroof adjuster motor
7.5 / 20
10
Vehicle electrical system control module 1
30
11
Right rear window adjuster (Cabriolet sunshade motor)
7.5 / 20
12
Anti-theft alarm warning system
5
Instrument panel, right side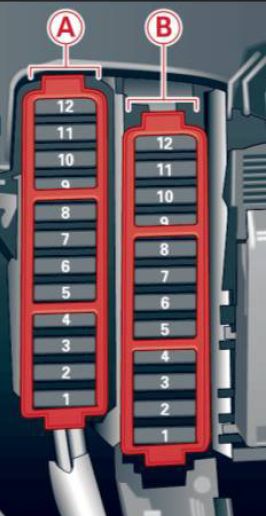 | Number | Description | Amperes [A] |
| --- | --- | --- |
| Black carrier A | | |
| 1 | – | – |
| 2 | – | – |
| 3 | – | – |
| 4 | – | – |
| 5 | Steering column switch module | 5 |
| 6 | – | – |
| 7 | Terminal 15 diagnostic socket | 5 |
| 8 | Gateway (Databus diagnostic interface) | 5 |
| 9 | Additional heater | 5 |
| 10 | – | – |
| 11 | – | – |
| 12 | – | – |
| | | |
| Brown panel B | | |
| 1 | CD / DVD player | 5 |
| 2 | Wi-Fi | 5 |
| 3 | MMI / Radio | 5/20 |
| 4 | Instrument cluster | 5 |
| 5 | Gateway (instrument cluster control module) | 5 |
| 6 | Ignition lock | 5 |
| 7 | Light switch | 5 |
| 8 | Air conditioning blower | 40 |
| 9 | Steering column lock | 5 |
| 10 | Air conditioning system | 10 |
| 11 | Terminal 30 diagnostic socket | 10 |
| 12 | Steering column switch module | 5 |
Trunk
Number
Description
Amperes [A]
Black panel A
1
–
30
2
Rear window heating (convertible)
30
3
Top Power Latch (Convertible)
30
4
Top hydraulics (Cabriolet)
50
Black panel B
1
Trunk lid control module (AllRoad);

Top Power Control Module (Cabriolet).

30/10
2
Retractable rear spoiler (RS 5 Coupe)
10
3
–
–
4
–
–
5
Electromechanical parking brake
5
6
Electronic damping control
15
7
Electromechanical parking brake
30
8
Rear exterior lighting
30
9
Quattro Sport
35
10
Rear exterior lighting
30
11
Central lock
20
12
Terminal 30
5
Brown panel C
1
Trunk lid control module (allroad)
30
2
12V socket;

Lighter.

20
3
DC DC converter path 1
40
4
DCDC 2 converter path;

DSP amplifier;

Radio.

40
5
Right upper cab heating (Cabriolet)
30
6
–
–
7
Electromechanical parking brake
30
8
–
–
9
Right front door (window regulator, central lock, mirror, switch, lighting)
30
10
Left upper cabin heating (Cabriolet)
30
11
Two-door models:

right rear window regulator;

Four-door models:

rear right door (window regulator, central locking, switch, lighting).

30
12
Preparing a mobile phone
5
Black panel E
1
Right front seat heating
15
2
–
–
3
–
–
4
MMI
7.5
5
Radio
5
6
Rear camera
5
7
Rear window heating (allroad)
30
8
Rear Seat Entertainment
5
9
–
–
10
–
–
11
–
–
12
–
–