Audi A5 and S5 (2021-2022) – fuse and relay box
Diagrams of fuse and relay boxes – Audi A5 and S5
Applies to vehicles manufactured in the years:
2021, 2022.
Driver / front passenger footwell
The fuses are located in the footwell under the footrest (left-hand drive vehicle) or behind the hood (right-hand drive vehicle).
Left-hand drive vehicles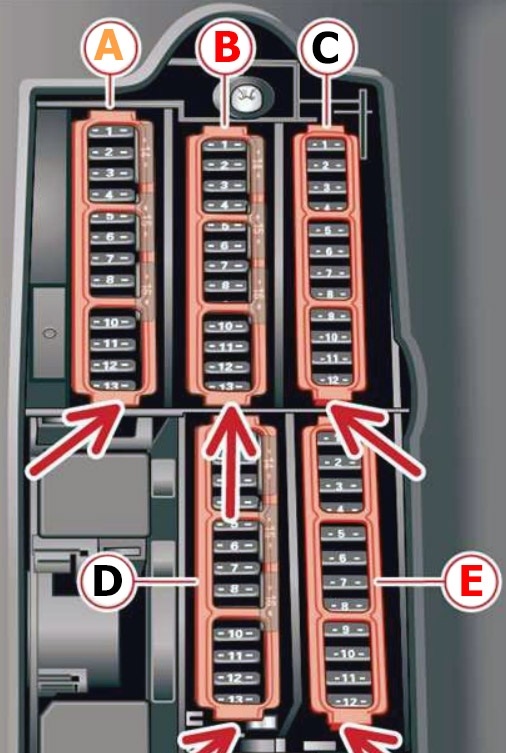 Right-hand drive vehicles
Number
Description
Fuse panel A (brown)
1
Catalyst heating
2
Engine components
3
Exhaust doors;

Fuel injectors;

An air inlet;

Engine heating.

4
Vacuum pump;

Hot water pump;

NOx sensor;

Particulate sensor;

Biodiesel sensor;

Exhaust doors.

5
Brake light sensor
6
Engine valves;

Camshaft adjustment.

7
Heated oxygen sensors;

Mass air flow sensor;

The water pump.

8
Water pump;

High pressure pump;

High pressure regulator valve;

Temperature valve;

Engine mount.

9
Hot water pump;

Engine relay;

48V starting generator;

48V water pump.

10
Oil pressure sensor;

Oil temperature sensor.

11
Clutch position sensor;

48 V starter;

The water pump;

Starter 12 V.

12
Engine valves;

Engine mount.

13
engine cooling
14
Fuel injectors;

Powertrain control module.

15
Ignition coils;

Heated lambda sensors.

16
Fuel pump
Fuse panel B (red)
1
Anti-theft alarm system
2
Powertrain control module
3
Left front seat electronics;

Lumbar support;

Massage chair.

4
Gear selector, automatic transmission
5
Horn
6
Parking brake
7
Diagnostic interface
8
Roof electronics control module
9
Emergency call and communication control module
10
Airbag control module
11
Electronic Stability Control (ESC);

Anti-lock Braking System (ABS).

12
Diagnostic connection;

Light / rain sensor.

13
Air conditioning system
14
Right front door control module
15
Air conditioning system compressor
16
Brake system pressure reservoir;

Warming the left neck.

Fuse panel C (black)
1
Front seat heating
2
Wipers
3
Left headlight electronics
4
Panoramic glass sunroof
5
Left front door control module
6
12 V socket
7
Right Rear Door Control Module;

Right rear power window.

8
All-wheel drive control module
9
Right headlight electronics
10
Windshield washer system / headlamp washer system control module
11
Left Rear Door Control Module;

Left rear power window.

12
Auxiliary heating
Fuse panel D (black)
1
Front seat electronics;

Seat ventilation;

Rearview mirror;

Air conditioning control panel at the rear;

Neck heating;

Front passenger airbag warning lamp;

Diagnostic connector.

2
Diagnostic interface;

Vehicle electrical system control module.

3
Sound generator
4
Clutch position sensor
5
Engine start;
Emergency shutdown.
6
Diagnostic connection;

Traffic Information (TMC) antenna.

7
USB connection
8
Garage door opener
9
Adaptive cruise control by Audi;

Adaptive distance adjustment.

11
Front camera
12
Right headlight
13
Left headlight
14
Transmission fluid cooling
Fuse panel E (red)
1
Ignition coils
2
Air conditioning system compressor
5
Left headlight
6
Automatic gearbox
7
Instrument panel
8
Air conditioning blower
9
Right headlight
10
Dynamic steering
11
Engine start
Instrument panel
Additional fuses are located at the front of the cockpit (driver's side).
Number
Description
1
Convenient access and commissioning of the authorization control module
2
Phonebox Audi ;

USB connection.

4
Head-up display
5
Audi music interface ;

USB connection.

6
Front air conditioning system control panel
7
Steering column lock
8
Central display
9
Instrument cluster
10
Volume control
11
Light switch, switch module
12
Steering column electronics
14
Information and entertainment system
16
Steering column electronics;

Steering wheel heating.
Trunk
The fuses are located under the left cover in the trunk.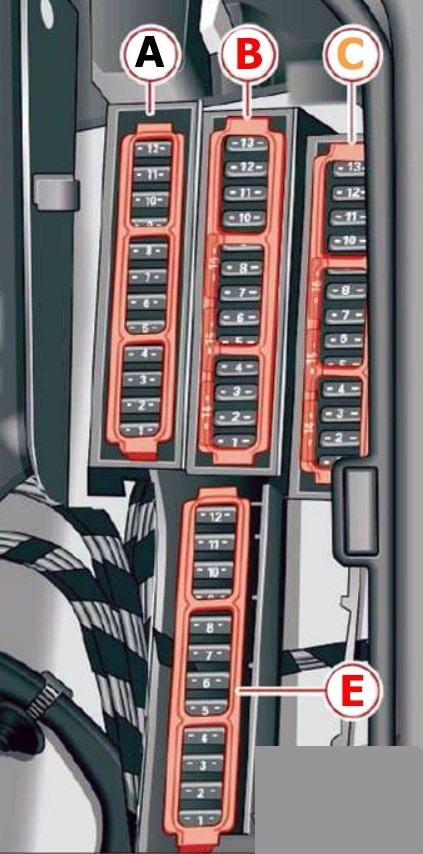 Number
Description
Fuse panel A (black)
2
Windshield defroster
3
Windshield defroster
5
Suspension control
6
Automatic gearbox
7
Rear window defogger
8
Rear seat heating
9
Left rear lights
10
Airbag;

Driver's seat belt pretensioner control module.

11
Trunk lid lock;

Fuel filler door lock;

Comfort system control module.

12
Trunk lid
Fuse panel B (red)
6
Electric compressor
Fuse panel C (brown)
1
External antenna
2
Phonebox Audi ;

Seat belt microphone.

3
Right front seat electronics;

Lumbar support;

Massage chair.

4
Belt assistant
6
Interior monitoring;

Anti-theft alarm system;

Tire pressure monitoring system.

7
Convenient access and commissioning of the authorization control module
8
Parking heating;

Tank module.

9
Top power control module
10
TV tuner;

Data exchange;

Telematics control module.

11
Auxiliary battery control module
12
Garage door opener
13
Reversing camera, peripheral cameras
14
Right rear lights
16
2021: Airbag control module;

2022: Airbag, front passenger seat belt pretensioner control module.

Fuse panel E (red)
1
Warming the right neck
3
Exhaust gas treatment
4
Top power control module
5
Right trailer hitch lamp
7
Towbar
8
Left trailer hitch lamp
9
Trailer hitch socket
10
All-wheel drive control module;

Sports differential.

11
Exhaust gas treatment