Audi e-tron (2019-2020) – fuse box
Audi E-Tron
(2019-2020) – fuse box diagram
Year of production: 2019, 2020.
Passenger compartment
The fuse panel is located behind a cover in the passenger footwell.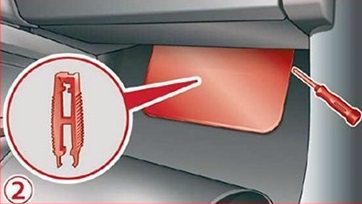 Front compartment
The fuses are on the right side of the front compartment.
Trunk
The fuse box is located behind a cover under the boot mat on the left side of the rear compartment.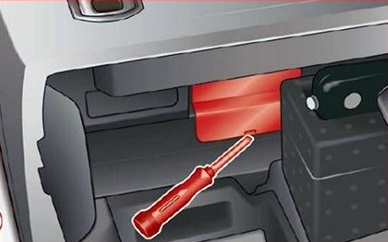 Fuse box diagrams
Passenger compartment fuse box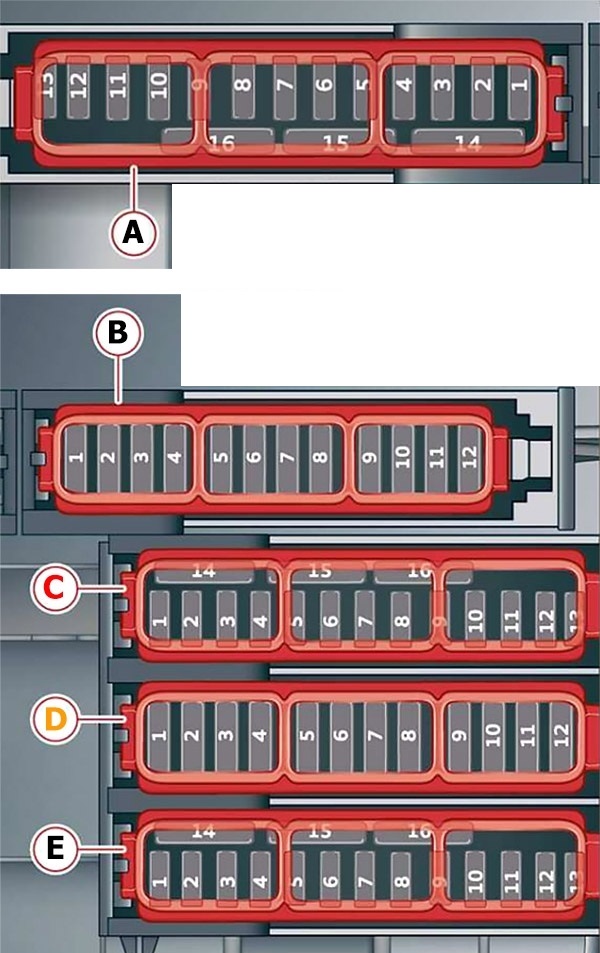 * On right-hand drive vehicles this is a mirror image.
Assignment of fuses in the passenger footwell (2019)
| Number | Description |
| --- | --- |
| | Fuse panel A (black) |
| A1 | Not used |
| A2 | Not used |
| A3 | Air conditioning system, fragrance system, ionizer |
| A4 | Head-up display |
| A5 | Audi music interface |
| A6 | CD / DVD drive, instrument panel |
| A7 | Steering column lock |
| A8 | MMI display on the front |
| A9 | Instrument cluster |
| A10 | Volume control |
| A11 | Light switch, switch panels |
| A12 | Steering column electronics |
| A13 | Not used |
| A14 | Not used |
| A15 | Steering column adjustment |
| A16 | Steering column electronics |
| | |
| | Fuse panel B (black) |
| B1 | Front seat heating |
| B2 | Climate control system |
| B3 | Left headlight electronics |
| B4 | Panoramic glass sunroof |
| B5 | Left front door control module |
| B6 | Sockets |
| B7 | Not used |
| B8 | Instrument panel |
| B9 | Right headlight electronics |
| B10 | Windscreen washers / headlamp washers |
| B11 | Not used |
| B12 | Parking lock |
| | |
| | Fuse panel C (red) |
| C1 | Anti-theft alarm system |
| C2 | Powertrain control module |
| C3 | Emergency call system |
| C4 | Gear stick |
| C5 | Corner |
| C6 | Parking brake |
| C7 | High voltage battery, battery monitoring control module |
| C8 | Interior headlining lighting |
| C9 | Not used |
| C10 | Airbag control module |
| C11 | Front left lumbar support |
| C12 | Diagnostic connector, light / rain sensor |
| C13 | Not used |
| C14 | Right front door control module |
| C15 | Air conditioning system, body electronics |
| C16 | Air conditioning blower |
| | |
| | Fuse panel D (brown) |
| D1 | Not used |
| D2 | Front right seat belt pretensioner |
| D3 | Not used |
| D4 | Left front seat belt pretensioner |
| D5 | Pneumatic suspension |
| D6 | Right headlight |
| D7 | Left headlight |
| D8 | Left Rear Door Control Module |
| D9 | Right rear door control module |
| D10 | MMI Infotainment system control module |
| D11 | Driver assistance systems control module |
| D12 | Gate control module (diagnostics) |
| | |
| | Fuse panel E (black) |
| E1 | Front seat ventilation, rearview mirror, diagnostic port |
| E2 | Sockets |
| E3 | External sound / internal sound |
| E 4 | Not used |
| E5 | Not used |
| E6 | Not used |
| E7 | Active accelerator pedal |
| E8 | Night vision assistant |
| E9 | Adaptive cruise assistant |
| E10 | Not used |
| E11 | Intersection assistant, driver assistance systems |
| E12 | Not used |
| E13 | Not used |
| E14 | Not used |
| E15 | Not used |
| E16 | Rear Seat Entertainment |
Front compartment fuse box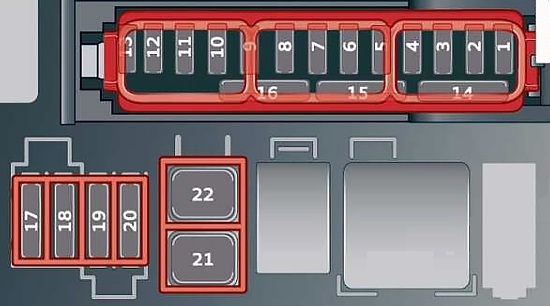 Fuse Assignment in Front Compartment (2019)
| Number | Description |
| --- | --- |
| 1 | Charging port door |
| 2 | Air conditioning compressor |
| 3 | Not used |
| 4 | Not used |
| 5 | Charging system |
| 6 | Not used |
| 7 | Electric engine |
| 8 | Not used |
| 9 | Not used |
| 10 | Voltage converter |
| 11 | Charging system |
| 12 | Not used |
| 13 | Thermal management |
| 14 | Windshield wiper control module |
| 15 | High voltage water pump with battery |
| 16 | Wipers |
| 17 | Thermal management |
| 18 | Thermal management |
| 19 | Thermal management |
| twenty | Not used |
| 21 | Not used |
| 22 | Electronic stabilization control (ESC), thermal management |
Luggage compartment fuse box
Assignment of fuses in the trunk (2019)
| Number | Description |
| --- | --- |
| | Fuse panel (A) (black) |
| A1 | Towbar |
| A2 | Not used |
| A3 | Passenger's rear seat belt pretensioner |
| A4 | Driver's side rear seat belt pretensioner |
| A5 | Trailer hitch socket |
| A6 | Lighting of the left trailer hitch |
| A7 | Not used |
| A8 | Rear seat heating |
| A9 | Rear lights |
| A10 | Not used |
| A11 | Central locking, rear roller blind |
| A12 | Trunk lid |
| | |
| | Fuse panel B (black) |
| B1-B16 | Not assigned |
| | |
| | Fuse panel C (black) |
| C1 | Driver assistance systems control module |
| C2 | Telephone, roof antenna |
| C3 | Right front lumbar support |
| C4 | Side assistant |
| C5 | Service Disconnect |
| C6 | Tire pressure monitoring system |
| C7 | Internal air conditioning |
| C8 | Not used |
| C9 | Air conditioning control panel at the rear |
| C10 | Not used |
| C11 | Vehicle Opening / Starting (NFC) |
| C12 | Garage door opener |
| C13 | Reversing camera, peripheral cameras |
| C14 | Rear lights |
| C15 | Right trailer hitch light |
| C16 | Not used |