BMW 1 F40 (2019-…) – fuse box
BMW 1 F40 – fuse box diagram
Year of production: 2019, 2020, 2021.
The cigarette lighter fuses (power socket) on the BMW 1 F40 are fuses 62, 56, 65, 86 in the fuse box.
Fuse allocation and symbols
The fuse boxes for the BMW 1 F40 are located in the cargo area and in the passenger compartment. Fuse numbers related to the fuse meaning.
Check the meaning of the BMW symbols (link)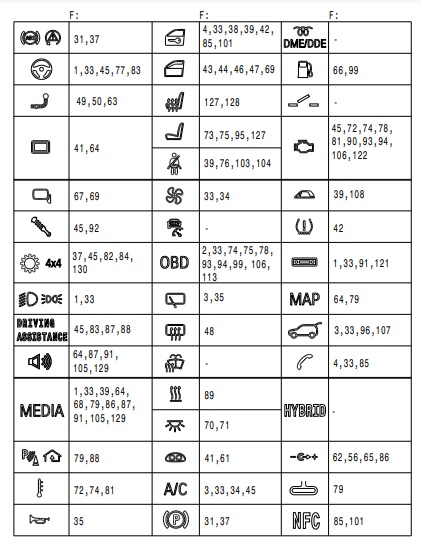 LIN module current distributor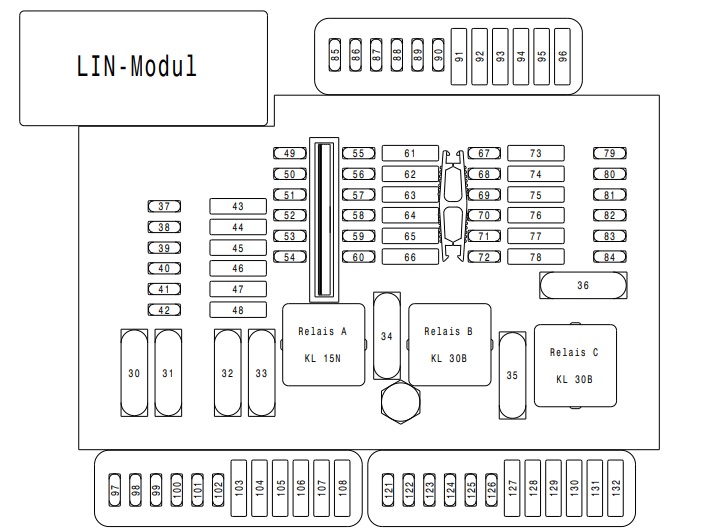 Amperes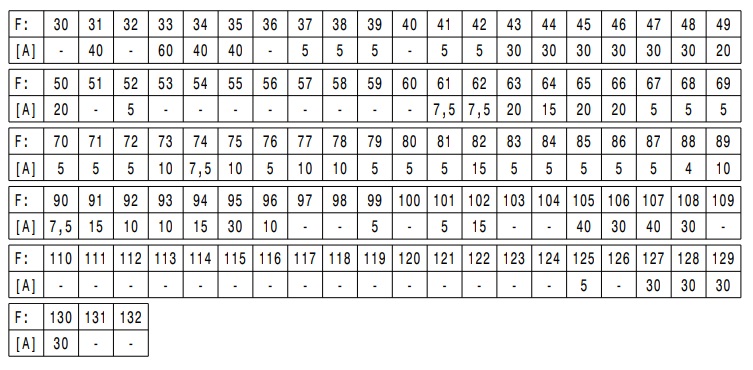 Body Domain Controller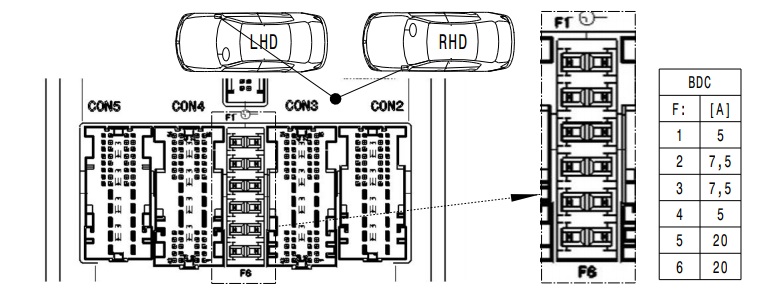 Meaning of the BMW fuse symbols
The list will be updated on a regular basis. If you have any suggestions, leave a comment or write an e-mail!
No.
Symbol
Description
1
ABS (anti-lock brake system),DSC (dynamic stability control)
2
Steering column function control module
3
Trailer module, tow bar
4
Head-Up Display (HUD)
5
START-STOP system
6
Electric mirrors
7
Air suspension system
8
Transmission;DSC – dynamic stability control;

SMG – Sequential Manual Gearbox.


9
Headlamps;Rain sensor;

Light sensor;

Electronic ride height control.

10
Light module
11
CD changer;Can Gateway module.
12
Alarm
13
Parking sensors;

Home link (garage door opener)

14
Electric fan
15
horn
16
Door module;Automatic soft closing.
17
Electric windows
18
Heated seats
19
Seat adjustment

twenty
Seatbelts
21
OBD
22
Heating;

Independent parking heater.

Windshield heating.

23
Cruise control
24
Rear wiper relay
25
Rear window defogger (heated rear window)
26
Washer fluid heater

27
Fan
28
Interior lights
29
Instrument cluster;Meter.
30
Air conditioning system
31
DDE
Digital Diesel Electronics (DDE)

32
Fuel pump relay;Fuel pump control.
33
DME – Digital Engine Electronics;Integrated voltage module – IVM.
34
BDC (Body Domain Controller)
35
HiFi amplifier;TV tuner;

Video module.

Radio (?).

36

Tire pressure check RDV

37

Windscreen washers

38
Headlight washing system
39
Sunroof;Panoramic glass;

Convertible top module.

40
Telephone

41
Convertible top module;Convertible relay.
42
Front and rear cigarette lighter;12V socket;

Clipboard charging socket (12V).

43
Parking brake
44
Trunk lid (tailgate) lock;Automatic tailgate closing.
45
Electric rear sun visor (for BMW F60 M5)
46
Dynamic drive system
47
4-wheel drive
48
START-STOP system
49
USB
50
Hybrid system
51
Sound system
52
Electrochromic rearview mirror
53
Air suspension compressor relay