Cadillac Escalade GMT900 (2007-2014) – fuse and relay box
Diagrams of fuse and relay boxes – Cadillac Escalade GMT900
Applies to vehicles manufactured in the years:
2007, 2008, 2009, 2010, 2011, 2012, 2013, 2014.
Instrument panel fuse box
The fuse block access door is located on the edge of the dash on the driver's side. Remove the cover to access the fuse block.
Fuse
Description
LT DR
Driver's side window switch
REAR SEAT
Backseats
AUX PWR2
Power sockets in the rear cargo area
SWC BKLT
Steering wheel control illumination
DDM
Driver's door module
CTSY
Dome lamps, driver's side indicator
LT STOP TRN
Driver's side indicator, brake light
DIM
Instrument panel illumination
RT STOP TRN
Passenger side indicator, brake light
BCM
Body control module
UNLCK2
Powered door lock 2 (unlock function)
LCK2
Powered door lock 2 (lock function)
STOP LAMPS
Stop lamps, height-mounted stop lamp
REAR HVAC
Rear air conditioning control
PDM
Passenger door module, universal home remote control system
AUX PWR
Accessory power sockets
IS LPS
Internal lamps
UNLCK1
Powered door lock 1 (unlock function)
OBS DET
Ultrasonic rear parking assist, lifting tailgate
LCK1
Powered Door Lock 1 (Lock Function)
CAP REAR
Rear wiper
COOLED SEATS
Cooled seats
DSM
Driver seat module , keyless remote keyless entry system
Harness connector
LT DR
Driver's door harness connection
BODY
Harness connector
BODY
Harness connector
Fuse block in the center instrument panel
The fuse block in the center dashboard is located under the dashboard on the left side of the steering column.
Fuse
Description
BODY 2
Body harness connector 2
BODY 1
Body harness connector 1
BODY 3
Body harness connector 3
HEADLINER 3
Headliner harness connector 3
HEADLINER 2
Headliner harness connector 2
HEADLINER 1
Headlining harness connector 1
BRAKE CLUTCH
Brake clutch harness connector
SEO / UPFITTER
Special equipment option, Upfitter harness connector
Circuit breaker
CB1
Passenger side window switch
CB2
Passenger seat switch
CB3
Driver seat switch
CB4
–
Fuse box in the engine compartment
The under hood fuse block is located in the engine compartment on the driver's side of the vehicle. Lift the cover to access the fuse / relay block.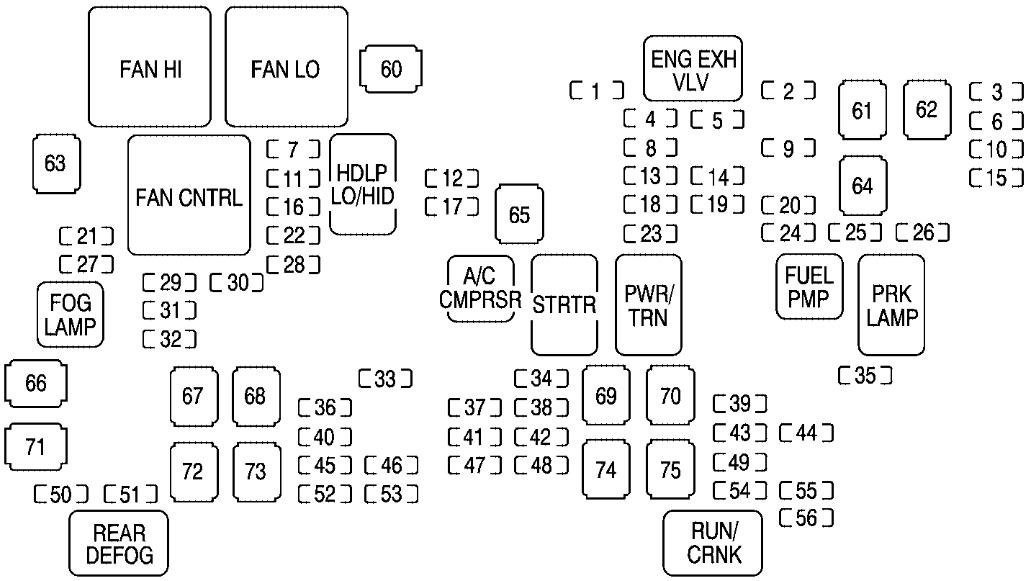 Number
Description
1
–
2
Electronic suspension stability control, automatic exhaust level control
3
Left brake / trailer direction lamp
4
Engine control
5
Engine control module, throttle control
6
Right brake / trailer direction lamp
7
Front washer
8
Oxygen sensors
9
Anti-lock braking system 2
10
Trailer reversing lamps
11
Driver high intensity discharge lamp
12
Engine control module (battery)
13
Fuel injectors, ignition coils (right side)
14
Transmission control module (battery)
15
Vehicle reversing lamps
16
High-intensity discharge lamp on the passenger side
17
Air conditioning compressor
18
Oxygen sensors
19
Transmission control (ignition)
20
Fuel pump
21
–
22
Back pad
23
Fuel injectors, ignition coils (left side)
24
Trailer parking lamps
25
Parking lamps, driver's side
26
Parking lamps on the passenger side
27
Fog lights
28
Horn
29
Passenger side high beam solenoid
30
Daytime running lamps
31
Driver's side high beam solenoid
32
–
33
Sunroof
34
Key ignition system, anti-theft system
35
Windshield wiper
36
Use of SEO B2 Upfitter (battery)
37
Electric adjustable pedals
38
Climate control (battery)
39
Airbag system (ignition)
40
Amplifier
41
Public address system
42
–
43
Miscellaneous (ignition), rear view camera (if equipped), cooled seats, cruise control
44
The tailgate is released
45
OnStar , Rear Seat Entertainment Display
46
Dashboard cluster
47
–
48
Heated steering wheel
49
Additional climate control (ignition), compass – temperature mirror
50
Rear defogger
51
Airbag system (battery)
52
Use of SEO B1 Upfitter (battery)
53
Cigar lighter, auxiliary power socket
54
Automatic compressor relay with level control, use of SEO Upfitter
55
Climate control (ignition)
56
Engine control module, secondary fuel pump (ignition)
60
Cooling fan 1
61
Automatic level control compressor
62
–
63
Cooling fan 2
64
Anti-lock braking system 1
65
Starter
66
Pin 2 (trailer brakes)
67
Left electric bus 1
68
Electric running boards
69
Heated windshield washer system
70
–
71
Pin 1 (trailer connector battery supply)
72
Medium rail central electric unit 1
73
Air conditioning blower
74
Tailgate Lift Module
75
Left electric bus 2
Relays
FAN HI
High speed cooling fan
FAN LO
Cooling fan low speed
ENG EXH VLV
–
FAN CNTRL
Cooling fan control
HDLP LO / HID
High-intensity discharge lamp
FOG LAMP
Front fog lamps
A / C CMPRSR
Air conditioning compressor
STRTR
Starter
PWR / TRN
Drive system
FUEL PMP
Fuel pump
PRK LAMP
Parking lamps
REAR DEFOG
Rear defogger
RUN / CRANK
Switchable power
Auxiliary Fuse Block (Hybrid)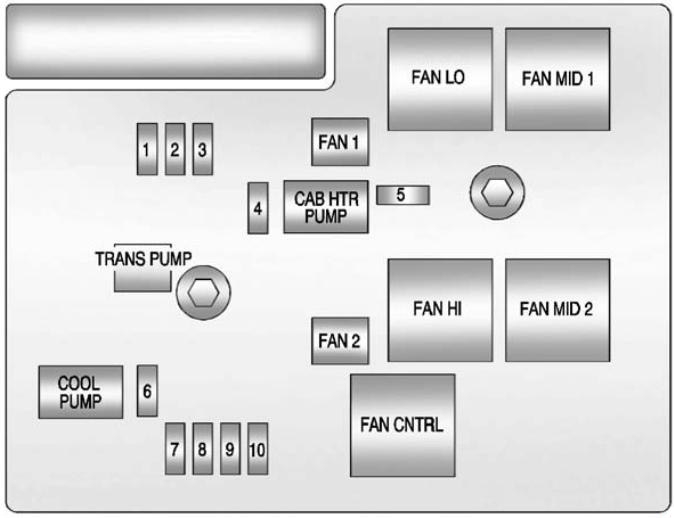 Number
Description
1
ACPO (SUV only)
2
BECM fan
3
ACCM
4
Interior heated pump
5
EMPTY
6
Radiator pump
7
EPS
8
Drive motor / generator control module 1
9
Drive motor / generator control module 2
10
BECM
J-Case
FAN 1
Cooling fan 1
TRANS PUMP
Auxiliary transmission fluid pump
FAN 2
Cooling fan 2
Relays
CAB HTR PUMP
Cabin heating pump
COOL PUMP
Coolant pump
FAN LO
Cooling fan low speed relay
FAN MID 1
Middle cooling fan 1
FAN HI
Cooling fan high speed relay
FAN MID 2
Middle cooling fan 2
FAN CNTRL
Cooling fan control