Citroën Jumpy (2007-2016) – fuse and relay box
Diagrams of fuse boxes and relays – Citroën Jumpy
Applies to vehicles manufactured in the years:
2007, 2008, 2009, 2010, 2011, 2012, 2013, 2014, 2015, 2016.
The cigarette lighter on the Citroën Jumpy is fuse 9 in the fuse box on the dashboard.
location
There are three fuse boxes:
– on the right side of the dashboard (behind the glove box, foldable)
Tilt the glove box then pull firmly to access the fuses.
– in the passenger compartment (battery compartment)
Unclip the battery compartment cover, remove the red battery clamp (+).
– under the hood.
With the hood open, move the spray washer bracket for easy access; Unclip and tilt the box to access the fuses.
Fuse box on the dashboard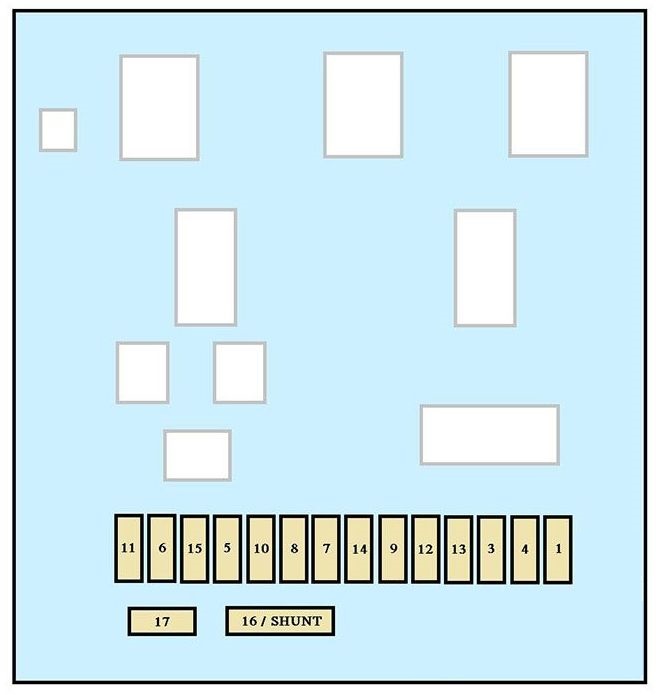 Number
Amperes [A]
Description
1
15
Rear wiper
2
–
Reserve
3
5
Airbag control unit
4
10
Steering angle sensor;

Diagnostic socket;

ESP sensor;

Manual ventilation;

Clutch switch;

Headlamp beam height;

Particulate filter pump.

5
30
Electric mirrors;

Passenger window motor.

6
30
Power front electric windows
7
5
Bedside lamps and a lamp in the glove compartment
8
20
Multifunction screen;

Anti-theft alarm siren;

Audio equipment;

CD changer;

Audio / telephone;

Trailer fuse box (accessories);

Body converter / vehicle converter (platform with cab).

9
10
Cargo space accessory socket
10
30
Rear ride height corrector;

Steering wheel switch;

Instrument panel.

11
15
Diagnostic socket;

Ignition switch.

12
15
Loudspeeker sysetm;

Airbag control unit;

Parking sensors control unit /

13
5
Engine fuse box;

Trailer fuse box.

14
15
Rain sensor;

Digital air conditioning;

Instrument panel.

15
30
Locking / unlocking / Super lock
16
–
Reserve
17
40
Heated rear window;

Heated mirrors.

17
10
Heated mirrors only
Fuses in the passenger compartment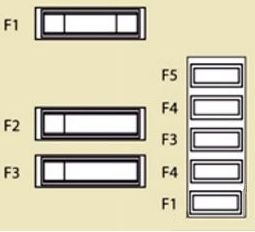 Number
Amperes [A]
Description
1
30
Heated seats
2
20 / –
Battery charge / Spare
3
40/50
Trailer fuse box (accessory);

Bodybuilder;

Vehicle modifying unit (platform with cabin).

4
–
Reserve
36
15
Hinged door locks
37
10
Hinged door locks
38
20
Rear swing door wiper
39
–
Reserve
40
5
Folding side mirrors
Fuse Box Diagram (Towing / Tow bar / Bodybuilders / Platform CAB Fuses)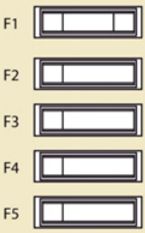 | | | |
| --- | --- | --- |
| Number | Amperes [A] | Description |
| 1 | 15 | Reserve |
| 2 | 15 | Ignition relay and optional generator |
| 3 | 15 | 12V trailer power supply |
| 4 | 15 | Permanent supply of car converters |
| 5 | 10 | Warning lights |
Fuse box in the engine compartment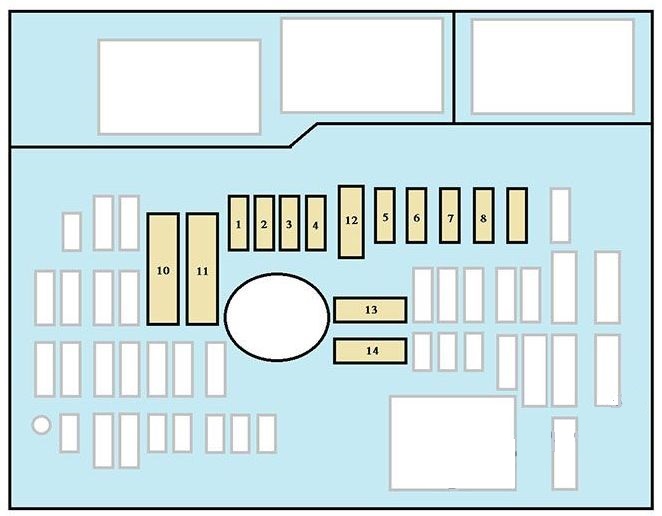 Number
Amperes [A]
Description
1
20
Motor controller;

Fuel and air supply systems;

Fan assembly.

2
15
Horn
3
10
Windshield and rear window washer pump
4
20
Headlight washer pump
5
15
Fuel supply system
6
10
Power steering;

Additional brake pedal switch.

7
10
Braking system (ABS / DSC)
8
20
Starter control
9
10
Main brake pedal switch
10
30
Fuel and air supply systems;

Emission control systems.

11
40
Front ventilation
12
30
Wipers
13
40
Built-in system interface
14
30
Reserve