Dodge Journey (2009-2010) – fuse and relay box
Scheme of fuse and relay boxes – Dodge Journey
Applies to vehicles new in years:
2009, 2010.
The cigarette lighter / sockets on the Dodge Journey are fuses M6, M7 and M36 in the fuse box in the engine compartment.
The Integrated Power Module (IPM) is located in the engine compartment near the air filter assembly.
A label identifying each item can be printed or embossed on the inside of the cover.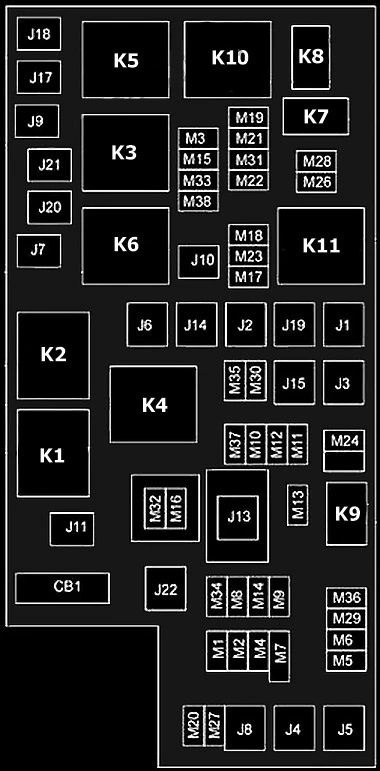 | Recess | Cartridge fuse | Mini -fuse | Description |
| --- | --- | --- | --- |
| J1 | 40 amp green | – | Electric folding seat |
| J2 | 30 Amp Pink | – | Transfer Case Module – If equipped |
| J3 | 30 Amp Pink | – | Rear door module |
| J4 | 25 Amp Natural | – | The driver's door node |
| J5 | 25 Amp Natural | – | The node of the passenger door |
| J6 | 40 amp green | – | Anti-lock Braking System (ABS) Pump / Electronic Stability Program (ESP) |
| J7 | 30 Amp Pink | – | Anti-lock Braking System (ABS) Valve / Electronic Stability Program (ESP) |
| J8 | 40 amp green | – | Seat with power memory – if equipped |
| J9 | 40 amp green | – | Flex Fuel / PZEV Engine – If equipped |
| J10 | 30 Amp Pink | – | (If equipped) Headlight Washer Relay – (BUX), Manifold Control Valve |
| J11 | 30 Amp Pink | – | (if equipped) Thatchum Stabilizer / Security (BUX) / Electric Sliding Door |
| J13 | 60 A yellow | – | Consumption After Ignition Off (IOD) Main |
| J14 | 40 amp green | – | Electric backlight (EBL) |
| J15 | 30 Amp Pink | – | Rear Blower – If equipped |
| J17 | 40 amp green | – | Starter solenoid |
| J18 | 20 A blue | – | NGC (Powertrain Control Module) / Transmission Range |
| J19 | 60 A yellow | – | Radiator fan motor |
| J20 | 30 Amp Pink | – | Windshield wiper high / low |
| J21 | 20 A blue | – | Front / rear washer |
| J22 | 25 Amp Natural | | Sunroof Module – If Equipped |
| M1 | – | 15 A blue | Center Stop Lamp High Mount (CHMSL) |
| M2 | – | 20 A yellow | Trailer Lights – If Equipped |
| M3 | – | 20 A yellow | Front / Rear Axle, AWD Mod |
| M4 | – | 10 A red | Trailer Towing – If Equipped |
| M5 | – | 25 Amp Natural | Power converter – if equipped |
| M6 | – | 20 A yellow | # 1 Power Socket / Accessory (ACC) Rain sensor |
| M7 | – | 20 A yellow | Power Socket # 2 (Choice of Battery or Accessory (ACC)) |
| M8 | – | 20 A yellow | Heated front seats – if equipped |
| M9 | – | 20 A yellow | Heated rear seats – if equipped |
| M10 | – | 15 A blue | Vanity Lamps / Speakerphone Module (HFM) – If equipped Remote Display – If equipped Satellite Digital Audio Receiver (SDARS) – If equipped Garage Door Opener (UGDO) – If equipped Toilet, Video Entertainment System (VES) ™ – If equipped |
| M11 | – | 10 A red | Automatic Temperature Control (ATC) – Under hood, if equipped |
| M12 | – | 30 A green | Radio, Amplifier (AMP) |
| M13 | – | 20 A yellow | Cab Compartment Node (CCN), Multifunction Switch / Siren Module, ITM |
| M14 | – | 20 A yellow | Trailer Towing (BUX) – If equipped |
| M15 | – | 20 A yellow | Auto-dimming rearview mirror – if equipped, infrared (IR) sensor – if equipped, multi-function switch, tire pressure monitoring system (TPMS) – if equipped, transfer case module – if equipped |
| M16 | – | 10 A red | Passenger Restraint Controller (ORC) / Passenger Classification Module (OCM) |
| M17 | – | 15 A blue | Left Parking Marker / Side Marker / Driving Light / Taillight, License Lights |
| M18 | – | 15 A blue | Right parking / side / driving / taillights |
| M19 | – | 25 Amp Natural | Automatic Power Off (ASD) # 1 and # 2 |
| M20 | – | 15 A blue | Electronic Vehicle Information Center (EVIC) – If Equipped, Interior Lighting, Steering Wheel Controls – If Equipped, Switch Unit |
| M21 | – | 20 A yellow | Auto Power Off (ASD) # 3 |
| M22 | – | 10 A red | Right horn |
| M23 | – | 10 A red | Left horn |
| M24 | – | 25 Amp Natural | Rear wiper |
| M25 | – | 20 A yellow | Fuel pump / diesel lifting pump |
| M26 | – | 10 A red | Power Mirror Switch / Driver Window Switch |
| M27 | – | 10 A red | Steering Column Lock, Wireless Ignition (WIN) / PEM |
| M28 | – | 10 A red | NGC (powertrain control module) / gearbox power (batt) |
| M29 | – | 10 A red | Passenger Classification Module (OCM) |
| M30 | – | 15 A blue | Wiper Module / Electric Folding Mirror, J1962 Diag Feed |
| M31 | – | 20 A yellow | Backup lights |
| M32 | – | 10 A red | Passenger Restraint Controller (ORC) |
| M33 | – | 10 A red | NGC (Powertrain Control Module) / TCM battery power |
| M34 | – | 10 A red | Power Assist Module, HVAC Module, Headlamp Washers, Compass Module – If Equipped, Flashlight – If Equipped, RAD Diesel Fan |
| M35 | – | 10 A red | Heated Mirrors – If equipped |
| M36 | – | 20 A yellow | Power Socket # 3 (Batteries) |
| M37 | – | 10 A red | Anti-lock brake system (ABS), Electronic Stability Program (ESP), brake light switch |
| M38 | – | 25 Amp Natural | Locking / unlocking engines |
| K1 | – | – | Ignition start / accessory relay |
| K2 | – | – | Ignition start relay |
| K3 | – | – | Starter solenoid relay |
| K4 | – | – | Ignition run / start relay |
| K5 | – | – | (NGC) Powertrain control module / PCM relay |
| K6 | – | – | Electric Illumination Relay (EBL) |
| K7 | – | – | – |
| K8 | – | – | – |
| K9 | – | – | Rear blower relay |
| K10 | – | – | ASD relay (power supply for M19 and M21) |
| K11 | – | – | Radiator fan relay low speed |