Dodge RAM 1500 (2011-2013) – fuse and relay box
Diagram of fuse and relay boxes – Dodge RAM 1500
Applies to vehicles new in years:
2011, 2012, 2013.
Diagram of the fuse box in the engine compartment
The Fully Integrated Power Module (TIPM) is located in the engine compartment near the battery. This hub includes blade fuses and mini fuses. A description of each fuse and component may be stamped on the inner cover, otherwise the bay number of each fuse is stamped on the inner cover as shown in the table below.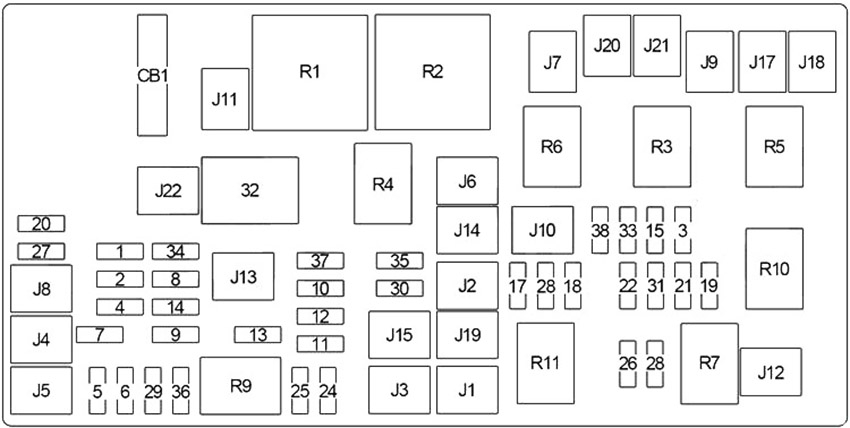 Number
Amperes [A]
Description
1
15
Stop lamp switch
2
20
–
3
thirty
except 6.7L: Powertrain control module
4
–
–
5
25
115V AC inverter
6
20
Cigar lighter (instrument panel) or power socket (front console), rain sensor
7
20
Rear power outlet or power outlet (center seat)
8
20
Front heated seat, steering wheel
9
20
Heated rear seats
10
15
Compass module, hands-free module, video screen module, satellite video module, universal garage door opener, toilet lamp
11
10
Air conditioning heating control, engine hood lamp
12
thirty
Radio, radio amplifier
13
20
Cluster, multi-function switch, steering column module, siren, tire pressure monitoring system, wireless control module
14
20
Reversing camera
15
20
Cluster, Multi-Function Switch, Steering Angle Sensor, Trailer Tow Module, Transfer Case Selector Switch, Interior Rearview Mirror, Fuel Heated Relay (6.7L), Oxygen Sensor Module, Powertrain Control Module (Except 3.7L), Module electric seat, audio telematics, daytime running light relay
16
10
Passenger restraint controller module (airbag)
17
–
–
18
15
Center stop lamp
19
25
Automatic shutdown (No.1, No.2)
20
15
Cluster, lower bank switch, upper bank switch, control module controller
21
20
Automatic switch-off (No. 3)
22
10
Horn (right)
23
10
Horn (left)
24
–
–
25
20
Gasoline: Fuel pump motor
20
Diesel: lifting pump
26
10
Driver window / door lock switch
27
10
Ignition switch
28
15
except 6.7L: Powertrain control module (PCM)
29
10
Tire pressure monitoring system
30
15
Diagnostic connector
31
20
Backup lamp switch
32
10
Passenger restraint controller module (airbag)
33
10
Powertrain control module (PCM)
34
10
A / C Heater Control, Infrared Sensor, Parking Assist Module, Radiator Fan Relay (High) (Except 6.7L), Compass Module
35
15
Left front and rear parking lamps
36
20
Power socket (front console) or cigarette lighter (instrument panel)
37
10
Stop lamp switch, ABS, dynamics sensor
38
25
Door lock relay, driver door unlock relay, passenger door unlock relay
J1
40
Tow trailer
J2
thirty
Brake protection module
J3
thirty
Diesel: Powertrain control module (PCM)
J4
25
Driver's door module
J5
25
Passenger door module
J6
40
ABS
J7
thirty
ABS
J8
40
Circuit breaker (CB1 – power socket)
J9
thirty
–
J10
thirty
Stabilizer module
J11
thirty
Transfer case module
J12
thirty
Rear window defogger
J13
60
Fuse: "10", "11", "12", "13"
J14
20
Trailer tow lamps / Parking lamps
J15
40
Front blower
J16
–
–
J17
40
Starter
J18
20
Transmission range of the powertrain control module
J19
60
Radiator Fan Relay (Low), Radiator Fan Relay (High)
J20
thirty
Wiper on / off relay
J21
20
Washer control
J22
25
Sunroof module

Circuit breaker

CB1
25
Electric seat

Relay

R1
Ignition (Run / Acc)
R2
Ignition (run)
R3
Starter
R4
Run-Start
R5
Transmission Control Module (TCM)
R6
Parking lamp
R7
EBL
R8
–
R9
Blower motor
R10
Automatic shutdown
R11
Radiator fan (low)