Dodge RAM 3500 (2013-2018) – fuse and relay box
Diagram of fuse and relay boxes – Dodge RAM 3500
Applies to vehicles new in years:
2013, 2014, 2015, 2016, 2017, 2018.
Diagram of the fuse box in the engine compartment
The Power Distribution Center is located in the engine compartment near the battery. This hub includes blade fuses, microfuses, relays and circuit breakers. A description of each fuse and component may be stamped on the inner cover, otherwise the bay number of each fuse is stamped on the inner cover as shown in the table below.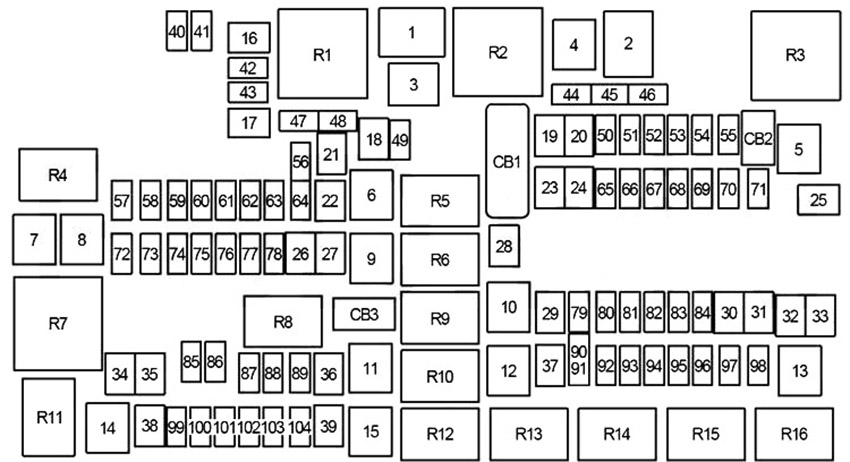 Number
Amperes [A]
Description
1
80
except 5.7L: Radiator fan control module
2
–
–
3
60
High radiator fan relay
4
–
–
5
40
Air suspension compressor
6
40
Anti-lock brake pump / Electronic Stability Control
7
40
Starter solenoid
8
20
Diesel fuel emissions
9
40
Cummins 6.7 l: fuel heater
thirty
3.0L EcoDiesel: fuel heater
10
40
Body Control Module (BCM) (Exterior Lighting # 2)
50
with Stop / Start function: Body Control Module (BCM) (Exterior Lighting No.2)
11
thirty
Integrated trailer brake module
12
40
Body Control Module (BCM) (Interior Lamps)
13
40
Blower motor
14
40
Body Control Module (BCM) (Power Locks)
15
thirty
Electric parking brake on the right
16
thirty
Smart belt
17
–
–
18
–
–
19
thirty
Cummins 6.7 l: Selective Catalytic Reduction (SCR)
20
3.0L EcoDiesel (2016-2018): Selective Catalytic Reduction (SCR)
20
thirty
Passenger door module
21
thirty
Powertrain control module
22
20
except 3.0L EcoDiesel: Powertrain Control Module (PCM)
thirty
Cummins 6.7L (2016-2018): Powertrain control module (PCM)
23
thirty
Body Control Module (BCM)
24
thirty
Driver's door module
25
thirty
Front wiper (low speed / high speed)
26
thirty
Anti-lock braking system / Stability control module (valves)
27
–
–
28
20
Towing a trailer (reversing lamps)
29
20
Towing a trailer (parking lamps)
30
thirty
Trailer tow socket
31
thirty
3.0L EcoDiesel: Heater Control Module
20
3.0L EcoDiesel: Heater Control Module
32
thirty
Powertrain control module
33
20
Cummins 6.7L: Transmission Control Module, Fuel Heater # 1, Rear Blower
20
Rear blower
34
thirty
Vehicle system interface module # 2
35
thirty
Sunroof
36
thirty
Rear window defroster
37
thirty
Cummins 6.7L: Fuel heater # 2
38
thirty
115V AC inverter
39
thirty
2014-2015: Vehicle system interface module No.1
20
Special Services (2016-2018): Power Socket
40
–
–
41
10
The active shutter of the grill
42
20
Horn
43
10
Snow plow (left)
44
10
Diagnostic connector
45
–
–
46
10
Tire pressure module, upfitter
47
10
Snow plow (right)
48
–
–
49
10
Dashboard cluster
50
20
Air suspension control module
51
10
Keyless ignition node module, radio frequency concentrator module
52
5
Intelligent battery sensor
53
20
Trailer Towing – Left Turn / Stop Lamps
54
20
Adjustable pedals
55
20
Left / right place
56
15
Diesel fuel: additional diesel fuel content
57
20
Transmission control module (8-speed automatic transmission), Powertrain module relay (6-speed automatic transmission)
58
20
Gasoline (2014-2015): Engine cooling pump
25
Cummins 6.7L (2014-2015): Engine cooling pump
59
10
2016-2018: Selective Catalytic Reduction (SCR) relay
60
15
Lamp under the hood
61
20
2014-2015: Power take-off
10
Diesel (2016-2018): PM sensor
62
10
Air conditioning clutch
63
20
Gasoline: Ignition coils
20
Cummins 6.7 l: urea heater
64
25
Fuel injectors, powertrain control module (PCM)
65
10
2014-2015: USB interface
66
10
Sunroof control module, passenger window switches, rain sensor
67
10
CD / DVD / Bluetooth hands-free module
68
–
–
69
15
Cummins 6.7 l: Selective Catalytic Reduction (SCR) module
70
thirty
Fuel pump motor
71
25
Sound amplifier
72
10
2014-2015: Voltage stabilizer modules
10
2016-2018: Powertrain control module (PCM)
73
20
HD: Fuel Transfer Pump
74
20
Gasoline, 3.0L EcoDiesel: Brake vacuum pump
10
Cummins 6.7 L (2014-2015): Vacuum brake pump
75
10
3.6L and 5.7L 8-speed A / T: Coolant temperature valve actuator
76
10
Anti-lock brake system / Electronic Stability Control
77
10
Powertrain control module, front axle disconnect module, transmission control module (3500HD)
78
10
Powertrain control module (PCM), electric power steering, intake air distribution valve (6.7L Cummins)
79
15
Marker lights
80
10
Universal garage door opener, compass module
81
20
Trailer tow turn / stop lamps to the right
82
10
Steering column control module, cruise control
83
–
–
84
15
Switch bank, instrument cluster
85
10
Airbag module
86
10
Airbag module
87
10
Air suspension control module, trailer towing module, steering column control module
88
15
Dashboard cluster
10
Dashboard cluster
89
–
–
90
20
Power socket (rear seats), customer selectable
91
92
–
–
93
20
Lighter
94
10
SBW / Shifter, Transfer Case Module
95
10
Rear view camera, parking assist, license lamps
96
10
Rear seat heating switch
97
25
Rear heated seats, heated steering wheel
98
25
Heated front seats
99
10
Air conditioning heating module, car temperature sensor, humidity sensor
100
10
Upfitters
101
15
Electrochromic mirror, intelligent high beam
102
–
–
103
–
–
104
20
Power sockets (instrument panel / center console)

Circuit breaker

CB1
25
Power Window, Power Door Lock, Backlight Power Sliding Switch
CB2
25
Driver seat, memory seat module
CB3
25
Passenger seat

Relay

R1
Radiator fan (low speed)
R2
Radiator fan (high speed)
R3
Pneumatic suspension
R4
Selective Catalytic Reduction (SCR)
R5
Auto Shutdown (Powertrain Control Module)
R6
Ignition (Launch / Accessory # 1)
R7
Starter
R8
Ignition (Run / Start)
R9
Fuel heater (No.1)
Air pump (No.2)
R10
EBL
R11
–
R12
Ignition (Run / Only No.2)
R13
Frame heater
R14
Ignition (Launch / Accessory # 2)
R15
Ignition (Run / No.1 Only)
R16
Blower motor
Additional fuse box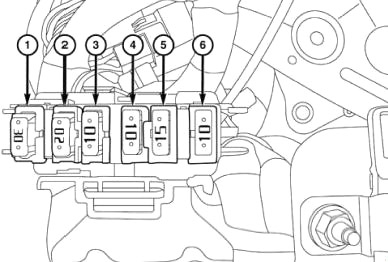 | Number | Amperes [A] | Description |
| --- | --- | --- |
| 1 | thirty | Auxiliary Switch Bank Module (ASBM), HVAC, Integrated Central Stack (ICS) |
| 2 | 20 | Integrated Trailer Brake Module (ITBM) |
| 3 | 10 | Parktronics (PTS) |
| 4 | 10 | Body Control Module (BCM) Cluster – Exterior Lighting Sources |
| 5 | 15 | Reserve |
| 6 | 10 | Radio with built-in amplifier |