Fiat Marea (1996-2003) – fuse and relay box
Diagrams of fuse and relay boxes – Fiat Marea
Applies to vehicles manufactured in the years:
1996, 1997, 1998, 1999, 2000, 2001, 2002, 2003.
The cigarette lighter in Fiat Marea is fuse number F7 in the fuse box of the dashboard.
Instrument Panel Fuse Box (No. 1)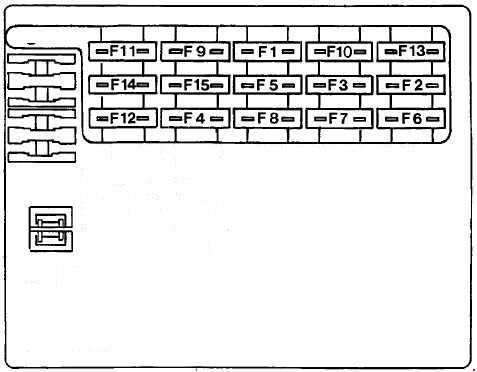 Number
Amperes [A]
Description
1
10
Brake lights;

Additional brake light;

Direction indicators;

Instrument power supply.

2
10
Right front light;

Left rear light;

Right license plate lighting;

Radio lighting;

Dimming dashboard lighting;

Side lights indicator;

Cigarette lighter lighting;

Switch panel lighting;

Automatic gearbox control lighting;

Telephone radio lighting;

Light heating / air conditioning control.

3
10
Left front position lamp;

Right rear position lamp;

Left license plate light;

Mirror control lighting.

4
10
Right dipped beam headlamp
5
10
Left dipped headlight;

Headlamp alignment corrector;

Headlight washers on.

6
10
Right high beam headlamp
7
10
Left high beam;

High beam warning lamp.

8
twenty
Central lock;

Luggage compartment lighting.

9
10
Emergency lights
10
10
Interior lighting (front and rear);

Instrument power supply;

Receiving the remote control and powering the control panel;

Power supply of the radio.

11
thirty
Heated rear window;

Evaporating mirrors.

12
thirty
Car interior air conditioning fan motor (air conditioning);

Air conditioning controller.

13
twenty
Horn
14
twenty
Windshield wiper;

Rear window wiper;

Windscreen / rear window washer;

Turning on the headlight washers.

15
twenty
Air conditioning control unit;

Vehicle interior fan motor (with heater).
Instrument Panel Fuse Panel (No. 2)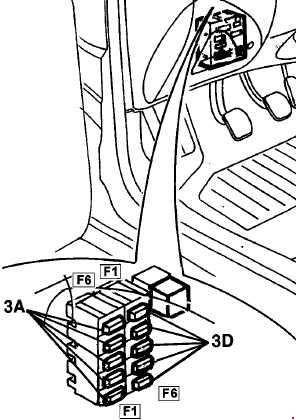 Number
Amperes [A]
Description
3А
1
7.5
Injection memory and CODE
2
7.5
Compressor and air conditioner
3
10
ABS
4
7.5
Injection and CODE
5
twenty
Headlight washers
6
7.5
Ignition-activated services (15/54)
3D
1
7.5
Ignition Activated Services (INT)
2
15
Fog lights
3
25
Rear power windows
4
25
Electric front windows
5
thirty
Sunroof;

Seats;

Cigar lighter.

6
10
Airbag
Location of relays and fuses in the car (passenger compartment)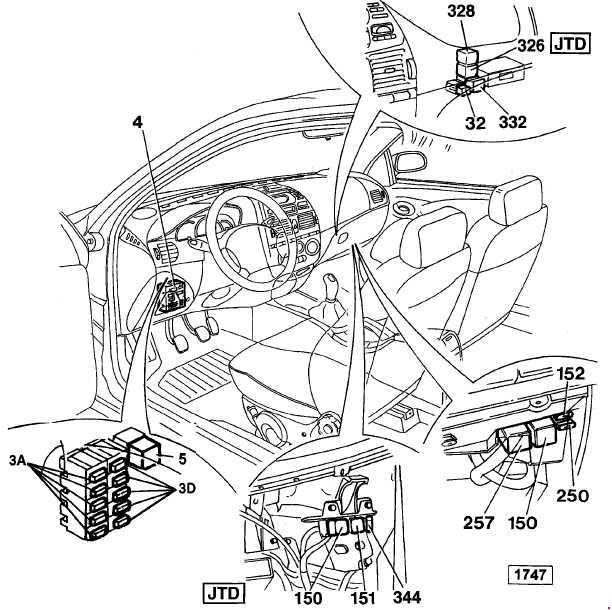 | | |
| --- | --- |
| Number | location |
| 3A / D | Additional fuse box |
| 4 | Connection unit |
| 5 | Dipped beam headlamp relay feed |
| 32 | Fog lamp control relay |
| 150 | Injection control relay (1747) (JTD) |
| 151 | Oxygen sensor control relay for fuel pump and injectors |
| 152 | Injection protection fuse (1747) (JTD) |
| 250 | Fuel pump protection fuse (1747) |
| 257 | Fuel pump control relay (1747) |
| 326 | Additional heater control unit |
| 328 | Hazard warning lamp relay |
| 332 | Ignition-activated power relay |
| 344 | Fuse i.e. (JTD) |
Fuse box in the engine compartment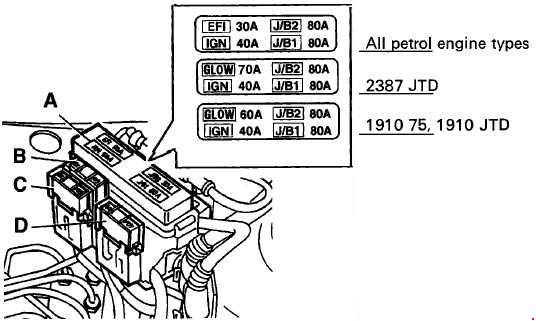 Number
Amperes [A]
Description
EFI
thirty
Petrol engine:

Electronic injection

GLOW
60
1910 75, 1910 JTD:

Plug

70
2387 JTD:

Plug

IGN
40
Ignition switch
J / B1
80
Main delivery
J / B2
60
Petrol engine:

Main power

80
Diesel engine:

Main power

B
thirty
Gasoline engine without air conditioning:

Fan

40
Engine 1242, 1581, 1747 updated. 99 with air conditioner, JTD, 1910 TD 75:

Fan

50
Engine 1747, 1998 with air conditioning:

Fan

C.
60
ABS
D
40
Second fan (TD)
E.
thirty
Electronic Injection (JTD)
Location of relays and fuses in the vehicle (bonnet – types of gasoline engines)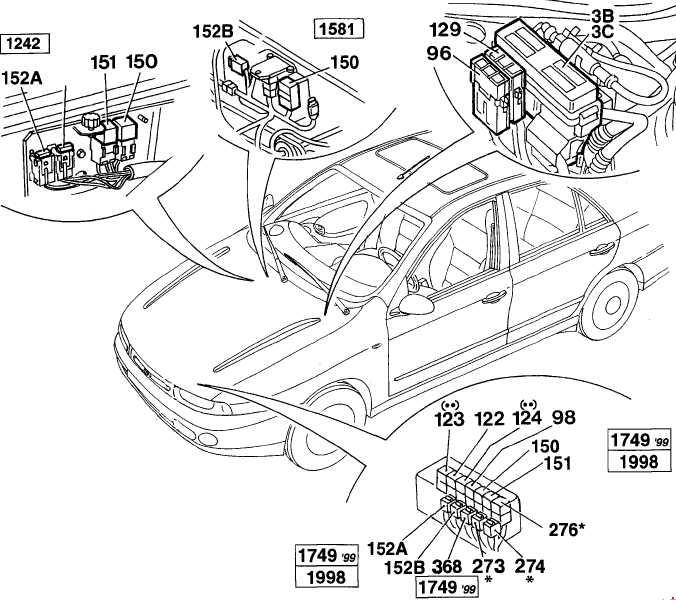 | | |
| --- | --- |
| Number | location |
| 3B-3C | Power fuse box |
| 96 | Power fuse protecting the ABS |
| 98 | Headlight washer intermittent function |
| 122 | Engine cooling fan low speed relay |
| 123 | Fast timer for the engine cooling fan |
| 124 | A / C compressor control relay |
| 129 | The power fuse protects the engine cooling fan |
| 150 | Injection relay feed |
| 151 | Oxygen sensor control relay for fuel pump and injectors |
| 152 | Injection system protection fuse |
| 152A | Injection system protection fuse |
| 152B | Injection system protection fuse |
| 273 | The fuse that protects the automatic transmission system |
| 274 | The fuse that protects the automatic transmission system |
| 276 | Starter enable relay |
| 368 | Relay diode for controlling the injection system |
Location of relays and fuses in the vehicle (bonnet – types of diesel engines)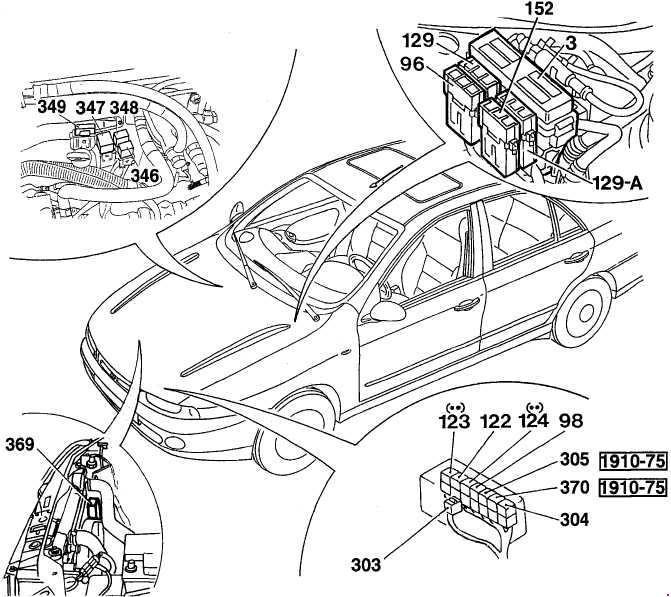 | | |
| --- | --- |
| Number | location |
| 3A / D | Additional fuse box |
| 4 | Connection unit |
| 5 | Dipped beam headlamp relay feed 32 Fog lamp control relay |
| 150 | Injection control relay (1747) (JTD) |
| 151 | Oxygen sensor control relay for fuel pump and injectors |
| 152 | Injection protection fuse (1747) (JTD) |
| 250 | Fuel pump protection fuse (1747) |
| 257 | Fuel pump control relay (1747) |
| 326 | Additional heater control unit |
| 328 | Hazard warning lamp relay |
| 332 | Ignition-activated power relay. |
| 344 | Fuse i.e. (JTD) |