Ford Bronco (1992-1996) – fuse and relay box
Diagrams of fuse and relay boxes – Ford Bronco
Applies to vehicles manufactured in the years:
1992, 1993, 1994, 1995, 1996.
The cigarette lighter (sockets) is provided by fuses 9 and 16 in the fuse box of the instrument panel.
Fuse box in passenger compartment
Location of the fuse box
The fuse panel is located behind a cover on the left side of the handlebar.
The scheme of the fuse box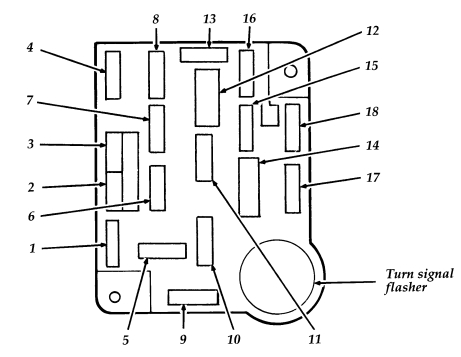 Arrangement of fuses in the instrument panel
Number
Amperes [A]
Description
1
30A
Heater / air conditioner blower
2
30A
Windshield washer;

Automatic switch:

interval wiper / pad.

3
–
Not used
4
15A
Outdoor lamps;
instrument lighting;
Keyless Entry;
Warning buzzer / chime module
5
10 A.
Airbag limiter
6
15A
Air conditioner clutch;
Remote / keyless entry
7
15A
Rear window defrosting;
Turn on the lamps
8
15A
Courtesy / lamp;
Electric exterior mirrors;
Engine compartment light;
Keyless Entry;
Speedometer;
Mirror illumination in the sun visor;
Warning buzzer / chime module
9
25A
Power point
10
4A
Instrument lighting
11
15A
Radio;
Radio display dimmer
12
20A / 30A (circuit breaker)
4-wheel drive electronic gearshift;
Electric door locks;
Lumbar power;
Electric window in the tailgate
13
15A
Anti-lock brakes;
Brake shift lock;
Speed ​​control;
Stop / hazard lamps;
Stop feel for electronic engine control
14
20A (circuit breaker)
Electric windows;
Electric window in the tailgate:
Switch in the instrument panel
15
–
Not used
16
15A
Lighter
17
10 A.
Electronic transmission;
pointers;
Tachometer;
Warning buzzer / chime module;
Warning indicators
18
10 A.
Airbag restraint;
Automatic day / night mirror;
Brake shift lock;
Electronic gear shift module 4-wheel drive;
Suspended console;
Speedometer
Fuse box in the engine compartment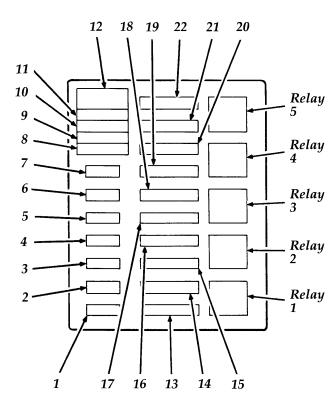 Number
Amperes [A]
Description
1
20A
The power of sound
2
15A or 30A
Anti-lock brakes (30 A) or fog lamp relay (15 A)
3
30A
Sign headlight for passage;
Daytime running lights (Canada only);
Horn;
Speed ​​control
4
25A
Trailer reversing lamps;
Lamps for driving on a trailer
5
15A
Anti-lock brakes;
Backup lamps;
Daytime Running Lamp (DRL) Module (Canada only);
Speed ​​control;
Trailer battery charging relay
6
10 A.
Right brake light / trailer direction
7
10 A.
Left brake light / trailer direction
8
30A max
Anti-lock brakes
9
max. 20A
Fuel pump relay coil;
Drive system control system
10
max. 20A
Distribution board fuses: 15.18;
Starter relay coil
11
–
Not used
12
Diode
Powertrain control system relay
13
max. 50A
Instrument panel fuses: 5,9,13
14
30A max
Rear window defroster
15
max. 50A
Distribution board fuses: 1, 7;
Network box: fuse 5
16
max. 20A
Fuel pump supply
17
max. 50A
Alternator charge lamp;
Distribution board fuses: 2, 6, 11,14,17;
Network box: fuse 22
18
30A max
Trailer battery charging
19
max. 40A
Headlights
20
max. 50A
Instrument panel fuses: 4, 8, 12, 16
21
30A max
Trailer brake supply
22
max. 20A
Distributor pick-up;
The ignition coil;
Powertrain control relay coil;
Integrated thick film module (TFI)
Relay 1
Drive system control system
Relay 2
Fuel pump
Relay 3
Horn
Relay 4
Trailer tow light
Relay 5
Anti-lock Braking System (ABS) Pump Motor
Extra fuses outside of the main fuse boxes
| Amperes [A] | Description | location |
| --- | --- | --- |
| circulation 22 A Brkr. | Headlamps and high beam indicator | Integrated with the headlight switch |
| 12 Ga. Fuse link | Alternator, 95 A. | When starting the engine relay (gasoline engine) |
| (2) 12 ga. fuse links | Alternator, 130 amps | At start, engine relay (diesel engine) |
| (2) 14 Ga. Fuse links | Glow plugs for diesel engines | At engine relay start |