Ford Edge (2016-2017) – fuse and relay box
Fuse and Relay Box Diagrams – Ford Edge
Applies to vehicles manufactured in the years:
2016, 2017.
The Cigarette Lighter (Outlet) fuses on the Ford Edge are 5 (Power Point 3 – Rear Console), 10 (Power Point 1 – Driver's Front), 16 (Power Point 2 – Console Bin), and 17 (Power Point 4 – luggage compartment) in the fuse box in the engine compartment.
Passenger compartment
The fuse panel is located under the dashboard on the left side of the steering column.
Access to the fuse panel may be easier if you remove the trim strip.
Engine compartment
The power distribution box is located in the engine compartment (left side).
Power Distribution Box – Bottom
There are fuses on the bottom of the fuse box.
Passenger compartment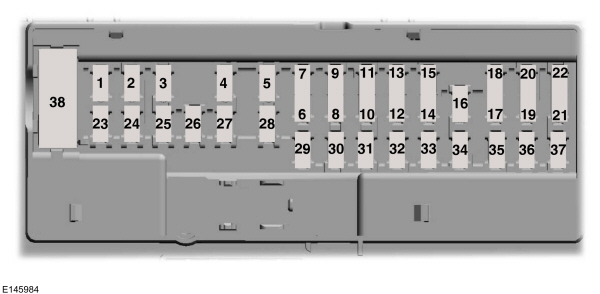 | Number | Amperes [A] | Description |
| --- | --- | --- |
| 1 | 10 A. | Demand lighting (glove box, vanity, dome). Battery saver relay coil. Second order easy folding relay coil. |
| 2 | 7.5A | Memorial sites. Lumbar. Logic power supply for driver's seat module. |
| 3 | 20A | Unlock the driver's door. |
| 4 | 5A | Not used (spare). |
| 5 | 20A | Not used (spare). |
| 6 | 10 A. | Not used (spare). |
| 7 | 10 A. | Not used (spare). |
| 8 | 10 A. | Not used (spare). |
| 9 | 10 A. | Not used (spare). |
| 10 | 5A | Keyboard. Logic power supply for the tail lift module. Hands-free loading hatch module. |
| 11 | 5A | Not used (spare). |
| 12 | 7.5 amps | Air conditioning module. |
| 13 | 7.5A | Group. Steering column control module. Intelligent datalink (gateway) module. |
| 14 | 10 A. | Extended power module. |
| 15 | 10 A. | Data link power. |
| 16 | 15 A. | Not used (spare). |
| 17 | 5A | Not used (spare). |
| 18 | 5A | Push button switch. |
| 19 | 7.5A | Extended power module. |
| 20 | 7.5A | Not used (spare). |
| 21 | 5A | Car humidity and temperature sensor. |
| 22 | 5A | Passenger classification system. |
| 23 | 10 A. | Delayed accessory (power inverter logic, sunroof logic, driver power window switch power). |
| 24 | 20A | Central locking unlocking. |
| 25 | 30A | Driver's door (window, mirror). Driver's door module. Driver's door lock indicator. Driver lock switch illumination. |
| 26 | 30A | Front passenger's door (window, mirror). Front passenger door module. Front passenger lock indicator. Front passenger switch lighting (window, lock). |
| 27 | 30A | Sunroof. |
| 28 | 20A | Amplifier. |
| 29 | 30A | Not used (spare). |
| 30 | 30A | Not used (spare). |
| 31 | 15A | Not used (spare). |
| 32 | 10 A. | Global Positioning System. Middle stack display. Voice control (SYNC). Transceiver module. |
| 33 | 20A | Radio. |
| 34 | 30A | Starting rail (fuse 19, 20, 21, 22, 35, 36, 37, circuit breaker 38). |
| 35 | 5A | Not used (spare). |
| 36 | 15A | Automatically dimming rearview mirror. Heated seat. Automatic high beam / lane departure mirror module. Logic power supply to rear heated seat module. |
| 37 | 20A | Heated steering wheel module. Active front steering wheel. |
| 38 | 30A | Rear power windows. Rear window switch lighting. |
Engine compartment
| Number | Amperes [A] | Description |
| --- | --- | --- |
| 1 | 30A | Not used (spare). |
| 2 | – | Starter relay. |
| 3 | 15 A. | Rear wiper. Rain sensor Rear washer pump relay coil. |
| 4 | – | Blower motor relay. |
| 5 | 20A | Power point 3 – back of the console. |
| 6 | – | Not used. |
| 7 | 20A | Powertrain control module – vehicle power 1. |
| 8 | 20A | Powertrain control module – vehicle power 2. |
| 9 | – | Powertrain control module relay. |
| 10 | 20A | Power point 1 – driver's front. |
| 11 | 15A | Powertrain control module – vehicle power 4. |
| 12 | 15A | Powertrain control module – vehicle power 3. |
| 13 | – | Not used. |
| 14 | – | Not used. |
| 15 | – | Start relay. |
| 16 | 20A | Power point 2 – console container. |
| 17 | 20A | Power point 4 – trunk. |
| 18 | 20A | RH HID reflector. |
| 19 | 10 A. | Electronic power steering during starting. |
| 20 | 10 A. | Start / start the lighting. Headlamp level switch. |
| 21 | 15 A. | Transmission oil pump logic power (start / stop). |
| 22 | 10 A. | Air conditioner clutch solenoid. |
| 23 | 15 A. | Run-start 6. Blind spot information system. Rear camera. Adaptive cruise control. Heads-up display. Voltage quality module (start / stop). Front split view camera. Front split camera module. |
| 24 | 10 A. | Not used (spare). |
| 25 | 10 A. | Anti-lock brake system when starting. |
| 26 | 10 A. | Starter powertrain control module. |
| 27 | – | Not used. |
| 28 | 10 A. | Rear washer pump. |
| 29 | – | Not used. |
| 30 | – | Not used. |
| 31 | – | Not used. |
| 32 | – | Electronic fan relay 1. |
| 33 | – | A / C clutch relay. |
| 34 | 15 A. | Not used (spare). |
| 35 | – | Not used. |
| 36 | – | Not used. |
| 37 | 10 A. | Power transmission fan. |
| 38 | – | Electronic fan relay 2 |
| 39 | – | Electric fan relay 3. |
| 40 | – | Horn relay. |
| 41 | – | Not used. |
| 42 | – | Fuel pump relay. |
| 43 | 10 A. | Easy second row seat folding. |
| 44 | 20A | Left HID headlight. |
| 45 | – | Not used. |
| 46 | – | Not used. |
| 47 | – | Not used. |
| 48 | 15 A. | Steering column lock. |
| 49 | – | Not used. |
| 50 | 20A | Horn. |
| 51 | – | Not used. |
| 52 | – | Not used. |
| 53 | – | Not used. |
| 54 | 10 A. | Brake switch. |
| 55 | 10 A. | ALT sensor. |
Engine compartment, bottom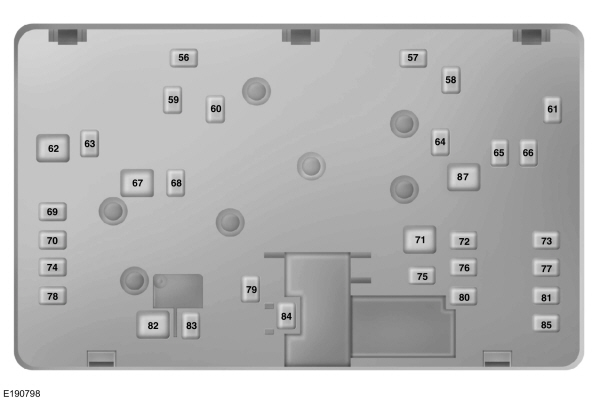 | Number | Amperes [A] | Description |
| --- | --- | --- |
| 56 | – | Not used. |
| 57 | – | Not used. |
| 58 | 30A | Fuel pump supply. Port fuel injectors (3.5L). |
| 59 | 40A | Electronic fan 3. |
| 60 | 40A | Electronic fan 1. |
| 61 | – | Not used. |
| 62 | 50A | Body control module 1. |
| 63 | 25 A. | Electronic fan 2. |
| 64 | – | Not used. |
| 65 | 20A | Heated front seat. |
| 66 | 15A | Heated wiper park. |
| 67 | 50A | Body control module 2. |
| 68 | 40A | Heated rear window. |
| 69 | 30A | Anti-lock braking system valves. |
| 70 | 30A | Passenger seat. |
| 71 | – | Not used. |
| 72 | 20A | Transmission oil pump (start / stop). |
| 73 | 20A | Heated rear seats. |
| 74 | 30A | Driver seat module. Electric driver's seat (less memory). |
| 75 | 25 A. | Wiper motor 1. |
| 76 | 30A | Tail lift module. |
| 77 | 30A | Seat module with air conditioning. |
| 78 | 40A | Trailer lighting module. |
| 79 | 40A | Blower motor. |
| 80 | 25A | Wiper motor 2. |
| 81 | 40a | 110V inverter. |
| 82 | – | Not used. |
| 83 | 20A | Not used (spare). |
| 84 | 30A | Starter solenoid. |
| 85 | – | Not used. |
| 86 | – | Not used. |
| 87 | 60A | Anti-lock brake system pump. |