Honda Prelude (1997-2001) – fuse and relay box
Fuse and Relay Box Diagrams – Honda Prelude
Applies to vehicles manufactured in the years:
1997, 1998, 1999, 2000, 2001.
Diagram of the fuse box in the passenger compartment
The internal fuse box is located under the dashboard on the driver's side. To open it, turn the knob as shown.
Number
Amperes [A]
Description
1
10
ATTS safety relay
2
7.5
PGM-FI Main Relay, ECM, Starting System
3
–
Not used
4
10
PGM-FI main relay, immobilizer control unit
5
10
Stereo amplifier
6
15
Seat heating (Canada)
7
thirty
Sunroof
8
7.5
Daytime running light control unit (Canada)
9
7.5
ABS System, Mirror Defoggers (Canada), Power Mirrors, Seat Heater (Canada), Blower Motor Relay, C982 Option Connector, ATTS System
10
15
Console lights, dashboard lights, parking lights, rear side marker lights, tail lights, security system (Canada)
11
7.5
Rear window defogger relay
12
7.5
Daytime running light control unit (Canada)
13
15
Turn signals, Hazard lamps, Reversing lamps, Cruise control, Clock, Gauge assembly, Multiplex driver control unit
14
15
Charging System, Vehicle Speed ​​Sensor (VSS), TCM, PGM-FI, Immobilizer System (Early '97 Model), Lock System, Instrument Cluster, Security System (Canada)
15
20
Power window main switch / motor
16
20
Passenger's power window switch / motor
17
thirty
Windshield wiper motor, intermittent windshield wiper relay, windshield washer switch
18
7.5
Stereo sound system, accessory power socket relay, interlock system
19
–
Not used
20
–
Not used
21
7.5
ATTS control unit, ATTS safety relay
22
10
1999-2001: Keyless receiver
23
15
SRS unit
24
10
SRS unit
Relay
R1
Danger indicator / relay
R2
Moonroof closing relay
R3
Blower motor relay
R4
Power window relay
R5
Moonroof open relay
R6
Rear window defogger relay
Diagram of the fuse box in the engine compartment
The fuse box under the hood is located at the rear of the engine compartment on the passenger side. To open it, press the tab as shown.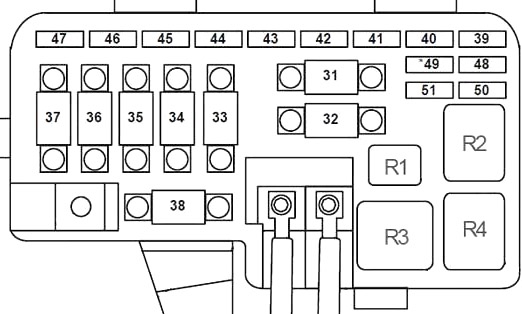 Number
Amperes [A]
Description
31
thirty
ABS pump motor relay
32
100
Power distribution (main fuse)
33
50
Ignition switch (BAT)
34
40
Rear window defogger
35
40
Blower control
36
50
Power distribution
37
40
Energy distribution, electric windows, moon roof
38
–
Not used
39
10
Danger indicator / warning lights
40
20
ABS safety relay
41
15
Horn relay, brake lights, ignition key light, lock system
42
20
Parking lights, taillights, dashboard lights, console lights
43
7.5
Automatic gearbox control, Stereo sound, Multiplex control system, Clock, PGM-FI, Moon roof, Immobilizer system, Security system (Canada)
44
10
Electric door locks
45
20
Condenser fan relay, A / C compressor clutch relay
46
15
1997-1998: Ceiling Light, Trunk Light, Accessory Power Outlet Relay, Data Link Connector, Ceiling Light
10
1999-2001: Ceiling Light, Trunk Light, Accessory Power Outlet Relay, Data Link Connector, Ceiling Light, Power Door Locks
47
20
Radiator fan motor
48
7.5
ABS control unit
49
–
Not used
50
20
Right headlight, daytime running light control unit (Canada)
51
20
Left-hand headlight, high beam indicator (USA), daytime running light control unit (Canada)
Relay
R1
Radiator fan relay
R2
ABS pump motor relay
R3
Headlight relay
R4
Dimmer relay