Jeep Patriot (2012) – fuse and relay box
Diagrams of fuse boxes and relays – Jeep Patriot
Applies to vehicles manufactured in the years:
2012.
The Cigarette Lighter (Power Outlet) fuses on the Jeep Patriot are No. 11 (Power Outlet), No. 13 (Cigarette Lighter / Rear Power Outlet), and No. 16 (Ltr cigars, if equipped) in the engine compartment fuse box.
The integrated power module is located in the engine compartment near the air cleaner assembly.
This hub includes blade fuses and mini fuses. A label identifying each item can be printed on the inside of the cover.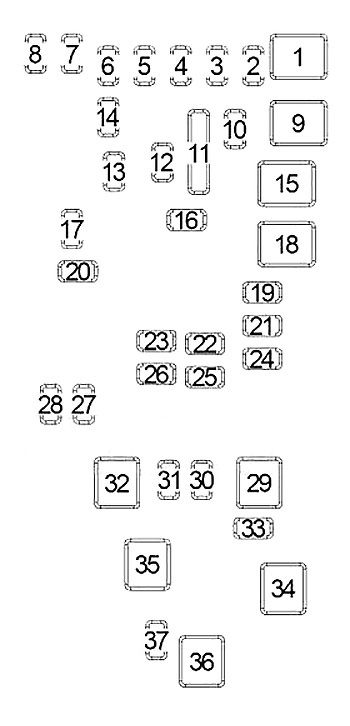 Fuse Assignment in Integrated Power Module (2012)
| Recess | Cartridge fuse | Mini fuse | Description |
| --- | --- | --- | --- |
| 1 | Empty | | Empty |
| 2 | | 15 Amp lt blue | AWD / 4WD control module – if equipped |
| 3 | | 10 A red | Rear center brake light switch |
| 4 | | 10 A red | Ignition switch / passenger classification module |
| 5 | | 20 A yellow | Trailer Towing – If Equipped |
| 6 | | 10 A red | Electric mirror / airbag occupant classification module / satellite control radio (if equipped) |
| 7 | | 30 A green | Ignition off |
| 8 | | 30 A green | Ignition off |
| 9 | 40 amp green | | Electric seats |
| 10 | | 20 A yellow | Power locks |
| 11 | | 15 Amp lt blue | Power socket |
| 12 | | 20 A yellow | AC inverter |
| 13 | | 20 A yellow | Rear power socket |
| 14 | | 10 A red | Instrument cluster / Interior lighting |
| 15 | 40 amp green | | Radiator fan |
| 16 | | 15 Amp lt blue | Sunroof / Cigar Lighter (if equipped) |
| 17 | | 10 A red | Wireless control module |
| 18 | 40 amp green | | Automatic shutdown relay |
| 19 | | 20 A yellow | Radio amplifiers |
| 20 | | 15 Amp lt blue | Radio |
| 21 | | 10 A red | Alarm module / siren – if equipped |
| 22 | | 10 A red | Heating, air conditioning / compass |
| 23 | | 15 Amp lt blue | Automatic shutdown relay |
| 24 | | 15 Amp lt blue | Electric Sunroof – If equipped |
| 25 | | 10 A red | Heated mirror – if equipped |
| 26 | | 15 Amp lt blue | Automatic shutdown relay |
| 27 | | 10 A red | Airbag control module |
| 28 | | 10 A red | Airbag control module / passenger classification module |
| 29 | | | Hot car (no fuse) |
| 30 | | 20 A yellow | Heated seat – if equipped |
| 31 | | 10 A red | Headlamp Washer – If Equipped |
| 32 | 30 Amp Pink | | Automatic shutdown relay |
| 33 | | 10 A red | ABS module / J1962 Diagnostic Link / Powertrain control module |
| 34 | 30 Amp Pink | | Brake anti-lock valve |
| 35 | 40 amp green | | Brake anti-lock pump |
| 36 | 30 Amp Pink | | Headlight / Washer Control / Smart Glass – If equipped |
| 37 | | 25 Amp Natural | 110 Drive – If Equipped / Diesel Fuel Heater – If Equipped |