Jeep Renegade (2018-2019) – fuse and relay box
Diagrams of fuse boxes and relays – Jeep Renegade
Applies to vehicles manufactured in the years:
2018, 2019.
Engine compartment
The fuse box is located on the side of the battery.
Dashboard fuse box
The fuse box is located near the left side of the steering column and the fuses are easily accessed from the bottom of the dashboard.
Trunk
To access the fuses, remove the access door on the left rear cargo area panel.
Depending on the vehicle equipment, there may be two (or both) fuse holders.
Engine compartment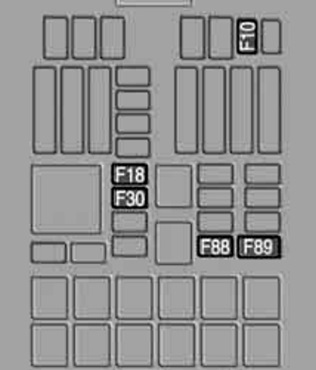 | Number | Amperes [A] | Description |
| --- | --- | --- |
| F10 | 15 | Horn |
| F18 | 20 | Power socket in the trunk |
| F30 | – | Available |
| F88 | 7.5 | Heated door mirrors |
| F89 | 30 | Heated rear window |
Dashboard fuse box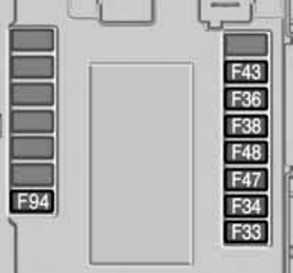 | Number | Amperes [A] | Description |
| --- | --- | --- |
| F33 | 20 | Electrically operated windscreen (passenger side) |
| F34 | 20 | Electrically operated windscreen (driver's side) |
| F36 | 15 | System power supply, Uconnect air conditioning system, alarm, electric folding exterior mirror, EOBD system, USB port |
| F38 | 20 | Safe Lock device (driver's side door unlock – if provided) / door unlock / central locking / electric tailgate unlock |
| F43 | 20 | Windscreen / rear window washer pump |
| F47 | 20 | Rear left electric window |
| F48 | 20 | Rear right electric window |
| F94 | 15 | Cigarette lighter (where provided) |
Trunk
Handle 1

Handle 2
| Number | Amperes [A] | Description |
| --- | --- | --- |
| Fuse holder control unit no. 1 | | |
| F2 | 20 | Audio set |
| F3 | 20 | Electric sunroof |
| F4 | 7.5 | Electric adjustment of the lumbar section of the front seat (driver's side) |
| F5 | 30 | Electric front seat movement (driver's side) |
| F6 | 7.5 | Electric front seat movement (driver and passenger side) |
| F7 | 30 | Electric lumbar support for the front seat (driver and passenger side) |
| F8 | 20 | Electric heating of the front seats |
| | | Additionally, the control unit has a 20A fuse to protect the sunroof. |
| | | |
| Fuse holder control unit no. 2 | | |
| F1 | 10 | Control unit for controlling the outdoor lighting on the trailer |
| F5 | 15 | Control unit for outdoor lighting (left side) |
| F6 | 15 | Control unit for outdoor lighting (right side) |