Mazda 6 GJ1 / GL (2016) – fuse and relay box
Diagrams of fuse and relay boxes –
Mazda
6 GJ1 / GL
Applies to vehicles manufactured in the years:
2016.
The cigarette lighter on the Mazda 6 GJ1 / GL is fuse number 9 and fuse 14 in the passenger compartment fuse box and fuse 52 in the engine compartment fuse box.
Passenger compartment
The fuse box is located on the left side of the vehicle.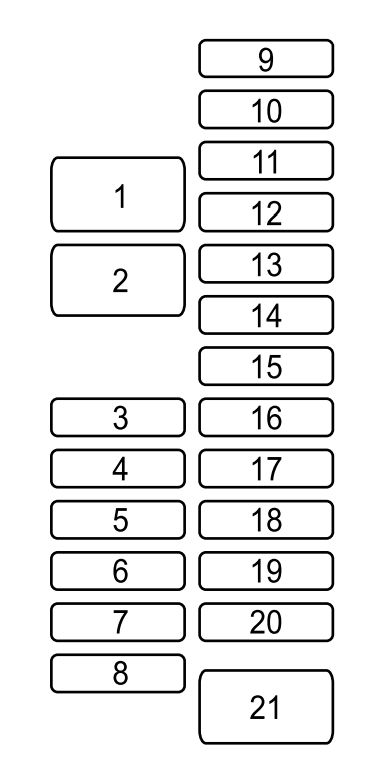 | | | | |
| --- | --- | --- | --- |
| Number | name | Amperes [A] | Description |
| 1 | P.SEAT D | 30 | Electric seat * |
| 2 | P. WINDOW3 | 30 | Electric windows * |
| 3 | R.OUTLET3 | – | – |
| 4 | P. WINDOW2 | 25 | Electrically operated windows |
| 5 | SRS2 / ESCL | 15 | – |
| 6 | D.LOCK | 25 | Electric door locks |
| 7 | SEAT WARM | 20 | Seat heater * |
| 8 | SUNROOF | 10 | Sunroof * |
| 9 | F.OUTLET | 15 | Accessory sockets |
| 10 | MIRROR | 7.5 | Mirror control |
| 11 | R.OUTLET1 | 15 | – |
| 12 | – | – | – |
| 13 | – | – | – |
| 14 | – | – | – |
| 15 | – | – | – |
| 16 | – | – | – |
| 17 | M.DEF | 7.5 | Mirror defogger * |
| 18 | R.SEAT W | 20 | Seat heating |
| 19 | R.SHADE | 7.5 | – |
| 20 | AT IND | 7.5 | AT gear shift indicator * |
| 21 | P.SEAT P | 30 | Electric seat * |
Engine compartment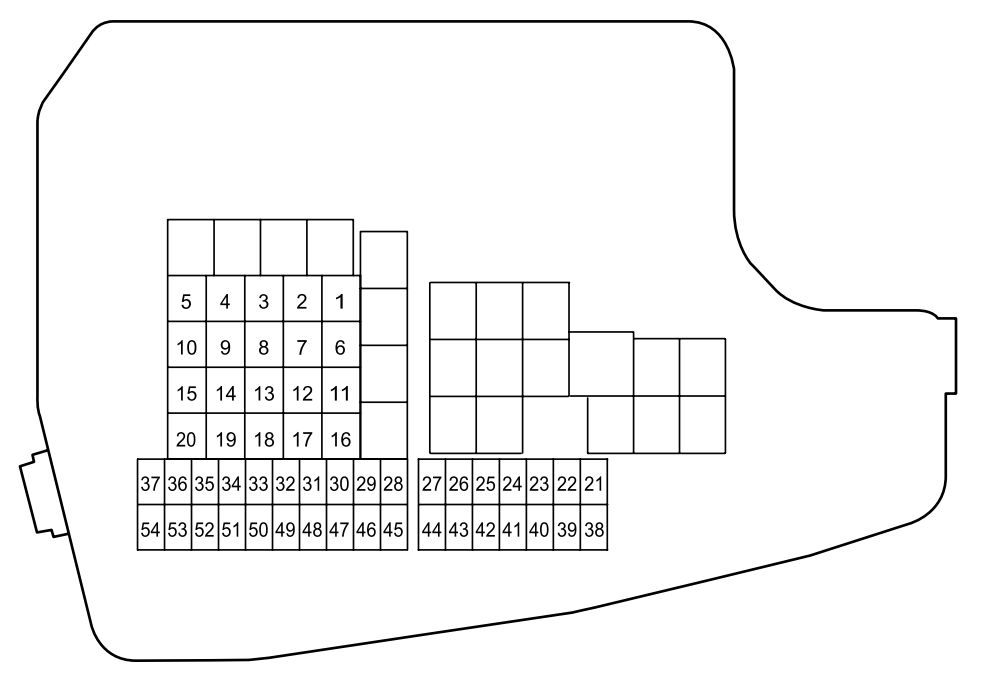 Number
name
Amperes [A]
Description
1
ADD FAN GE
30
Cooling fan
2
IG2
30
To protect various circuits
3
INJECTOR
30
Engine control system
4
FAN DE
40
–
5
P. WINDOW1
30
–
6
–
–
–
7
ADD FAN DE
40
–
8
EVVT
20
Engine control system
9
DEFOG
40
Rear window defroster
10
DCDC DE
40
–
11
FAN GE
30
Cooling fan
12
EPB L.
20
Electric parking brake (left)
13
AUDIO
40
Sound system
14
EPB R
20
Electric parking brake (right)
15
ENG.MAIN
40
Engine control system
16
ABS / DSC M
50
ABS;

Dynamic stability control system.

17
CABIN + B
50
To protect various circuits
18
WIPER
20
Windshield wiper and washer
19
HEATER
40
Air conditioner
20
DCDC REG
30
To protect various circuits *
21
ENGINE.IG1
7.5
Engine control system
22
C / U IG1
15
To protect various circuits
23
H / L LOW L HID L
15
Low beam (left)
24
H / LOW R
15
Low beam (right)
25
ENGINE3
15
Engine control system
26
ENGINE2
15
Engine control system
27
ENGINE1
15
Engine control system
28
AT
15
Transaxle control system *
29
H / CLEAN
20
–
30
A / C
7.5
Air conditioner
31
AT PUMP
15
Transaxle control system *
32
STOP
10
Stop lights
33
R.WIPER
15
Theft deterrent system *
34
H / L HI
20
Traffic lights
35
HID R.
15
–
36
FOG
15
Fog lights*
37
ENG + B
7.5
Engine control system
38
AUDIO2
7.5
Public address system
39
GLOW SIG
5
–
40
METER2
7.5
–
41
METER2
10
Instrument cluster
42
SRS1
7.5
Airbag
43
BOSE
25
Bose® Sound System *
44
AUDIO1
15
Public address system
45
ABS / DSC S.
30
ABS;

Dynamic stability control system.

46
FUEL PUMP
15
Fuel system
47
FUEL WARM
25
–
48
TAIL
15
Rear lights;

License plate lighting.

49
FUEL PUMP2
25
–
50
HAZARD
25
Emergency lights;

Direction indicators;

Front marker lamps;

Parking lights.

51
DRL
15
Day lights*
52
R.OUTLET2
15
Accessory sockets
53
HORN
15
Horn
54
ROOM
15
Lighting inside the vehicle
* 1 With xenon headlights

* 2 With halogen headlights