Mitsubishi Fuso Canter 8 (2012-2020) – fuse and relay box
Diagrams of fuse boxes and relays – Mitsubishi Fuso Canter 8
Applies to vehicles manufactured in the years:
2012, 2013, 2014, 2015, 2016, 2017, 2018, 2019, 2020.
Due to the huge variety of modifications produced, there is no single general description of fuses and relays.
Fuse box in the cabin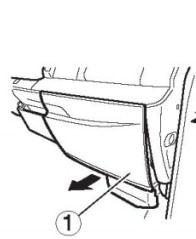 The fuse and relay box is located inside the lower panel in front of the passenger seat. Remove the protective cover to gain access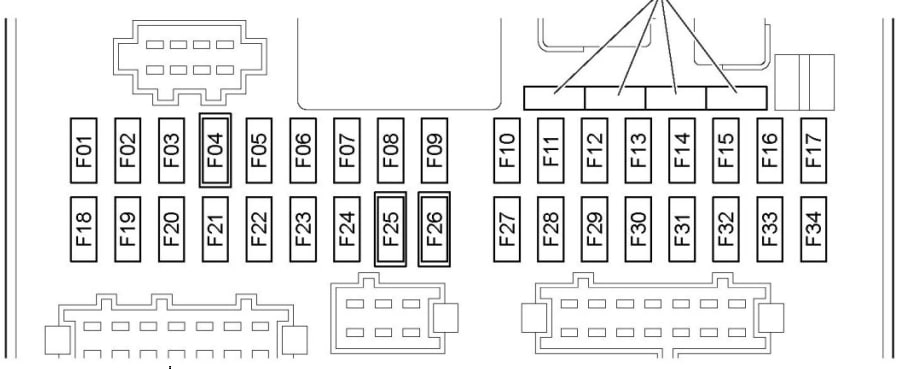 Number
Description
F01
10A Starter
F02
Reserve 10A
F03
10A Airbag SRS ECU
F04
10A auxiliary power supply (IGN)
F05
30A Electric window lifter (driver)
F06
10A Left tail light, trailer
F07
30A Electric window lifter (driver assistant)
F08
20A Trailer headlight (rear fog lights, reversing lights)
F09
10A Instrument panel;

Composite switch;

Diagnostic connector.

F10
30A ISS (ECU)
F11
Air conditioner fan 30A
F12
15A audio system;

Interior lighting of the vehicle.

F13
Ignition switch 10A;

ISS (ECU)

F14
Signal 10A
F15
10A Audio system
F16
Cigarette lighter 20A
F17
20A Fuel heater
F18
10A ABS ECU
F19
15A engine ECU
F20
10A ECU (IGN, ISS)
F21
Reserve 10A
F22
15A Instrument panel;

Air conditioner;

Rear air conditioner relay.

F23
10A Rear right trailer light
F24
10A DUONIC ECU
F25
Auxiliary power 10A (ACC)
F26
Auxiliary power 10A (BAT)
F27
20A Trailer stop signal lamp
F28
15A engine ECU
F29
20A SCR
F30
20A SCR
F31
20A ECU engine
F32
10A air conditioning compressor
F33
Reserve
F34
15A Fuel pump
F35
Reserve
F36
20A DUONIC ECU
F37
10A Rear blower fan
F38
15A rear condenser fan
F39
Reserve
F40
Condenser fan 20A
F41
30A hydraulic unit
F42
10A alternator (only vehicles with battery corrector)
F43
Reserve
Fuse box next to the battery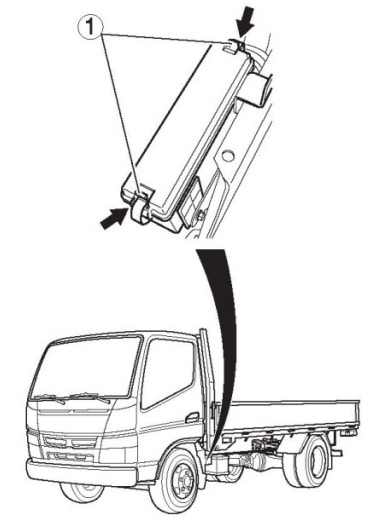 An additional cube is mounted outside the car next to the battery.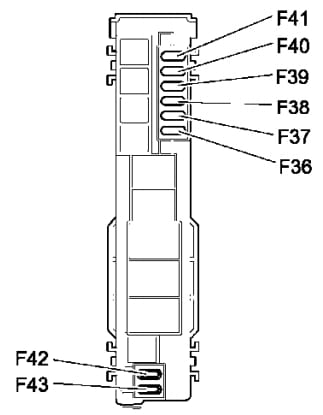 Schematic and decoding
HF01 – 140A SAM HF02
– Reserve
HF03 – 80A SAM
HF04 – Reserve
HF05 – 60A ECU Backlight
HF06 – 40A Ignition relay
HF07 – Reserve
HF08 – 50A Hydraulic
unit HF21 – Reserve
HF22 – 40A SAM