Nissan Cube AZ10 (1998-2003) – fuse and relay box
Diagrams of fuse and relay boxes – Nissan Cube AZ10
Applies to vehicles manufactured in the years:
1998, 1999, 2000, 2001, 2000 and 2003.
Passenger compartment
Description
First column
10A is "start signal".
15A – "100B mains"
10A – "window lifter"
10A – "cabin light"
10A – "stop lights"
15A – "wiper heating"
10A – "horn"
15A – "fog light"
10A – "hazard lights"
10A – "reversing lights"
10A – "turn signals"
10A – "dashboard"
10A – "ABS"
Second column
10A – "gearbox"
10A – "airbags"
10A – "ECU"
15A – "fuel pump"
10A – "injector"
10A – "air conditioning"
empty line
15A – "fans"
10A – "radio"
15A – " electrical sockets, cigarette lighter "
20A -" wipers "
10A -" mirror, rear wiper "
15A -" heating (windshield) "
Engine compartment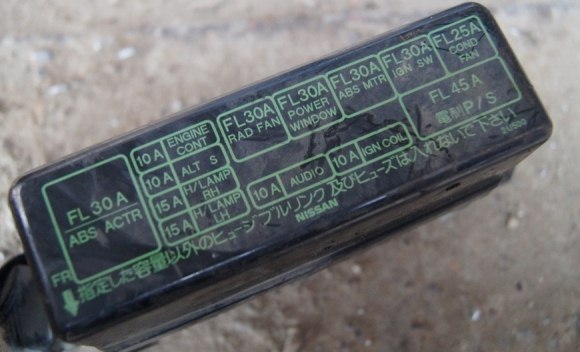 30A ABS
10A engine
10A generator
15A Headlamps (right side)
15A Headlamps (left side)
Electric fan 30A
30A electric jacks
30A ABS
10A audio system
10A injection system
30A injection system
Air conditioner fan 25A
45A Power steering.
Check the assignment of your fuses with the current description on the cover of the box.