Nissan Vanette (1999-2005) – fuse and relay box
Diagrams of fuse boxes and relays – Nissan Vanette
Applies to vehicles manufactured in the years:
1999, 2000, 2001, 2002, 2003, 2004 and 2005.
Fuse boxes
Main box
The main fuse box in the passenger compartment is located at the bottom of the dashboard, near the steering wheel.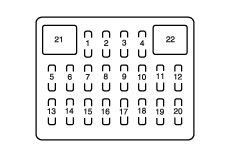 Destiny
20А – ABS
15A – Alarm
20A
30A – Electric drive of the central locking
20A – Heated rear door glass
10A – Rear door window wiper
10A – Air conditioner
20A – Windshield wipers and washers
30A – Electric windows
10A – Direction indicators
15A – Instrument cluster
15A – Engine control unit
20A – Fuel heater
15A
15A – Cigarette lighter
10A – Sound signal
10A – Rear lamps
15A – Stop signals
15A – Fog lights
10A – Interior lighting
30A – Rear heater
30A – Main heater
Additional box
It is located under the driver's seat, between the battery and the engine for gasoline engines, or under the passenger seat, near the power steering reservoir for diesel engines, or under the hood of the car.
Description
30A HEAD – headlights
30A FIP / INJ – engine controller
60A GLOW – glow plugs
80A MAIN – main fuse
60A ABS – ABS
KEY 40A – fuse for various circuits
60А BTN – interior lighting, electric central locking
Relay box
Installed in the passenger side panel, under the glove compartment.
Location
The following relays are located here:
Sound signal
Heater fan
Rear heater fan
Air conditioner
Reflector
Stop the signals
Dimensions
Automatic gearbox selector
The individual elements of the relays can be located in the engine compartment, as well as near the battery – a group of high-power fuses.