Nissan Versa Note (2013-2019) – fuse and relay box
Diagrams of fuse boxes and relays – Nissan Versa Note
Applies to vehicles manufactured in the years:
2013, 2014, 2015, 2016, 2017, 2018, 2019.
The cigarette lighter (s) in the Nissan Versa Note is fuse number 15 in the instrument panel fuse box.
Passenger compartment
The fuse box is located on the driver's side of the instrument panel behind a cover.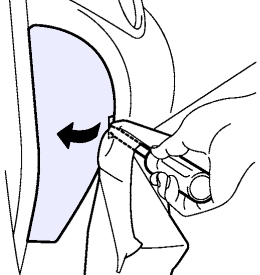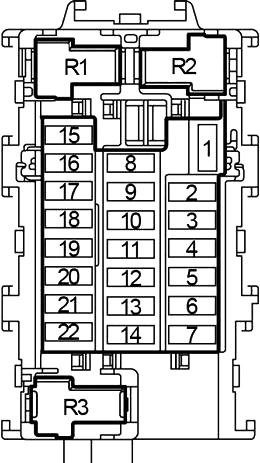 Number
Amperes [A]
Description
1
–
–
2
–
–
3
10
BCM Reversing Lamp (Body Control Module);
Base audio system;Brake control system;

Charging system;

CVT control system;

Daylight system;

Display;

Audio system;

Engine control system;

Front fog lamp;

Headlight lighting;

Intelligent key system / engine start function;

Meter;

Navigation;

NVIS parking lights;

License plate and rear lamps;

Power distribution system;

SRS airbag control system;

Steering control system;

Tire pressure monitoring system;

Direction indicators and warning lamps;

Warning system.

4
–
–
5
10
BCM (Body Control Module);

CVT Shift Lock;

Engine control system;

Electronically controlled power steering;

Power steering system;

Display;

Audio system;

Headlamp Adjustment System – Manual;

Power distribution system;

Rear window navigation system;

Demister.

6
10
Front wiper and washer system;

Rear wiper and washer system;

BCM (Body Control Module);

Power distribution system.

7
10
SRS airbag control system;

Power distribution system.

8
10
Basic audio system;

BCM (Body Control Module);

Brake control system;

CVT control system;

Daylight system;

Audio system display;

Engine control system;

Electronically controlled power steering;

Front fog lights;

Headlight illumination Intelligent key system / engine start function;

Meter;

Navigation system;

NVIS parking lights;

License plate and tail lamps;

Power door lock system;

SRS airbag control system;

Tire pressure monitoring system;

Direction indicators and warning lights;

Bell alert system;

Vehicle security system

9
twenty
–
10
10
BCM (Body Control Module);

Intelligent key system / engine start function;

NVIS Power Distribution System Boot System

11
twenty
BCM Rear Window Defogger
(Body Control Module)
12
10
Interior lighting for a room lamp;
BCM (Body Control Module);
Daytime running light system;
Front fog lamp;Headlamp Aiming System – Manual;

Smart key system / Engine start function;

NVIS glazing system;

Power distribution system;

Parking lamps;

License plate and tail lamps;

Rear door lock system;

Rear window defogger;

Direction indicators and warning lights;

Bell warning system;

Vehicle security system.

13
–
–
14
–
–
15
twenty
Power socket (cigarette lighter);
Power distribution system.
16
–
–
17
10
Display;

Audio system;

Power distribution system for exterior mirrors.

18
10
Basic audio system;
BCM (Body Control Module);Counter display;

Audio system;

Power distribution system;

Navigation system.

19
–
–
20
15
Air conditioner
21
10
Air conditioner
22
15
Air conditioner
Relay
R1
Accessory
R2
Ignition 2
R3
Blower
Engine compartment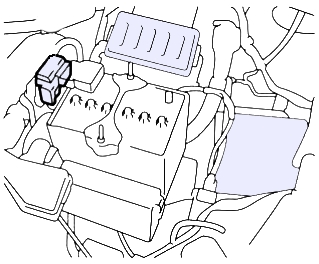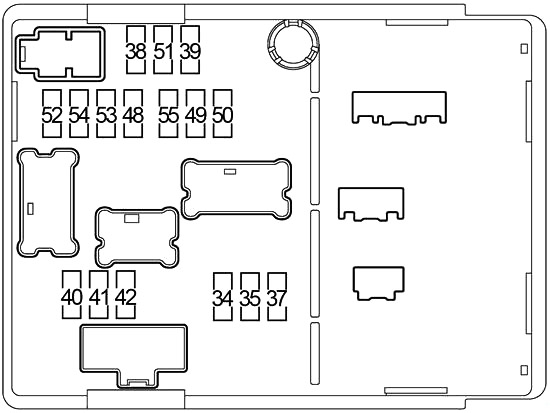 Number
Amperes [A]
Description
34
10
Headlamps (high beam)
35
10
Headlamps (high beam)
37
10
Tail lamp relay;

Parking lamps;

License plate lamps;

Headlight aiming engine – manual;

Day lighting system.

38
–
–
39
thirty
Front wiper and washer system
40
15
Headlamps (low beam)
41
15
Headlamps (low beam)
42
10
Air conditioner relay
48
15
Fuel pump relay
49
10
Reversing lamp;

BCM (Body Control Module);

CVT control system;

Engine control system;

Intelligent key system / engine start function;

NVIS Power Distribution System;

Navigation system;

Launch system.

50
10
Brake control system
51
10
Engine control system
52
15
Throttle control motor relay
53
twenty
ECM relay;
Engine control system;
NVIS.
54
15
Engine control system
55
10
Engine control system
Additional fuse box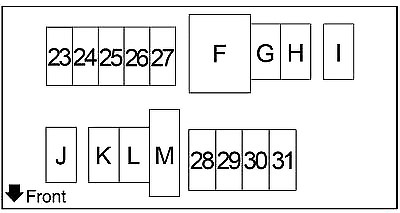 Number
Amperes [A]
Encirclement
23
–
–
24
10
Charging system;

Horn;

Smart key system;

Vehicle security system.

25
10
CVT control system
26
–
–
27
–
–
28
–
–
29
15
Basic audio system
29
twenty
Except for basic audio: display audio system, navigation system
30
10
BCM (Body Control Module);
Brake control system;Engine control system;
Intelligent key system / engine start function;

NVIS Power Distribution System;

Stop Lamp Warning System.

31
15
Front fog lamp
F.
40
M / T: low cooling fan relay, high cooling fan relay
F.
50
CVT: Low Cooling Fan Relay, High Cooling Fan Relay
g
40
BCM (Body Control Module);

Daytime running light system;
Front fog lights;
Front wipers and washers;

Headlamp leveling system – Manual;

Indoor lighting;

Smart key system / NVIS engine start function

Parking lights;

Number plate and rear lighting;

Window lifter system;

Electric door lock system;
Remote keyless entry system;

Rear window defogger;

Rear wiper;

Turn signal system and warning lamps;
Vehicle security system;

Warning bell system.

h
40
Starter Ignition Relay
(Fuses '3', '5', '6', '7')
BCM (Body Control Module);
Intelligent key system / engine start function;NVIS fuse "18".
i
40
–
J.
60
Electronically controlled power steering
K.
–
–
L.
thirty
Brake control system
m
thirty
Brake control system
Box for fusible links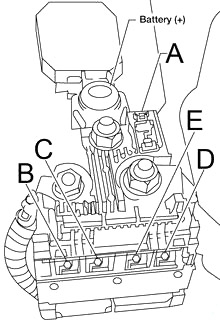 | Number | Amperes [A] | Description |
| --- | --- | --- |
| A | 120 | Generator, "D", "E" fuses |
| b | 60 | Ignition 1 relay (Front Wiper High Relay, Cooling Fan High Level Relay, Cooling Fan Low Relay, A / C Relay, "48" Fuse), "52", "53" Fuses |
| C. | 80 | Equipment 1 Relay (fuses "15", "17"), Blower relay (fuses "20", "21", "22"), fuses "8", "10", "11", "12" |
| D | 100 | Fuses "24", "25", "29", "30", "31", "F", "G", "H", "J", "L", "M" |
| E. | 80 | High headlamp relay (fuses "34", "35"), low headlamp relay (fuses "40", "41"), fuses "37", "39", "42" |