Opel Mokka X (2018-2019) – fuse and relay box
Engine compartment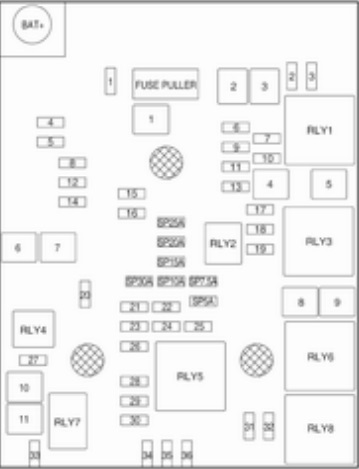 Number
Description
Mini fuses:
1
Sunroof
2
Outside mirror switch;

Rain sensor.

3
–
4
–
5
Electric brake control module
6
Intelligent battery sensor
7
Steering column lock
8
Transmission control module
9
–
10
Reversing camera;

Interior rearview mirror;

Headlight switch;

Reflector.

11
Rear window wiper
12
Heated rear window
13
Armchair, lumbar support
14
Heated exterior mirrors
15
LPG module;

Fuel system control module.

16
Seat heating
17
R / C transmission control module;

The water pump;

Additional heater.

18
R / C Engine Control Module
19
Fuel pump
20
–
21
Cooling fan
22
–
23
The ignition coil;

Injectors.

24
Washer pump
25
Headlamp actuator (right hand)
26
Engine control sensors
27
–
28
Ignition
29
Ignition 1/2
30
Exhaust system
31
Left main beam
32
Right main beam
33
Engine control module
34
Horn
35
Air conditioning system
36
Front fog lamp
J-type fuses:
1
Electric brake control module
2
Front wiper
3
Power module
4
Power terminal of the instrument panel fuse box
5
–
6
Fuel heater
7
Starter
8
Cooling fan
9
Cooling fan
10
Engine control module;

Glow plug.

11
Starter
Instrument panel
On left-hand drive vehicles, the internal fuse box is located under the driver's side of the dashboard.
To access the fuses, remove the glove box. To remove the glove box, open it and pull it.
On right-hand drive vehicles it is located behind the glove compartment cover on the passenger side.
To access the fuses, open the glove box, then open the cover, fold it and pull it.
Number
Description
Mini fuses:
1
Body control module
2
Body control module
3
Body control module
4
Body control module
5
Body control module
6
Body control module
7
Body control module
8
Body control module
9
Ignition switch
10
Safety diagnostics module
11
Data link connector
12
Climate control
13
Tailgate
14
Central gate module
15
Lane Departure Warning;

Interior mirror.

16
Adaptive front lighting
17
Column lock
18
Ultrasonic parking assist module
19
Body control module;

Regulated voltage regulation.

20
Steering wheel
21
Lighter;

DC accessory power socket (front).

22
–
23
Lighter;

DC accessory power socket (rear center console).

24
Reserve
25
Telematics services module
26
Heated steering wheel
27
Instrument panel cluster;

Information system;

Auxiliary heater switch.

28
Trailer socket
29
Display, entertainment system
30
Transmission control module
31
Instrument panel cluster
32
Infotainment system
33
Trailer socket
34
Passive input module, passive start
S / B fuses:
1
Electric Seat switch
2
Reserve
3
Electrically operated front windows
4
Electric rear windows
5
Logistic mode
6
Electric Seat switch
7
Reserve
8
Reserve
Midi fuses:
M01
PTC
Trunk
It is located on the left side.
Number
Description
Mini fuses:
1
Amplifier
2
All-wheel drive
3
–
4
2018: Not used
2019: Selective catalytic reduction
5
2018: Not used
2019: Selective catalytic reduction
6
2018: Backup
2019: Selective catalytic reduction
7
2018: Not used
2019: Selective catalytic reduction
8
Reserve
9
Reserve
10
Reserve
11
–
12
Reserve
13
–
14
–
15
Reserve
16
–
17
–
18
–
S / B fuses:
1
400W DC / DC transformer
2
400W DC / DC transformer
3
–
4
–
5
–
6
–
7
–
8
–
9
–