Opel/Vauxall Astra F (1991-2002) – fuse box
Opel Astra F – fuse box diagram
Year of production: 1991, 1992, 1993, 1994, 1995, 1996, 1997, 1998, 1999, 2000, 2001, 2002.
The cigarette lighter fuse (power socket) on the Opel Astra F is fuse 20 in the fuse box.
Passenger compartment
Main fuse box
It is located under the dashboard on the driver's side, behind the protective cover.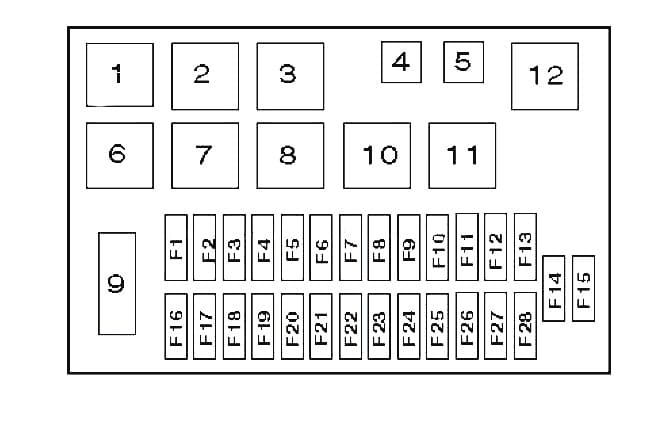 1
Heated mirror relay
2
Relay – turn signal interrupter
3
Rear window wiper intermittent relay
4
Fog lamp relay
5
Rear fog light relay
6
Intermittent windshield wiper / washer relay
7
Heated rear window relay
8
Headlamps with warning buzzer
9
Diagnostic Connector (DLC)
10
Intake air switch motor relay 1 (air conditioning)
11
Headlight washer delay relay
12
Air intake flap motor relay 2 (air conditioning)
F1
20A Central locking
F2
20A fuel pump
F3
30A Horn;

Windshield wiper and washer;

Delayed switching off the windscreen wipers;

Windshield and rear window wiper motors;

Headlight washers.

F4
10A Left headlight – dipped beam, electric headlight – left, lamp control
F5
10A Right headlight – dipped beam, electric drive of the headlight – right, lamp control
F6
10A Automatic gearbox control system;

ABS, ESP control system.

F7
10A Warning indicator and buzzer;

Mirrors;

Glove box lighting;

Audio system;

Rear defogger relay;

Radiator fan (diesel).

F8
20A Output of the trailer electrical equipment connector
F9
10A Headlight on;

On-board computer;

Daytime running lights.

F10
30A Electric windows;

Trunk lid.

F11
10A Rear fog light
F12
10A High beam – left headlight
F13
10A High beam – right headlight
F14
30A Electric heater, air conditioning control
F15
30A radiator fan
F 16
30A Heated rear window
F17
20A Fog lights
F18
10A Left parking lamps
F19
10A Number plate lighting;

Instrument cluster lighting;

Right parking lights;

Audio unit.

F20
20A Reversing lamps;

Cigarette lighter fuse ;

Heated seats.

F21
30A Air conditioning cooler fan motor;

Air conditioning control.

F22
30A electric windows
F23
30A headlight washers
F24
20A On-board computer;

Signpost;

Emergency lights;

Audio system;

Indoor lamps;

Clock;

Emergency lights;

Backlight and trunk lamp.

F25
10A Electronic control unit for automatic transmission
F26
Radiator fan 30A – Diesel
F27
10A Daytime running lights
F28
15A Stop lights, turn signals;

ABS;

Emergency lights.
On the back of the box there may be: a fuse for a cooling fan, a starter relay, a fuse for a stove fan.
Additional box
There may be separate control units on the right wall under the dashboard:
Electronic central locking control unit
Electronic anti-theft alarm control unit
Electronic engine control unit
Fuel pump relay
Engine compartment
The mounting block is located at the rear of the engine compartment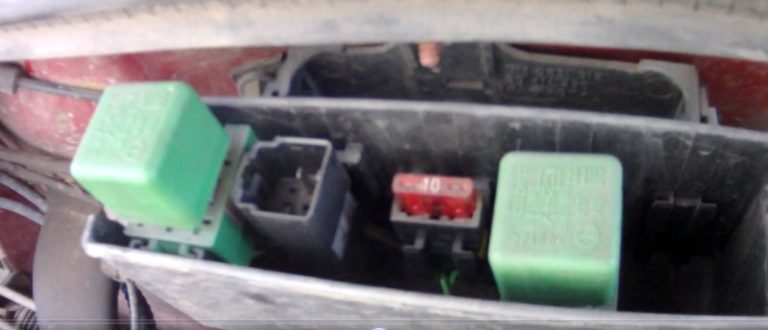 Type 1
A / C condenser fan motor relay 1
A / C condenser fan motor relay 2
Cooling fan motor relay
A / C condenser fan relay 3
Type 2
Headlight washer fuse
Headlight washer relay
Horn relay
Horn fuse
Type 3
| | |
| --- | --- |
| 1 | A / C compressor electromagnetic clutch relay |
| 2 | A / C condenser fan motor relay – diesel |
| 3 | Horn relay |
| 4 | Cooling fan motor relay |
| F1 | (30A) Horn |
| F2 | (10A) A / C compressor switch |
Separately, on the right side, you can locate the ABS electronic control unit.