Renault Clio III (2006-2012) – fuse box
Renault Clio III (2006-2012) – fuse box diagram
Year of production: 2006, 2007, 2008, 2009, 2010, 2011, 2012.
The fuse in the cigarette lighter (power outlet) on the Renault Clio III is the F9 fuse in the instrument panel fuse box.
Engine compartment
The fuse box is located on the left side of the engine compartment.
Passenger compartment
Depending on the vehicle, open the cover on the right side of the steering wheel or glove compartment.
Symbol
Description

Rear door lock
Electric windows
Passenger compartment fan
Main power;

Lighting in the door.

Central lock
Brake and brake lights
Engine immobilizer
Rear window wiper
Interior lighting;

Automatic windshield wipers;

Automatic lights.

Radio
Air conditioning control
Manual air conditioning
Front cigarette lighter
ABS / ESP
Driver side window control
Driver window
Horn
Electric exterior mirrors
Instrument cluster
Direction indicators;

Rear window wiper.
Instrument panel

Arrangement of fuses in the instrument panel
Number
Amperes [A]
Description
1
Ignition primary circuits relay 1
F1
30A
Gauges (no keyless entry system)
F1
15A
Rear window wiper motor (with keyless access system)
F2
15A
Air conditioning control module;

Ancillary equipment;

Instrument panel.

F3
7.5A
Outside mirror control module;

Interior lamps;

Cosmetic mirror mamps.

F4
15A
Data Link Connector (DLC);

Horns.

F5
–
10A
Not used (with keyless entry system);

Glove box light;

Cargo area lamp (without keyless system).

F6
25A
Central lock;

Electric window motor, controller.

F7
–
25A
Not used (with keyless entry system);

Double window switch, driver's door (no keyless entry system).

F8
10 A.
ABS control module
F9
15A
Lighter
F10
20A
A / C / Heater Blower Motor Control Module (Manual Temperature Control)
F11
20A
A / C / Heater Blower Motor Control Module (Automatic Temperature Control)
F12
15A
Air conditioning control module;

Air conditioning / heating control panel;

Alarm system horn;

Audio team;

Fuse box / relay board;

Dashboard 2-relay 6/7;

Heated seats;

Multifunctional control module;

Rear window washer pump;

Steering wheel function control module;

Telephone control module;

Windshield washer pump.

F13
10 A.
Brake pedal position (BPP) switch;

Fuse box / relay board;

Console 2-relay 3.

F14
–
5A
Not used (with keyless entry system);

Light sensor;

Outside mirror control module;

Indoor lamps;

Rain sensor;

Cosmetic mirror lamps;

Windshield wiper (without keyless entry).

F15
–
20A
Not used (with keyless entry system);

Rear window wiper motor (without keyless entry).

F 16
30A
15A
Indicators (with keyless access system);

Immobilizer control module (without keyless entry system).

F17
30A
Central lock
F18
15A
Side mirror control module;

Interior lights;

Cosmetic mirror lamps (with keyless entry system);

Multifunction control module (without keyless entry).

F19
5A
Car temperature sensor blower
F20
25A
Passenger's electric window motor
F21
Electric rear window LED
Fuses with consumer circuit breakers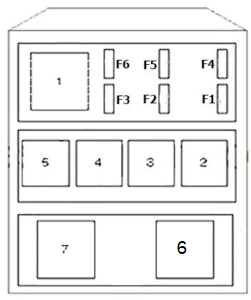 Fuses with consumer circuit breakers
| Number | Amperes [A] | Description |
| --- | --- | --- |
| 1 | | Electric window relay, driver |
| 2 | | – |
| 3 | | Stop lamp relay |
| 4 | | – |
| 5 | | – |
| 6 | | Electric window relay – rear 1 |
| 7 | | Electric window relay – rear 2 |
| F1 | | – |
| F2 | 20A | Heated seats |
| F3 | 15A | Sunroof |
| F4 | 25A | Electric rear windows |
| F5 | | – |
| F6 | | – |
Engine compartment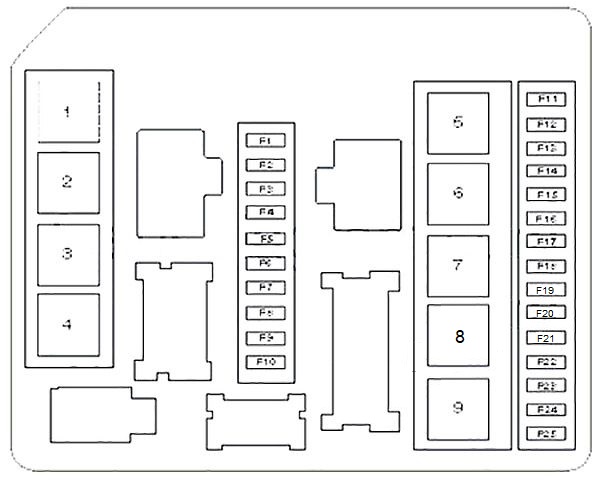 Arrangement of fuses and relays in the engine compartment
Number
Amperes [A]
Description
1
Heated rear window relay
2
Engine control (EC) relay – except K9K764
3
Dipped beam relay
4
Fog lamp relay
5
Starter motor relay
6
–
7
Engine coolant blower motor relay, high speed 1
8
Engine coolant blower motor relay, low speed 2
9
Ignition main circuits relay 2
F1
25A
ABS control module
F2
–
F3
10 A.
Right high beam headlamp
F4
10 A.
Left high beam headlamp
F5
10 A.
Air conditioning control module;

Central lock;

Cruise control switch;

Electric window motor, rear right;

ABS / ESP system;

Multifunction display;

Right side lamps;

Right rear lamps.

F6
10 A.
Audio team;

Central lock;

Lighter;

Side mirror adjustment switch;

Double electric window switch, driver's door;

Electric window motor, rear left;

Electric window switch, passenger's door;

Headlamp adjustment control module;

License plate lamp;

Parking aid;

Lamps on the left side;

Rear lamps on the left side;

Traction Control System (TCS).

F7
15 A.
Auxiliary heater relay 1/2;

Cruise control reverse switch;

Data Link Connector (DLC);

Electric power steering;

Gas discharge headlamp control module;

Multifunctional control module;

Transmission mode selector switch;

Gear selector lamp;

Tire pressure monitor control module.

F8
20A
Windshield wiper motor
F9
15A
Right headlight adjustment motor;

Right dipped beam headlamps.

F10
15A
Left headlight adjustment motor;

Left-hand dipped beam headlamps.

F11
10 A.
Air conditioning compressor clutch
F12
–
–
F13
25A
Starter solenoid
F14
20 A.
Transmission Control Module (TCM)
F15
–
–
F 16
15A
Heated rear window
F17
15A
Headlight washer pump relay
F18
5 A.
Transmission Control Module (TCM)
F19
–
–
F20
10 A.
Reversing lamps
F21
20A
Ignition coils
F22
20A
Engine Control Module (ECM)
F23
10 A.
Supplementary Restraint System (SRS) Control Module
F24
10 A.
Engine Control Module (ECM);

Steering Column Lock Solenoid – With Keyless Entry System.

F25
20A
Front fog lights
Power fuse box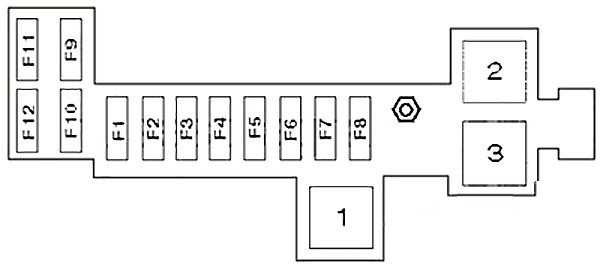 | Number | Amperes [A] | Description |
| --- | --- | --- |
| 1 | | Headlight washer pump relay 1 |
| 2 | | Headlight washer pump relay 2 |
| 3 | | Discharge headlamp relay |
| F1 | 30A | Engine control relay (EC) – K9K764 |
| F2 | 30A | Transmission pump relay – D4F764 (sequential manual transmission) |
| F3 | 30A | Engine coolant blower motor – K9K766, D4F764 (sequential mechanical transmission) |
| F4 | 30A | Engine coolant blower motor -K4M, K4J, D4F (MT) |
| F5 | 50A | Fuse box / relay board;Console 2 fuses F2-F4. |
| F6 | 80A | Auxiliary heater 1/2 |
| F7 | | – |
| F8 | 50A | ABS control module |
| F9 | | – |
| F10 | | – |
| F11 | | – |
| F12 | 10 A. | Discharge headlamp relay |
Main fuses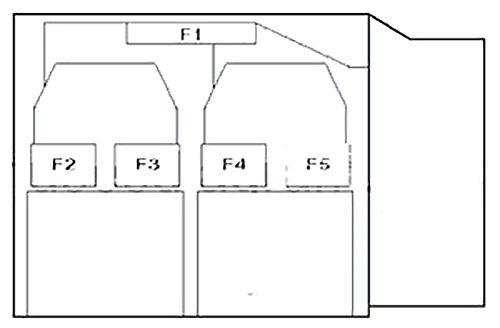 Number
Amperes [A]
Description
F1
350A
Fuse box / relay plate, engine compartment 2 fuses F2-F8;

Fuse box / relay plate, engine compartment 3 fuses F2 / F3.

F2
70A
Fuse box / relay board, console 1 – fuses F16-F18;Fuse box / relay plate, engine compartment 2 fuses F1.
F3
60A
Electric power steering
F4
70A
Fuse box / relay plate, console 1 – fuses F1-F6 / F20, relay 1
F5
60A
Multifunctional control module