Renault Master IV (2010-2022) – fuse and relay box
Diagrams of fuse and relay boxes – Renault Master
Applies to vehicles manufactured in the years:
2010, 2011, 2012, 2013, 2014, 2015, 2016, 2017, 2018, 2019, 2020, 2021, 2022.
The vehicle is equipped with two fuse boxes: in the cabin and in the engine compartment.
Fuses in the cabin
Unclip the cover A using the recess B.
To identify the fuses, follow the instructions on the fuse assignment sticker (detailed description on the opposite page) on cover A.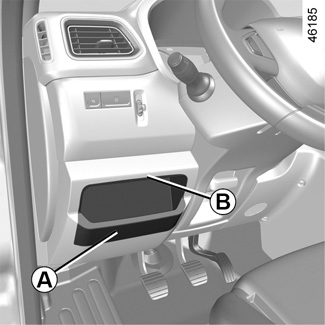 Symbol

Description

Symbol

Description

Symbol

Description

Radio, heated seats, multi-function display, sockets for connecting audio and alarm devices

Brake lights, interior lighting

ABS / ESC

Light intensity regulator, interior lighting

Hands-free access function

Accessory sockets
Stop lights

Tachograph

Lighter

Electric windows, heating and air conditioning, and a UCH in the cab

Heating and air conditioning fan

Instrument panel, diagnostic socket

Left rear window heater circuit

Optional accessories

Central lock
Right rear window heater circuit

Power windows and UCH in the cab

U-cab, turn signals and rear fog lamps
Windshield washers

Removing frost from the rear-view mirrors
Immobilizer system

Diesel fuel heater

Right side light

Heated seats

PTO

Power amplifier

Left side light
Upright module in the cabin

Audible warning signal
Fuses in the engine compartment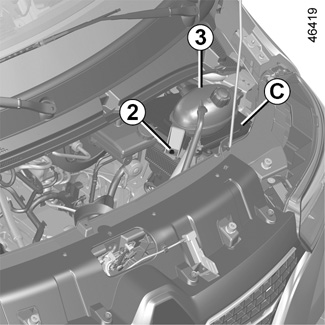 FUSE BOX REMOVAL C
Remove the bolt 2 and take out the coolant tank 3 .
Remove the four screws 4 .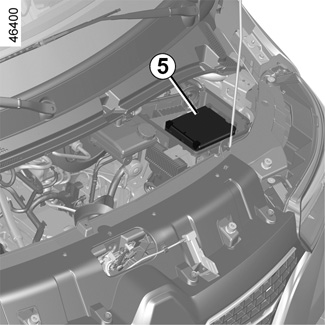 Turn cover 5 over to gain access to engine compartment fuses.
To replace the fuse, refer to the fuses description given on the sticker (a detailed description of the fuses purpose is on the next page) placed on the housing 5 .
Symbol

Description

Symbol

Description

Removing frost

Right high beam

Air conditioning

ABS

Right low beam

Windshield wipers

Left low beam

Fog light
Left high beam