Saab 9-3 (1998-2002) – fuse and relay box
Fuse and Relay Box Diagrams – Saab 9-3
Applies to vehicles manufactured in the years:
1998, 1999, 2000, 2001, 2002.
For the cigarette lighter (s) on the Saab 9-3 there is fuse number 6 in the instrument panel fuse box.
Fuse box in passenger compartment
The fuse box is located behind a cover on the driver's side of the dashboard.
The relay holder is located under the dash next to the steering wheel.

Number
Amperes [A]
Description
A
–
Not used
b
10
Brake lights;

Trailer.

C.
30
Cabin fan;

ACC.

1
30
Electrically heated rear window and rearview mirrors
2
20
Direction indicators
3
30
Cabin fan;

Air conditioning.

4
15
Trunk light;

Switch backlight;

Electrically powered radio antenna.

5
30
Electric front seat, right
6
30
Lighter
6A
7.5
Automatic gearbox
7
30
Rear window drives;

Rear view mirrors;

Sunroof.

8
15
Rear wiper
9
7.5
ACC panel
10
10
1998-2000: not used;
2001-2002: Horn
11
7.5
"DICE / TWICE"
12
20
Brake lights;

Front fog lamps.

13
15
Diagnostics; radio
14
30
1998-2000: Windshield Motors;
2001-2002: Windshield motors; soft top (convertible)
15
20
Day lights
16
30
Front left electric seat
16B
30
Control module;

Engine management system.

17
15
1998-2000:

"DICE / TWICE";

Instruments;

Memory for electric driver seat;

2001-2002:

Control module,

Engine management system;

"DICE / TWICE";

Main Instrument Panel / SID;

Memory for electric driver seat;

Telephone;

Cruise control.

18
10
Airbag
19
10
1998-2000:

ABS;

Air conditioning;

Rear fog light;

2001-2002:

ABS;

Air conditioning;

Rear fog light;

Rear fog light switch.

20
20
1998-2000:

Electric heating, front seats;

2001-2002:

Electric heating, front seats;

Switch, electric heated rear window.

21
10
1998-2000:

Manual air conditioning;

Soft top (convertible);

2001-2002:

Switch, manual air conditioning;

Soft top (convertible).

22
15
Cruise control;

Direction indicators.

23
20
Soft top (convertible);

Telephone

24
7.5
Radio
25
30
1998-2000:

Central lock;

2001-2002:

Central lock;

Amplifier.

26
30
Control module;

Engine management system;

Ignition cartridge.

27
15
High beam flash;

ACC.

28
10
1998-2000:

Engine management system;

2001-2002:

Control module,

Engine management system.

29
10
Right parking light;

License plate lighting.

30
10
Left parking light
31
20
Reversing light;

Wipers;

Headlamp length adjustment

32
15
Fuel pump
33
15
Electric rear seat heating
34
10
SID ID;

Control module;

Automatic gearbox.

35
15
"DICE / TWICE";

Main instrument panel;

Indoor lighting

36
10
Relay, starter
37
15
1998-2000: not used;
2001-2002: Central locking
38
25
Oxygen sensor (lambda probe)
39
–
–
Relay holder
| Number | Description |
| --- | --- |
| A | Electric rear seat heating |
| b | Reversing lamp, cars with automatic transmission |
| C1 | – |
| C2 | Lock motor, boot lid |
| D1 | Rear wiper |
| D2 | Washing the rear window |
| E. | Ignition switch |
| F. | – |
| G. | 1998-2001: Windshield wipers (intermittent) |
| G1 | 2002: Horn |
| G2 | 2002: Windshield wipers (intermittent) |
| H. | Rear window heating |
| AND | Fuel pump |
| J. | – |
| K. | Start the relay |
| L. | Main relay (injection system) |
Fuse box in the engine compartment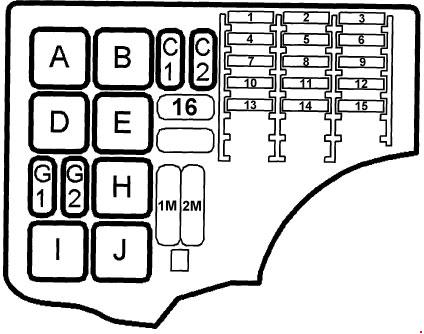 Number
Amperes [A]
Description
1
10
1998-2001: Horn;
2002: Not used
2
15
Front fog lamps
3
40
Radiator fan, low speed
4
10
Vacuum pump
5
15
Air conditioning compressor
6
10
Left low beam
7
10
Right low beam
8
10
Left high beam
9
10
Right high beam
10
7.5
Headlight wipers
11
–
Not used
12
–
Extra lights
13
7.5
1998-2001: APC;
2002: Not used
14
10
Additional heater;

Water pump (Europe).

15
15
Auxiliary heater (Europe)
1M
30
Radiator fan, high speed
2M
50
ABS
Relays
A
Dipped beam
B
Traffic lights
C1
Auxiliary heater (Europe)
C2
Vacuum pump (Turbo aut.)
D
Radiator fan, low speed
E.
Lamp control (filament monitor, front)
F1
–
Not used
F2
–
Not used
G1
1998-2001: Horn;
2002: Headlight wipers
G2
Front fog lamps
H.
Not used
I
Radiator fan, high speed
J.
Air conditioning compressor