Scania 4 (1994-2005) – fuse box
Scania 4 – fuse box diagram
Year of production: 1994, 1995, 1996, 1997, 1998, 1999, 2000, 2001, 2002, 2003, 2004, 2005.
The cigarette lighter fuse (power socket) on the Scania 4 is fuse 15 in the fuse box.
The purpose of the fuses and relays on Scania 4 may differ from that shown and depends on the year of manufacture and equipment level. Check your diagram on the back of the protective cover or other technical documentation!
Fuse and relay box
The main fuse and relay box are located in the dashboard, on the passenger side, behind the protective cover.
It consists of two parts. On the left side are the main equipment fuses and relays. Additional equipment is connected to the fuses on the right.
The scheme of the fuse box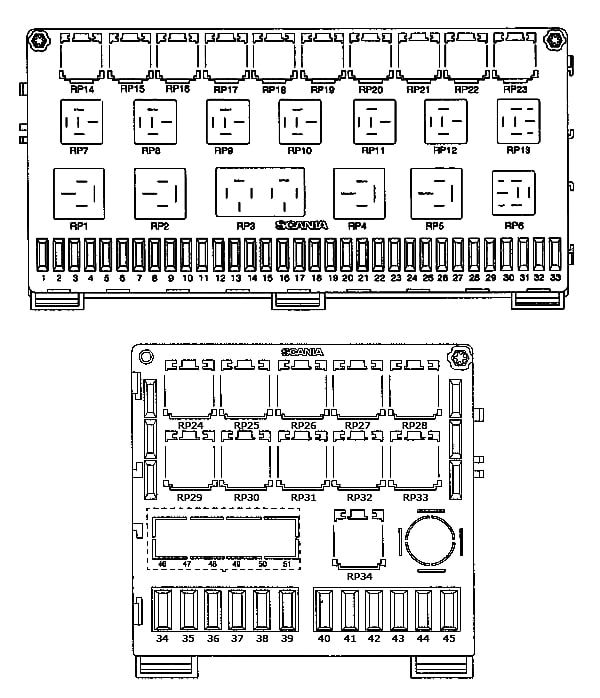 Task
Odometer, tachograph, buzzer, 10A ABS diagnostics
Flashing lights, speed limiter, 10A axle load limiter
Reversing signals 20A
Engine brake, 10A white smoke limiter
Gearbox 10A
ABS, 20A braking signals
Suspended axle lifting, differential lock, power take-off, pressure sensor 10A
Wipers, sprinklers 20A
Buzzer, fan, air conditioner, 20A temperature module
Air suspension, steering axles, 10A retarder
Window regulator, left side 20A
Right side window regulator, 20A fog lights
ABS 30A trailer
Tachograph, odometer, 10A seat
Interior lighting, central, lock, 20A cigarette lighter
Diagnostics, local lighting 20A
Radio equipment, 20A seat
ABS 20A relay valve
20A motor driver power supply
EDC engine controller, fuel interruption 10A
EBS 30А
Heated seats and 20A mirrors
5A trailer ABS controller
Headlight adjustment, 20A air dryer
Instrument panel lighting 10A
Work light, roof light 20A
Left side marker, 20A upper marker lights
Right dimension 20A
20A front and rear fog lights
Left main beam 10A
Right main beam light, 10A local lighting
Left dipped beam 10A
Right low beam, headlight height adjustment 10A
Auxiliary heater, cab tilting 20A
Warming ka , temperature control, refrigerator 10A
Flame start, power take-off, cigarette lighter , 10A alarm
Fuel heater 20A
Flame start, fuel heater, seat heating 10A
Battery heater, aut. undercarriage grease 10A
Electric sunroof, FMS on-board computer, 20A cell
Opticruise gearbox, block clock, 10A alarm
EBS 20А
Optional equipment 20A
Filter heating, optional equipment 20A
Additional equipment 10A
Relay
| | |
| --- | --- |
| RP1 | Power supply (bus 15, supply of fuses 1-13, 18,21,23) |
| RP2 | Power supply (bus 15, powered by fuses 36.37) |
| RP3 | High and low beam headlamps |
| RP4 | Power rail 61 (loads with the engine running) |
| RP5 | Power bus 58 (parking lights, backlight) |
| RP6 | Wipers, intermittent operation |
| RP7 | Stop lights |
| RP8 | Additional headlights |
| RP9 | Electronic Engine Control (EDC) power |
| RP10 | Buzzer |
| RP11 | Reversing lamps |
| RP12 | Front fog lights |
| RP13 | Rear fog lights |
| RP14 | EDC diode block |
| RP15 | Row shift control |
| RP16 | ABS trailer |
| RP17 | Reduction of the braking force of an additional axle |
| RP18 | Depending on the version |
| RP19 | Indoor heater fan |
| RP20 | Indoor heater fan |
| RP21 | Additional headlights |
| RP22 | Engine brake (depending on version) |
| RP23 | White smoke limiter, starter lock (depending on version) |
| RP24 | Air conditioning |
| RP25 | Air conditioning |
| RP26 | Additional heater |
| RP27 | Additional heater |
| RP28 | Additional heater |
| RP29 | Differential lock, 6-way ABS (diagonal 1) |
| RP30 | Depending on the version, 6-channel ABS (2 diagonal) |
| RP31 | 6-channel ABS diagnostic lamp depending on version |
| RP32 | A strong start |
| RP33 | Fuel heater |
| RP34 | Reserve |