Skoda Kamiq (2022) – fuse and relay box
Diagrams of fuse boxes and relays – Skoda Kamiq
Applies to vehicles manufactured in the years:
2022.
For the cigarette lighter (power sockets) there are fuses 52 (12 V socket on the front of the cigarette lighter) and 54 (12 V socket in the luggage compartment) in the fuse box in the instrument panel.
Instrument panel
The fuse box is located behind the glove box on the driver's side.
Press the button and open the tray, pull out the tray by pulling it towards you.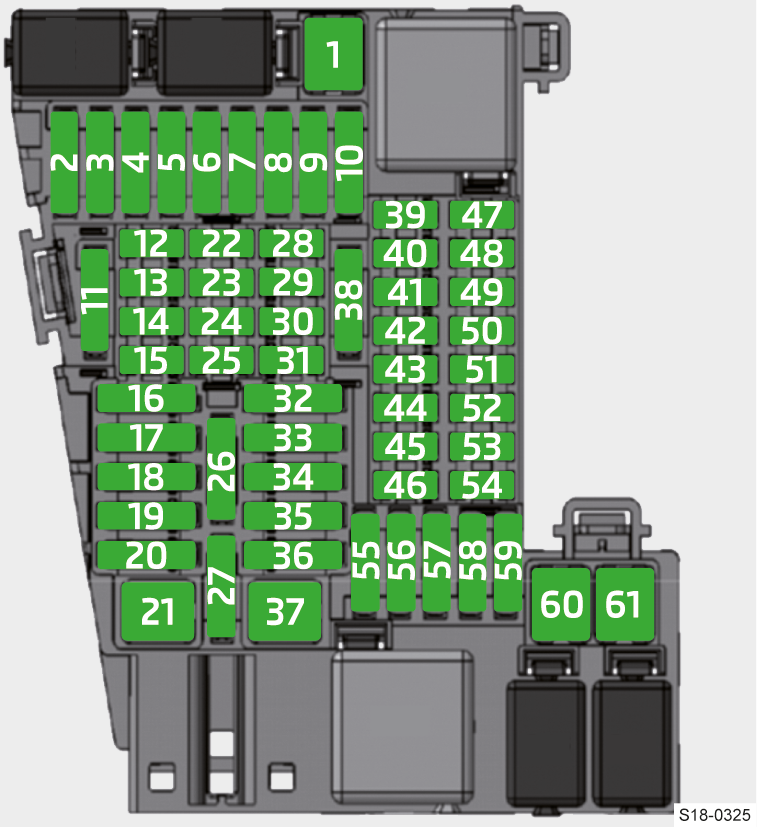 | Number | Description |
| --- | --- |
| 1 | Towbar |
| 2 | LED – Vehicle lighting – left side |
| 3 | music amplifier |
| 4 | Headlamp cleaning system |
| 5 | Tilt and slide roof |
| 6 | Central locking, windshield washer, rear window wiper |
| 7 | rear seat heating |
| 8 | Climatronic |
| 9 | LED – Vehicle lighting – right side |
| 10 | Towbar |
| 11 | Electric trunk lid |
| 12 | steering wheel heating |
| 13 | Light switch, diagnostic connector, rain sensor, selector lever under the steering wheel, heated windshield |
| 14 | Windscreen washers |
| 15 | dashboard, emergency number |
| 16 | Vehicle lighting – right side |
| 17 | Electric windows – right side |
| 18 | front wipers |
| 19 | the infotainment device |
| 20 | Rear window heating |
| 21 | Reserve |
| 22 | Reserve |
| 23 | Reversing camera |
| 24 | Phonebox , GSM antenna, USB port , Infotainment screen |
| 25 | operating lever under the steering wheel |
| 26 | data bus |
| 27 | Damper adjustment (adaptive suspension) |
| 28 | alarm sensor |
| 29 | Alarm system siren |
| 30 | Ignition (ignition lock) |
| 31 | Air conditioning / heating |
| 32 | Passenger seat belt pretensioners |
| 33 | Electric windows – left side |
| 34 | Driver belt pretensioners |
| 35 | Vehicle lighting – left side |
| 36 | sound signal |
| 37 | Front seat heating |
| 38 | Interior lighting, button lighting, headlight cleaning system, decorative lighting, manual air conditioning, heating |
| 39 | Support systems |
| 40 | Light switch, headlight, headlamp leveling, diagnostic connection, reverse light switch, selector lever below the steering wheel |
| 41 | Interior mirror dimming, exterior mirror adjustment, air conditioning, CNG relay |
| 42 | Clutch pedal switch, engine start |
| 43 | rear window wiper |
| 44 | Airbag system, airbag indicator light |
| 45 | front wipers |
| 46 | rear seat heating |
| 47 | Reserve |
| 48 | Electric steering column lock, KESSY (keyless lock and starting system) |
| 49 | CNG |
| 50 | USB -connectors on the rear, USB -connection on the interior mirror |
| 51 | Reserve |
| 52 | Cigarette lighter, 12 V socket |
| 53 | Ignition key trigger lock, automatic transmission |
| 54 | 12 V socket in the trunk |
| 55 | Reserve |
| 56 | Manual air conditioning, heating |
| 57 | Reserve |
| 58 | Windscreen washers |
| 59 | Heated exterior mirrors, heated washing nozzles |
| 60 | Towbar |
| 61 | Towbar |
Engine compartment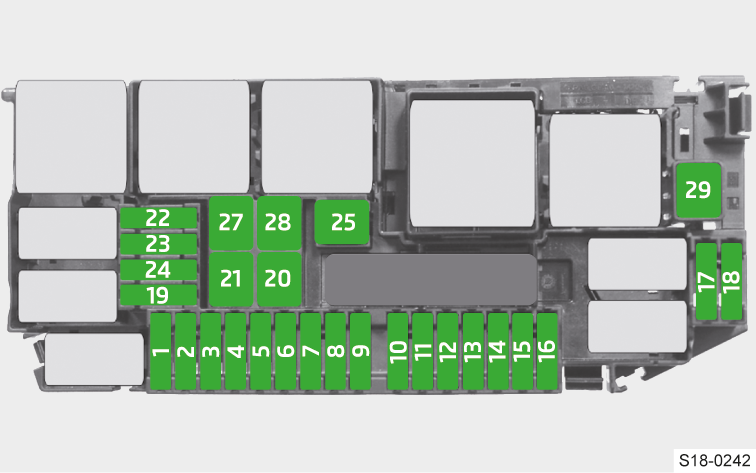 | Number | Description |
| --- | --- |
| 1 | Motor controller |
| 2 | Exhaust flap, coolant pump, radiator louvers, engine components |
| 3 | Lambda probes |
| 4 | Fuel pump |
| 5 | Radiator fan, boost pressure regulator, oil level and oil temperature sensor, engine components |
| 6 | Crankcase breather, engine components |
| 7 | Braking system (vacuum pump) |
| 8 | Fuel pump, engine components |
| 9 | Brake light switch |
| 10 | Data bus, BCM controller , battery data module |
| 11 | Reserve |
| 12 | Air conditioning |
| 13 | Reserve |
| 14 | ESC , engine control system, engine components |
| 15 | Automatic Transmission |
| 16 | Reserve |
| 17 | engine control system |
| 18 | Starter |
| 19 | Reserve |
| twenty | ESC |
| 21 | ESC |
| 22 | Reserve |
| 23 | Reserve |
| 24 | Reserve |
| 25 | Radiator fan |
| 27 | Radiator fan |
| 28 | Reserve |
| 29 | Windscreen heating |