Skoda Octavia (1996-2004) – fuse and relay box
Diagrams of fuse boxes and relays – Skoda Octavia
Applies to vehicles manufactured in the years:
1996, 1997, 1998, 1999, 2000, 2001, 2002, 2003 and 2004.
Passenger compartment
Fuse box
It is located at the end of the dashboard on the driver's side.
Description
1
10A Heated mirrors;

Cigarette lighter relay;

Electric seats;

Washer nozzles.

2
10A Direction indicators;

Headlamps with xenon bulbs.

3
5A glove box lighting
4
5A license plate light
5
7.5A Heated seats;

Climatronic;

Air recirculation flap;

Heated exterior mirrors;

Cruise control.

6
5A Central locking
7
10A Reversing lamps;

Parking sensors.

8
Telephone 5A
9
5А ABS, ESP
10
10A Ignition
11
5A Instrument panel
12
7,5А Power supply for the diagnostic system
13
10A brake light
14
10A Interior lighting for bodywork;

Central lock;

Interior lighting of the body (without central locking).

15
5A Instrument panel;

Steering angle sensor;

Rearview mirror.

16
Air conditioner 10A
17
5A Heated sprayer nozzles;

30A Daytime running light.

18
10A Right high beam headlamp
19
10A Left-hand high beam headlamp
20
15A Right dipped beam headlamp;

Headlamp leveling.

21
15A Left-hand dipped beam headlamp
22
5A Right parking light
23
5A Left parking light
24
20A Front wipers, washer motor
25
25A Heater fan;

Air conditioning;

Climatronic.

26
25A Heated glass trunk lid
27
15A Rear window wiper
28
15A fuel pump
29
15A Control unit: gasoline engine;

10A Control unit: diesel engine.

30
20A Electric Sunroof
31
Unoccupied
32
10A gasoline engine – valve injectors, engine high pressure pump;

Diesel 30A, control unit.

33
20A Headlight washer
34
10A gasoline engine: control box;

10A diesel engine: control box.

35
30A Socket for connecting the trailer;

A socket in the trunk.

36
15A Fog lamps
37
20A gasoline engine: control box;

5A diesel engine: control box.

38
15A Trunk Lamp;

Central lock;

Interior lighting.

39
15A Hazard warning system
40
20A Horn (beep)
41
Cigarette lighter 15A
42
15A Radio;

Telephone.

43
10A Gasoline engine: control box;

Diesel engine: control box.

44
15A Heated seats
Relay box
It is located under the panel itself, behind the cladding cover.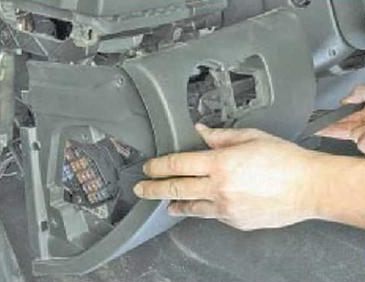 Diagram
Description
horn relay;
switching relay;
lighting amplifier;
fuel pump relay;
wiper controller.
In cars with more extensive electrical equipment, another panel is supplied – an additional one (mounted at the top), filled with classic relay elements.
Engine compartment
It is located in the battery cover and consists of fuses (high power) and fuses.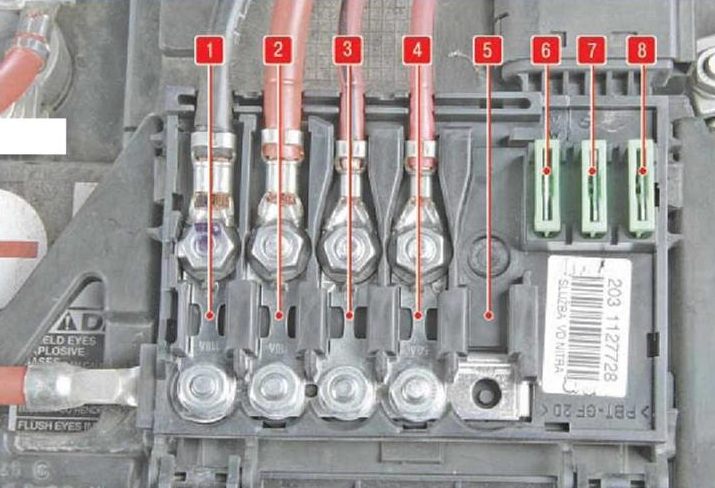 Description
| | |
| --- | --- |
| 1 | 110 / 150A generator |
| 2 | 110A Interior lighting control unit |
| 3 | 40 / 50A Electric motor of the engine cooling system |
| 4 | 50A Electronic control unit |
| 5 | 50A Glow plugs for diesel engines |
| 6 | 30A Electric motor of the engine cooling system |
| 7 | ABS 30A control unit |
| 8 | ABS 30A control unit |