Suzuki Liana (2001-2008) – fuse and relay box
Diagrams of fuse boxes and relays – Suzuki Aero (Liana)
Applies to vehicles manufactured in the years:
2001, 2002, 2003, 2004, 2005, 2006, 2007 and 2008.
Engine compartment
It is located next to the battery, under the protective cover on which the current diagram will be applied.

Description
80A battery, alternator, all circuits
60A ignition switch
Fuse box 60A, engine compartment fuse box
60A ABS. Drive and control unit
30A fan relay
15A Cluster, Headlight – right headlight (R)
15A Headlight – left headlight (L)
30A Radiator fan control relay # 1 Radiator fan control relay # 2
20A compressor relay, A / C fan relay
15A Main relay
15A brake light switch
The main distribution fuse may be located separately on the battery terminal.
Passenger compartment
It is located under the dashboard on the driver's side, behind the protective cover.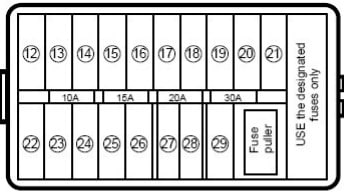 Description
| | |
| --- | --- |
| 12 | 10A Compressor Relay, A / C Fan Relay, Heated Mirror Switch, Fan Motor Relay, Fan Motor Relay (Hi) |
| 13 | 15A Heated seat |
| 14 | 20A Heated rear window switch (combi) or relay for heated rear window |
| 15 | 15 amp ECM, data connector, instrument cluster, headlights, interior lighting, trunk lighting, stereo, TCM |
| 16 | 10A rear fog lamp, rear fog lamp switch, rear fog lamp driver |
| 17 | Alarm 10A |
| 18 | 15A reserve |
| 19 | 10А H / T relay (headlight / rear) or Dimensions (rear), lighting of devices and license plates |
| 20 | 20A Central locking |
| 21 | Reserve |
| 22 | 15A SRS electronic control unit |
| 23 | 15A alternator, ignition coils |
| 24 | 10A door lock controller, hazard light switch, reverse light switch, shift sensor, handle mode, mode control switch |
| 25 | 15A Wipers, Windshield Wiper Motor, Headlamp Positioner (L), Headlamp Positioner (R), Headlamp Position Switch, Switch Combination, Rear Wiper Relay, Rear Wiper Motor |
| 26 | ABS 10A electronic control unit, |
| 27 | 10A Instrument cluster |
| 28 | 15A Cigarette Lighter Fuse, Mirror Switch Power, Radio Cassette Player, Antenna Amplifier |
| 29 | 15A Accessories power connector |