Tesla Model S (2013-2014) – fuse and relay box
Diagrams of fuse and relay boxes – Tesla Model S
Applies to vehicles manufactured in Aach:
2013, 2014.
For the cigarette lighter (12V power socket) in the Tesla Model S there are 35 fuses and in fuse box number 2.
Location of the fuse box
The three fuse boxes are located behind the maintenance panel in the front trunk. To remove the maintenance panel, pull the rear edge of the maintenance panel up to release the five clips and slide the maintenance panel toward the windshield to remove it.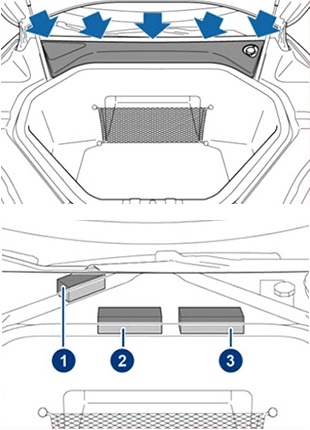 If the Model S is equipped with the cold weather option, auxiliary fuse box # 4 is located under the driver's side trim panel.
Diagrams of fuse boxes
Fuse box # 1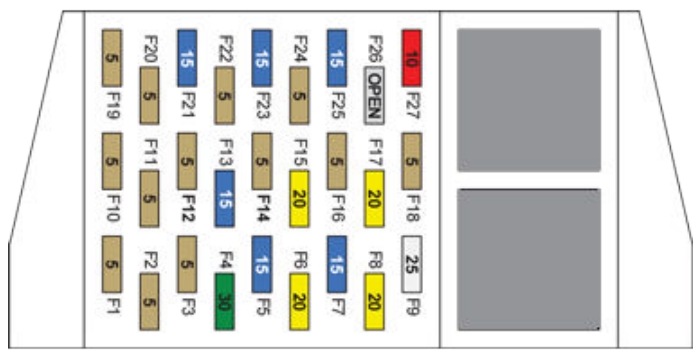 Fuse assignment in fuse box # 1
Number
Amperes [A]
Description
1
5 A.
Accessory sensor;

Radio;

USB hub.

2
5 A.
Headlamp leveling system (vehicles with EU / China coil suspension only)
3
5 A.
Door trim lights;

Rearview mirror.

4
30 A.
Rear seat external heaters (optional in cold weather)
5
15 A.
Seat heating (driver's seat)
6
20 A.
Basic audio amplifier
7
15 A.
Seat heater (front passenger seat)
8
20 A.
High-quality audio amplifier
9
25 A.
Sunroof
10
5 A.
Passive security measures
11
5 A.
Switches on the steering wheel
12
5 A.
Drive mode and yaw rate sensor (stability / traction control)
13
15 A.
Wipers setting
14
5 A.
Drive inverter
15
20 A.
Electric parking brake
16
5 A.
Parking sensors
17
20 A.
Electric parking brake
18
5 A.
Not used
19
5 A.
HVAC sensor in the vehicle
20
5 A.
Cab air heater logic
21
15 A.
Coolant pump 1
22
5 A.
Inlet actuators
23
15 A.
Coolant pump 2
24
5 A.
Air conditioning in the cabin
25
15 A.
Coolant pump 3
26
–
Not used
27
10 A.
Thermal controller
Fuse box no.2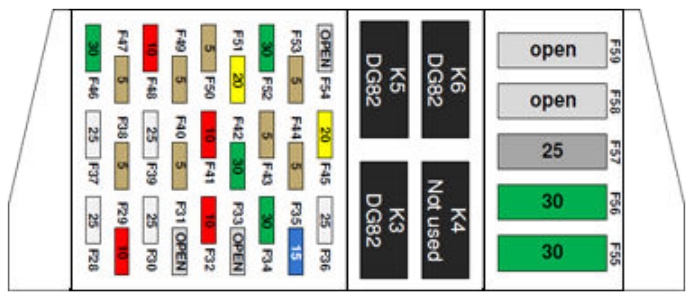 Fuse assignment in fuse box # 2
Number
Amperes [A]
Description
28
25 A.
Window lifter motor (right rear)
29
10 A.
Contactor power
30
25 A.
Window lifter motor (right front)
31
–
Not used
32
10 A.
Door control (right side)
33
–
Not used
34
30 A.
Rear center seat heaters;

Washer and de-icing wiper (option at low temperatures).

35
15 A.
12V power socket
36
25 A.
Pneumatic suspension
37
25 A.
Window lifter motor (left rear)
38
5 A.
Driver seat memory
39
25 A.
Window lifter motor (left front)
40
5 A.
Rear door handles
41
10 A.
Door control (left side)
42
30 A.
Electric loading hatch
43
5 A.
Permanent power sensor;

Brake switch.

44
5 A.
Charger (charging port)
45
20 A.
Passive input (horns)
46
30 A.
Body Control (Group 2)
47
5 A.
Glove box light
48
10 A.
Body Control (Group 1)
49
5 A.
Instrument panel
50
5 A.
Siren;

Intrusion / Tilt Sensor (Europe only).

51
20 A.
Touchscreen
52
30 A.
Heated rear window
53
5 A.
Battery management system
54
–
Not used
55
30 A.
Left front electric seat
56
30 A.
Right front electric seat
57
25 A.
Cabin fan
58
–
Not used
59
–
Not used
Fuse box # 3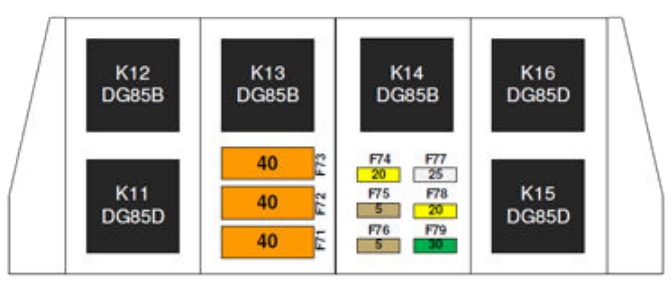 Fuse assignment in fuse box # 3
| Number | Amperes [A] | Description |
| --- | --- | --- |
| 71 | 40 A. | Condenser fan (left) |
| 72 | 40 A. | Condenser fan (right) |
| 73 | 40 A. | Vacuum pump |
| 74 | 20 A. | 12V drive rail (cabin) |
| 75 | 5 A. | Power steering |
| 76 | 5 A. | ABS |
| 77 | 25 A. | Stability control |
| 78 | 20 A. | Headlamps – high / low beam |
| 79 | 30 A. | Light – external / internal |
Fuse box #4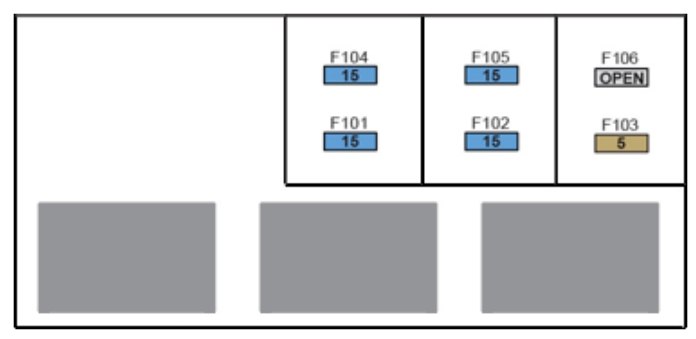 Fuse assignment in fuse box # 4
| Number | Amperes [A] | Description |
| --- | --- | --- |
| 101 | 15 A. | Rear left seat heating |
| 102 | 15 A. | Rear right seat heating |
| 103 | 5 A. | Rear center seat heating control |
| 104 | 15 A. | Rear center seat heater |
| 105 | 15 A. | Windscreen defroster |
| 106 | – | Not used |