Toyota 4Runner N210 (2003-2009) – fuse and relay box
Diagrams of fuse boxes and relays –
Toyota
4Runner
N210
Applies to vehicles manufactured in the years:
The cigarette lighter (power sockets) is fuses no. 12 (power sockets), no. 23 (power sockets) and no. 24 (cigarette lighter) in the fuse box in the instrument panel.
Passenger compartment
location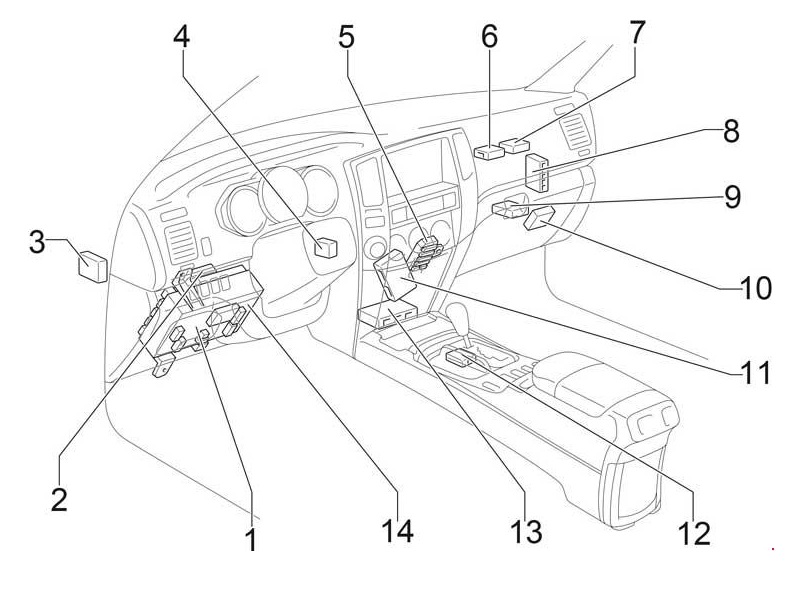 Description
Fuse box
Turn signal relay / Daytime running lamp relay
Suspension ECU
Transponder key amplifier
J / B Center
Anti-theft ECU
Computer with transponder key
Engine control module
4WD ECU control
Tire pressure monitoring ECU
Air conditioner control unit
Shift lock ECU
Airbag sensor assembly
Body ECU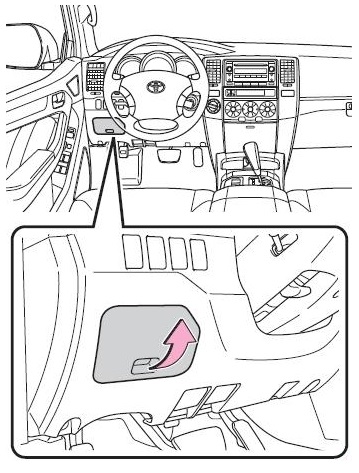 It is located on the left side of the dashboard, behind the cover.

Back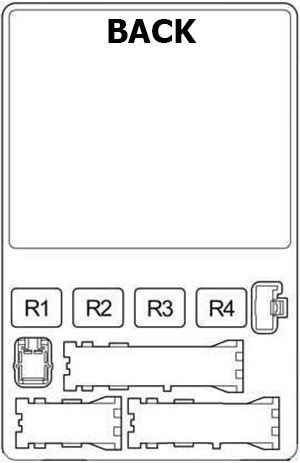 | | | |
| --- | --- | --- |
| Number | Amperes [A] | Description |
| 1 | 10 | Multiport fuel injection system / sequential multiport fuel injection system, anti-lock brake system, traction control system (2WD models), active traction control system (4WD models), vehicle stability control system, gauge and gauge, front passenger classification system, light alloy |
| 2 | 10 | SRS airbag system |
| 3 | 7.5 | Indicators and meters |
| 4 | 7.5 | Starting system, multiport fuel injection system / sequential multiport fuel injection system; |
| 5 | thirty | Windshield wipers and washers |
| 6 | – | – |
| 7 | twenty | 4WD control system |
| 8 | – | – |
| 9 | – | – |
| 10 | thirty | The driver's seat |
| 11 | thirty | Rear seat power supply |
| 12 | 15 | Electric sockets |
| 13 | – | – |
| 14 | 15 | Rear window washer, multiplex communication system |
| 15 | 10 | Shift lock control system, power windows, anti-lock brake system, traction control system (2WD models), active traction control system (4WD models), vehicle stability control system, electric moon roof, multiplex communication system, theft deterrent system, rear height air suspension control, tire pressure warning system, driving position memory system; |
| 16 | 15 | Anti-lock brake system, traction control system (2WD models), active traction control system (4WD models), vehicle stability control system, air conditioning system, charging system, rear window defogger, reversing lamps, turn signals, hazard lamps, seat heating , AC inverter, controls instrument panel lighting, anti-glare car in rear view mirror, belt tension reducer , SRS airbag system |
| 17 | 7.5 | No circuit |
| 18 | 10 | Anti-theft system |
| 19 | – | – |
| 20 | – | – |
| 21 | – | – |
| 22 | 10 | Tail lights, license plate light, parking light, instrument panel light control, multiport fuel injection system / sequential multiport fuel injection system, instrument panel light, gauge and gauge, glove box light |
| 23 | 7.5 | Power sockets, door mirrors, audio system, navigation system, shift lock control system, instrument panel lighting, rear entertainment system |
| 24 | 10 | Lighter |
| 25 | thirty | Electric windows, electric sunroof |
| | | |
| Relay | | |
| R1 | | Horn |
| R2 | | Rear lights |
| R3 | | Energy relay |
| R4 | | Accessory Socket (DC SKT) |
Additional items
Description
Moon roof control ECU
Rear Seat Sound Controller
Tire pressure monitor receiver
Component stereo amplifier
Rear door ECU
Door control receiver
Towing converter relay
Engine compartment
Description
A fuse and a really box
Relay box # 1
Air injection control controller
Skid control ECU with actuator
Relay box # 2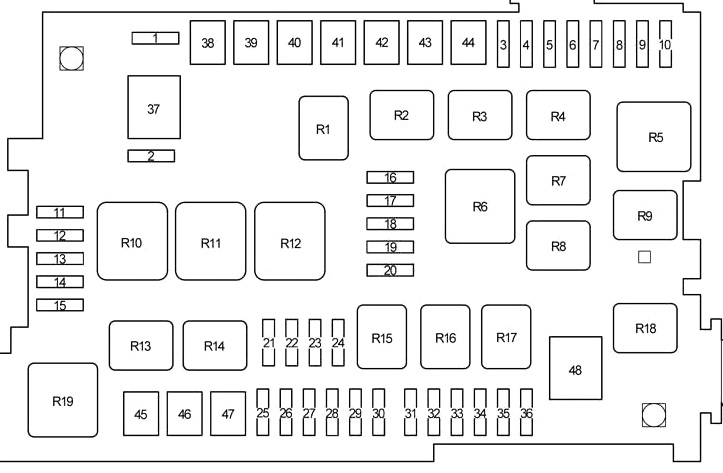 | | | |
| --- | --- | --- |
| Number | Amperes [A] | Description |
| 1 | 10 | Spare fuse |
| 2 | 15 | Spare fuse |
| 3 | – | – |
| 4 | – | – |
| 5 | – | – |
| 6 | 10 | Stop / tail lights, high mounted brake light, shift lock control system, anti-lock brake system, traction control system (2WD models), active traction control system (4WD models), vehicle stability control system, rear height control air suspension, multi-point system fuel injection / sequential multiport fuel injection system, trailer brake controller, trailer lights (tail lights) |
| 7 | 15 | AC inverter |
| 8 | 15 | Front fog lamps |
| 9 | – | – |
| 10 | 7.5 | On-board diagnostics system |
| 11 | 10 | Right headlight (low beam) |
| 12 | 10 | Left headlight (low beam) |
| 13 | 10 | Right headlight (high beam) |
| 14 | 10 | Left headlight (high beam) |
| 15 | 10 | Multiport fuel injection system / sequential multiport fuel injection system |
| 16 | 7.5 | Air conditioning system |
| 17 | 10 | Height-adjustable rear air suspension |
| 18 | 25 | Seat heating |
| 19 | thirty | Rear window defogger, multiport fuel injection system / sequential multiport fuel injection system |
| 20 | 10 | Outside rearview mirror heater |
| 21 | 10 | Interior lighting, personal lighting, wireless remote control system, door ceiling light, indicator and meter, vanity lighting, instrument panel lighting, dashboard lighting, multiplex communication system, rear audio system |
| 22 | twenty | Audio system, navigation system, rear entertainment system |
| 23 | 10 | Anti-lock brake system, traction control system (2WD models), active traction control system (4WD models), vehicle stability control system, air conditioning system, multiplex communication system, anti-theft system, travel position memory system, front passenger classification system, navigation system |
| 24 | – | – |
| 25 | – | A short pin |
| 26 | 7.5 | Charging system |
| 27 | – | – |
| 28 | 10 | Horn |
| 29 | 15 | A / F sensor |
| thirty | 15 | Direction indicators, emergency flashers |
| 31 | 10 | Multiport fuel injection system / sequential multiport fuel injection system |
| 32 | twenty | Multiport fuel injection system / sequential multiport fuel injection system |
| 33 | – | – |
| 34 | twenty | Power door lock system |
| 35 | thirty | Towing converter |
| 36 | twenty | Public address system |
| 37 | 140 | Various fuses |
| 38 | 50 | 2005 – 2009: Multiport fuel injection system / sequential multiport fuel injection system |
| 38 | 50 | 2002 – 2003: Air conditioning system |
| 39 | 50 | Height-adjustable rear air suspension |
| 40 | 50 | All elements in the "ACC", "CIG", "IGl", "ECU-IG", "FR WIP-WSH", "RR WIP", "RR-WSH", "4WD" and "STA" fuses |
| 41 | thirty | Trailer brake controller |
| 42 | 50 | All elements in the "PWR OUTLET", "DP / SEAT ", "PP / SEAT ", "POWER", "TAIL" and "SECU / HORN" fuses |
| 43 | thirty | Trailer auxiliary battery |
| 44 | 40 | Trailer lights (tail lights) |
| 45 | 40 | Anti-lock brake system, traction control system (2WD models), active traction control system (4WD models), vehicle stability control system |
| 46 | thirty | Starter System, "IGN", "GAUGE", "STA NO. 2" and "SRS" fuses |
| 47 | 50 | 2002 – 2004: Anti-lock brake system, traction control system (2WD models), active traction control system (4WD models), vehicle stability control system |
| 47 | thirty | 2005 – 2009: Anti-lock brake system, traction control system (2WD models), active traction control system (4WD models), vehicle stability control system |
| 48 | 60 | 2004 – 2009: Air conditioning |
| | | |
| Relay | | |
| R1 | | – |
| R2 | | Accessories (ACC CUT) |
| R3 | | Fog lights |
| R4 | | Starter (STA) |
| R5 | | Ignition (IG) |
| R6 | | Heater |
| R7 | | Air conditioning compressor clutch (MG CLT) |
| R8 | | AC inverter (AC115V INV) |
| R9 | | Rear window defogger (DEFOG) |
| R10 | | – |
| R11 | | – |
| R12 | | – |
| R13 | | Stop lamps (STOP LP CTRL) |
| R14 | | Circuit opening relay (C / OPN) |
| R15 | | Interior lighting, garage door opener (DOME) |
| R16 | | EFI |
| R17 | | Air fuel ratio sensor |
| R18 | | Fuel pump |
| R19 | | Reflector |
Relay box 1
| | |
| --- | --- |
| Number | Relay |
| R1 | Pneumatic suspension |
| R2 | – |
Relay box 2
| | |
| --- | --- |
| Number | Relay |
| R1 | Trailer auxiliary battery |
| R2 | Trailer lights |