Volkswagen Lupo (1998-2005) – fuse box
Volkswagen Lupo (1998-2005) – fuse box diagram
Year of production: 1998, 1999, 2000, 2001, 2002, 2003, 2004, 2005.
The cigarette lighter fuse (power socket) on the VW Lupo is the SB45 fuse (front 12 V socket) in the fuse box on the dashboard.
Engine compartment fuse box
The fuses are on the battery.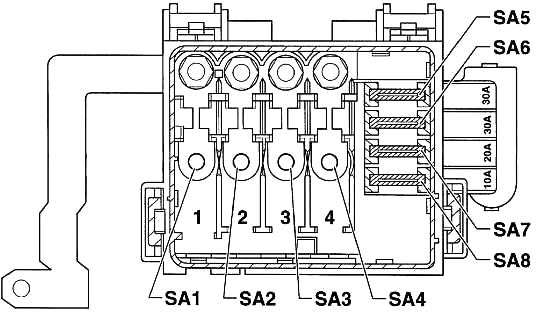 Number
Amperes [A]
Description
SB1
110
Alternator
SB2
80
Relay board
SB3
50
Engine glow plugs
SB4
50
Coolant heater components
30
Air conditioner
SB5
30
ABS control unit
SB6
30
ABS control unit
SB7
20
Radiator fan
SB8
10
Air conditioner
Passenger compartment fuse box
The fuse panel is located behind the dashboard cover on the driver's side.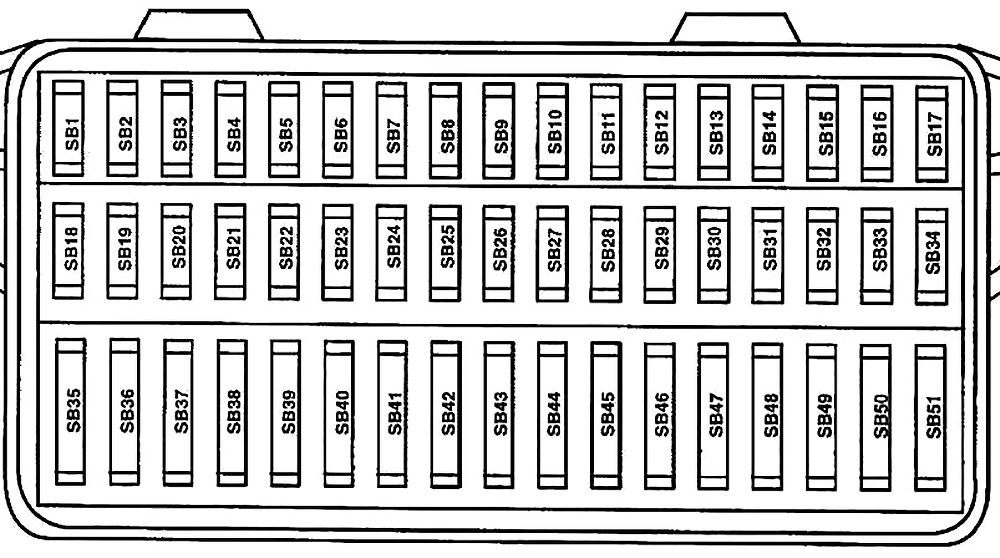 Number
Amperes [A]
Description
SB1
10
Heating the lambda probe
SB2
5
Number plate lighting
SB3
10
Injectors
SB4
5
Left side lights
SB5
5
Right side lights
SB6
10
Rear wiper
SB7
7.5
Direction indicators
SB8
5
ABS and EDL
SB9
5
Headlight range adjustment
SB10
5
Interior lighting
SB11
5
Electric power supply for self-diagnosis connection
SB12
10
Right headlight main beam
SB13
10
Left high beam
SB14
10
Warning light system, anti-theft alarm
SB15
10
Stop lights
SB16
5
Warning buzzer for side lights and radio
SB17
10
Simos control unit
5
Retractable mirror
SB18
5
Mirror heating
SB19
15
Double horn;

Heated washer nozzles.

SB20
15
Double horn;

Heated washer nozzles.

10
CD changer;

Telephone

SB21
5
Automatic Transmission
SB22
5
Automatic Transmission
15
ATA horn
SB23
5
Injection commences
SB24
5
Injection valve actuation;

Throttle valve;

Engine glow plug relay.

5
Clutch pedal switch;

Diesel direct injection system control unit.

SB25
5
Clutch pedal switch;

Diesel direct injection system control unit

5
Gear lever for automatic transmission
SB26
5
Gear lever for automatic transmission
5
Air recirculation system
SB27
5
Air recirculation system
5
Dashboard insert
SB28
5
Dashboard insert
5
Speedometer transmitter;Immobilizer.
SB29
5
Speedometer transmitter;Immobilizer.
7.5
Reversing lamps
SB30
5
Reversing lamps
5
Exhaust gas recirculation valve;

Activated carbon filter solenoid valve.

SB31
5
Exhaust gas recirculation valve;

Activated carbon filter solenoid valve.

10
Fuel injection system control unit
SB32
10
Fuel cut-off controller;

Injection system controller.

5
Fuel injection system control unit
SB33
10
Automatic gearbox control unit
SB34
10
Ignition transformer;

Speedometer transmitter (for AHT engine).

SB35
25
Glass sliding roof
SB36
15
Simos injection system controller
SB37
15
Injection system control unit
SB38
15
Electric driver's door
25
Electric driver's door
SB39
15
Fuel pump
25
Electrically operated windows in the passenger's door
SB40
15
Central control lock
15
Fuel pump
SB41
15
Radio
15
Central control lock
SB42
15
Rear fog lights
15
Radio;

Navigation.

SB43
15
Left dipped beam
15
Front and rear fog lights
SB44
15
Right low beam
15
Left dipped beam
SB45
15
Lighter
15
Right low beam
SB46
15
Lighter
SB47
20
Rear window heating
20
Headlight washers
SB48
25
Fresh air blower
20
Rear window heating
SB49
25
Electrically operated front passenger door
25
Fresh air blower
SB50
15
Windshield wiper system
SB51
15
Seat heating
Relay block
Near the fuse board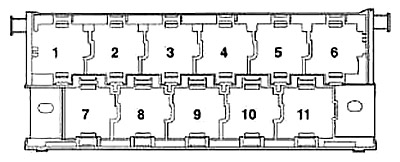 | Number | Description |
| --- | --- |
| 1 | Starter relay (53) – only on vehicles fitted with an automatic transmission |
| 2 | Fuel pump relay (167) – only on vehicles with a petrol engine |
| 7 | Fuel cut-off control unit (405) – only on vehicles equipped with airbags |
| 8 | Automatic Intermittent Wash / Wipe Relay (19) |
| 9 | Relief relay for X contact (100) |
| | |
| 1 | Starter relay (53) – only on vehicles fitted with an automatic transmission |
| 2 | Fuel pump relay -crash- (409) – only on vehicles with a gasoline engine |
| 7 | Relief relay for X contact (100) |
| 8 | Automatic Intermittent Wash / Wipe Relay (19) |
| 9 | Fuel cut-off control unit (405) – diesel and airbag only |
Below the relay plate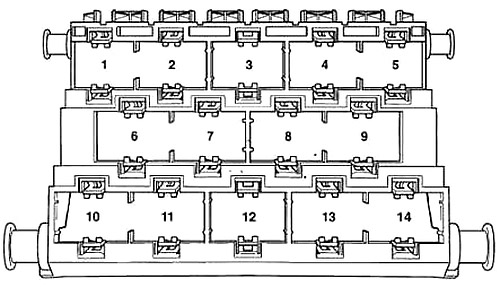 Number
Description
1
Airbag
2
Right front indicator;

Right front lights.

3
Horn;

Windshield wiper;

Brake light switch.

4
Alternator;ABS;

Starter.

5
Left lights;

Left turn signals;

Self-diagnosis;

Headlight range adjustment.

6
Automatic Transmission
7
Alternator warning lamp;

Motor controller supply voltage;

Oil pressure warning light.

9
Anti-theft alarm contact switch