Audi A4 and S4 B9/8W (2017-2019…) – fuse box
Audi A4 and S4 B9 / 8W (2017-2019…)
– fuse box diagram
Year of production: 2017, 2018, 2019, 2020.
The fuse for the cigarette lighter / power socket on the Audi A4 and S4 is fuse number 6 (black fuse panel C) in the fuse box in the driver / passenger footwell.
Location of the fuse box
Driver / front passenger footwell
Left-hand drive vehicles: Located under the footrest.
Right-hand drive vehicles: behind a cover under the glove box.


Driver's side cockpit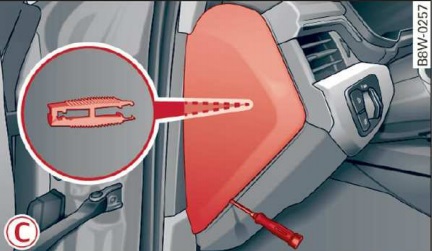 Trunk
It is located on the left side of the trunk behind the trim panel.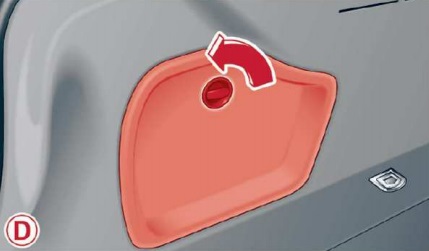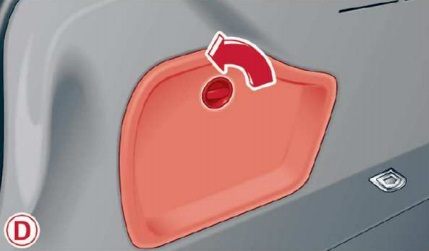 Fuse box diagrams
2017
Driver / front passenger footwell (LHD)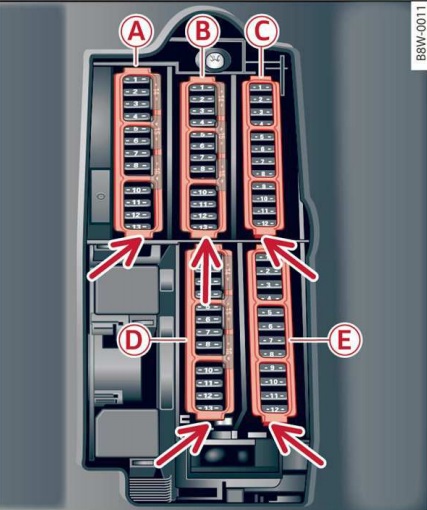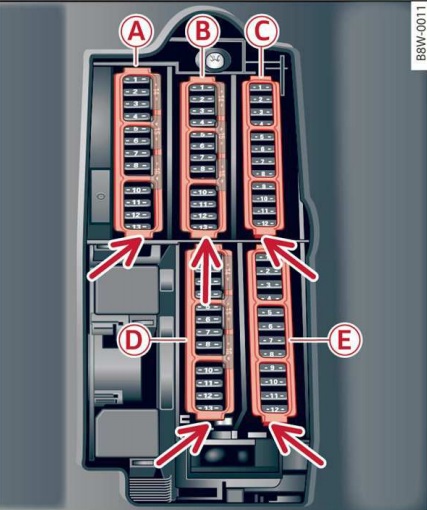 Front passenger footwell (RHD)
Fuse assignment in passenger compartment (legs) (2017)
Number
Description
Brown panel A
1
–
2
Mass air flow sensor;

Camshaft adjustment.

3
Exhaust doors;

Fuel injectors;

Radiator inlet.

4
Vacuum pump;

Hot water pump;

Particulate sensor;

Biodiesel sensor.

5
Brake light sensor
6
Engine valves
7
Heated oxygen sensor;

Mass air flow sensor.

8
The water pump;

High pressure pump;

High pressure regulating valve.

9
Hot water pump
10
Oil pressure sensor;

Oil temperature sensor.

11
Clutch pedal position sensor
12
Engine valves
13
Radiator fan
14
Fuel injectors
15
Ignition coils
16
Fuel pump
Red panel B.
1
Anti-theft alarm system
2
Engine control module
3
Lumbar support
4
Automatic transmission selection mechanism
5
Horn
6
Electromechanical parking brake
7
Gate control module
8
Internal interior headlamps
9
–
10
Airbag control module
11
Electronic Stability Control (ESC)
12
Diagnostic connector;

Light and rain sensor

13
Climate control system
14
Right front door control module
15
Air conditioning compressor
Black panel C.
1
Front seat heating
2
Wipers
3
Left head lighting electronics
4
Panoramic glass sunroof / sliding / tilting sunroof
5
Left front door control module
6
Sockets
7
Right rear door control module
8
–
9
Right headlight electronics
10
Windscreen washers;

Headlight washers.

11
Left Rear Door Control Module
Black panel D
1
Seat ventilation;

Rearview mirror;

Rear air conditioning system control.

2
Gate;Climate control system.
3
Adjustment of actuator sound, exhaust sound
4
Clutch pedal position sensor
5
Engine start
6
–
7
–
8
Homelink
9
Adaptive cruise control
10
–
11
Video camera
12
Matrix LED headlight and right-hand LED headlight
13
Matrix LED headlight and left LED headlight
14
Rear window wiper
Red panel E.
1
Ignition coils
2
Valves for natural gas tanks
3
–
4
–
5
Engine mount
6
Automatic gearbox
7
Instrument panel
8
Air conditioning system (blower)
9
–
10
Dynamic steering
11
Engine start
Driver's side cockpit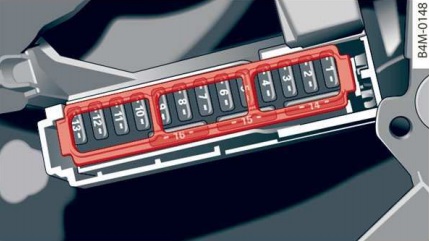 Driver's side cockpit fuse assignment (2017)
| Number | Description |
| --- | --- |
| 1 | – |
| 2 | Telephone |
| 3 | – |
| 4 | Head-up display |
| 5 | Audi music interface |
| 6 | Front air conditioning controls |
| 7 | Steering column lock |
| 8 | Infotainment system display |
| 9 | Instrument cluster |
| 10 | Infotainment unit |
| 11 | Light switch |
| 12 | Steering column electronics |
| 13 | – |
| 14 | Infotainment system |
| 15 | – |
| 16 | Steering wheel heating |
Left side of the trunk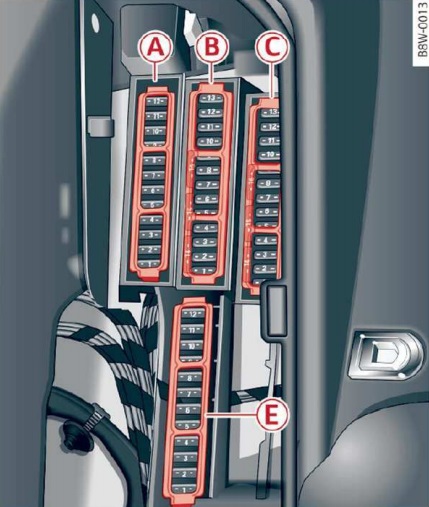 Fuse allocation in the left luggage compartment (2017)
Number
Description
Black panel A
1
–
2
Windshield defroster
3
Windshield defroster
4
–
5
Suspension control
6
Automatic gearbox
7
Rear window defogger
8
Rear seat heating
9
Rear lights
10
Left seat belt pretensioner
11
Central lock
12
Electric trunk lid
Red panel B.
–
Not assigned
Brown panel C.
1
–
2
Telephone
3
Lumbar support
4
Audi side assistant
5
–
6
–
7
–
8
–
9
–
10
–
11
–
12
Homelink
13
Rear view camera;

Peripheral cameras.

14
Right rear lights
15
–
16
Right seat belt pretensioner
Red panel E.
1
–
2
Sound amplifier
3
AdBlue
4
–
5
Trailer hitch (right light)
6
–
7
Towbar
8
Trailer hitch (left light)
9
Trailer hitch (socket)
10
Sports differential
11
Ad Blue
2018
Driver / front passenger footwell (LHD)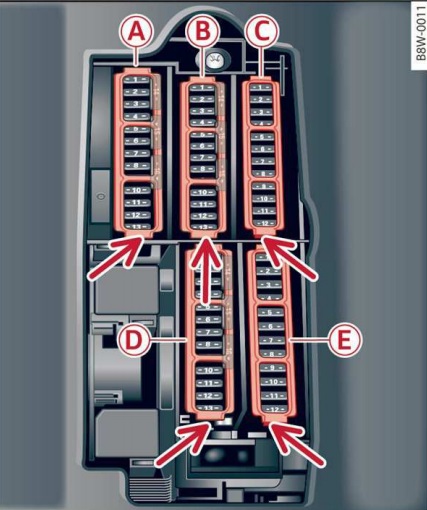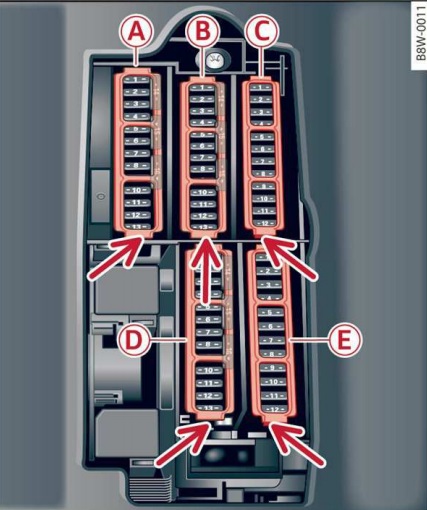 Front passenger footwell (RHD)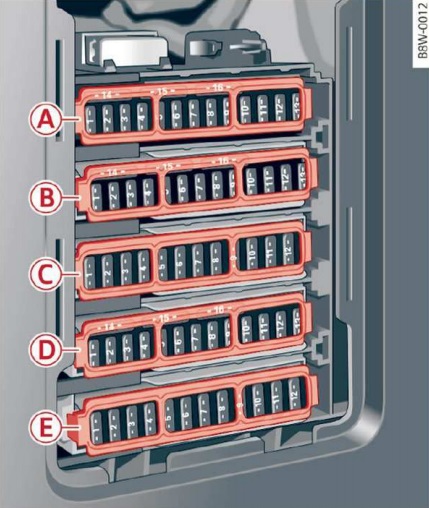 Assignment of fuses in passenger compartment (footwell) (2018)
Number
Description
Brown panel A
1
–
2
Mass air flow sensor;

Camshaft adjustment;

Charge air cooler pump.

3
Exhaust doors;

Fuel injectors;

Radiator inlet.

4
Vacuum pump;

Hot water pump;

Particulate sensor;

Biodiesel sensor.

5
Brake light sensor
6
Engine valves;

Camshaft adjustment.

7
Heated oxygen sensor;

Mass air flow sensor.

8
The water pump;

High pressure pump;

High pressure regulating valve.

9
Hot water pump
10
Oil pressure sensor;

Oil temperature sensor.

11
Clutch pedal position sensor
12
Engine valves
13
Radiator fan
14
Fuel injectors
15
Ignition coils
16
Fuel pump
Red panel B.
1
Anti-theft alarm system
2
Engine control module
3
Lumbar support
4
Automatic transmission selection mechanism
5
Horn
6
Electromechanical parking brake
7
Gate control module
8
Internal interior headlamps
9
–
10
Airbag control module
11
Electronic Stability Control (ESC)
12
Diagnostic connector;

Light and rain sensor

13
Climate control system
14
Right front door control module
15
Air conditioning compressor
Black panel C.
1
Front seat heating
2
Wipers
3
Left head lighting electronics
4
Panoramic glass sunroof / sliding / tilting sunroof
5
Left front door control module
6
Sockets
7
Right rear door control module
8
All-wheel drive
9
Right headlight electronics
10
Windscreen washers;

Headlight washers.

11
Left Rear Door Control Module
Black panel D
1
Seat ventilation;

Rearview mirror;

Rear air conditioning system control.

2
Gate;

Air conditioning control system.

3
Adjustment of actuator sound, exhaust sound
4
Clutch pedal position sensor
5
Engine start
6
–
7
Rear USB charging port
8
Homelink
9
Adaptive cruise control
10
–
11
Video camera
12
Matrix LED headlight and right-hand LED headlight
13
Matrix LED headlight and left LED headlight
14
Rear window wiper
Red panel E.
1
Ignition coils
2
Valves for natural gas tanks
3
–
4
–
5
Engine mount
6
Automatic gearbox
7
Instrument panel
8
Air conditioning system (blower)
9
–
10
Dynamic steering
11
Engine start
Driver's side cockpit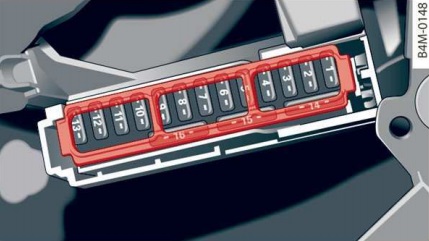 Driver's side cockpit fuse assignment (2018)
Number
Description
1
–
2
Telephone
3
–
4
Head-up display
5
Audi music interface;

USB charging port.

6
Front air conditioning controls
7
Steering column lock
8
Infotainment system display
9
Instrument cluster
10
Infotainment unit
11
Light switch
12
Steering column electronics
13
–
14
Infotainment system
15
–
16
Steering wheel heating
Left side of the trunk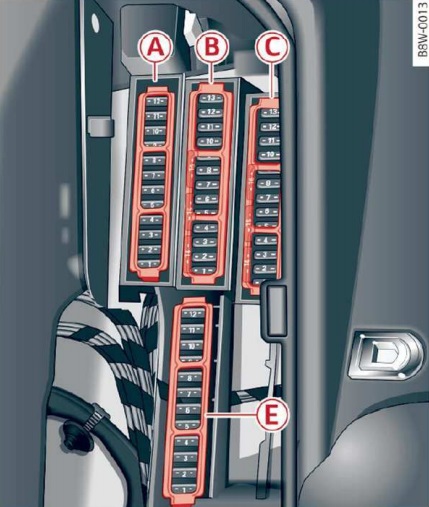 Fuse allocation in the left luggage compartment (2018)
Number
Description
Black panel A
1
–
2
Windshield defroster
3
Windshield defroster
4
–
5
Suspension control
6
Automatic gearbox
7
Rear window defogger
8
Rear seat heating
9
Rear lights
10
Left seat belt pretensioner
11
Central lock
12
Electric trunk lid
Red panel B.
–
Not assigned
Brown panel C.
1
–
2
Telephone
3
Lumbar support
4
Audi side assistant
5
–
6
–
7
–
8
Intelligent module (tank)
9
–
10
–
11
12 V battery.
12
Homelink
13
Rear view camera;

Peripheral cameras.

14
Right rear lights
15
–
16
Right seat belt pretensioner
Red panel E.
1
–
2
Sound amplifier
3
AdBlue heating
4
–
5
Trailer hitch (right light)
6
–
7
Towbar
8
Trailer hitch (left light)
9
Trailer hitch (socket)
10
Sports differential
11
Ad Blue