Chrysler Voyager (2001-2007) – fuse and relay box
Diagram of fuse boxes and relays – Chrysler Voyager, Town & Country
Applies to vehicles manufactured in the years:
2001, 2002, 2003, 2004, 2005, 2006, 2007.
The cigarette lighter is fuses number F6 in the fuse box in the car kit.
Diagram of the fuse box in the engine compartment
The integrated power module is located in the engine compartment near the battery. This hub contains fuses and relays. A label identifying each item is printed on the inside of the cover.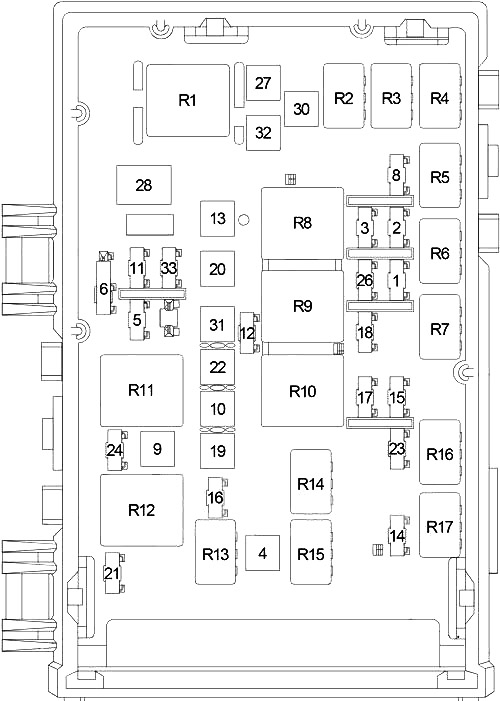 Number
Amperes [A]
Description
1
twenty
Front fog lamp relay, front control module
2
15
except export: Left Front Park Lamp / Turn Signal, License Lamp, Trailer Tow Connector, Left Rear Light Assembly, Front Control Module
15
Export: Left Parking Lamp, Left Headlight Leveling Motor, License Lamp, Left Tail Light Assembly, Front Control Module
3
15
except export: right rear lamp assembly, right front park lamp / turn signal (except export), front control module
15
Export: Right Parking Lamp, Right Headlight Adjustment Motor, Headlight Switch, Right Tail Lamp Assembly, Front Control Module
4
thirty
Front Wiper On / Off Relay (Front Wiper High / Low Relay, Wiper Module), Front Control Module
5
twenty
Front Cigarette Lighter, Radio
6
twenty
Rear Power Outlet, Flor Console Lamp, Flor Console Power Outlet
8
twenty
Horn relay
9
40
Starter relay, ABS, front control module, front blower motor relay, rear blower motor relay, defogger relay, fuse: "14", "15"
thirty
2001: Starter relay, ABS
10
40
Front blower resistor (manual air conditioning), front blower module (automatic air conditioning)
11
twenty
Sunroof module, rear wiper motor, radio, amplifier
12
25
Rear A / C Heater (Manual A / C), Rear Blower Motor Power Module (Automatic A / C)
13
40
Rear window defogger relay
14
twenty
Radio, Front Control Module, Loudspeaker Relay, Body Control Module, Automatic Temperature Control, Guard Key Remote Input, Ceiling Console, Adjustable Pedal Switch (Except Export), DVD / CD Changer, Thatcham (UK) Alarm Module, Siren ( Great Britain)
15
2001: Radio, Loudspeaker Relay, Front Control Module, Body Control Module, Ceiling Console, Guard Key Immobilizer Module, Auto Temperature Control, Guard Key Remote Input Module
15
twenty
Gasoline: Transmission control relay (Transmission solenoid / pressure switch assembly, Powertrain control module)
twenty
Diesel: lift pump relay, cab heating aid
16
25
Gasoline: Auto shut-off relay (Powertrain control module, ignition coil, fuel injector)
25
Diesel: ECM / PCM Relay (Engine Control Module, Generator, Mass Air Flow Sensor, Fuel Pressure Solenoid, Plu Glow Relay, Camshaft Position Sensor, EGR Solenoid, A / C Compressor Clutch, Radiator Fan Relay: No.1, No.2 No.3 )
17
twenty
Gasoline: Powertrain control module, fuel pump relay
twenty
Diesel: Fuel heater relay (crankcase ventilation heater, fuel heater)
18
15
A / C Compressor Clutch Relay, Power Mirror Switch, Adjustable Pedal Relay (Except for Export), Passenger Folding Mirror Relay (Export), Ignition Switch (Export), Thatcham Alarm Module (UK), Sentry Remote Key Entry Module (Export)
twenty
2001: A / C Compressor Clutch Relay, Passenger Folding Mirror Relay (Export), Power Mirror Switch
19
40
Body control module
20
40
Body control module
thirty
Amplifier
21
25
ABS
22
40
Seat Power Switch (Driver / Passenger Seat Power Switch, Heated Driver / Passenger Seat Module, Seat / Mirror Memory Module)
23
10
Ignition Switch (Sentry Remote Key Entry Module, Parking Assist Module, Thatcham Alarm Module (UK))
24
twenty
Body Control Module, Instrument Cluster, Message Center (High Line), Left / Right Repeater Lamp (Export)
26
twenty
Stop lamp switch
27
40
Gasoline: Radiator fan relay
40
Diesel: Radiator fan relay # 2
28
40
Electric window switch
30
40
Headlight washer relay (export), front control module
31
40
Double sliding door, right sliding door, left sliding door
32
40
Sunroof module (except export), Power Liftgate module
33
15
Front washer pump motor, rear washer pump motor

PTC fuse

4
8
Left / right power mirror
7
13
Power Outlet, Flor Console Power Outlet, Data Link Connector

Relay

R1
–
R2
Headlight washer (export)
R3
Park lamp
R4
Horn
R5
Front fog lamp
R6
Air conditioning compressor clutch
R7
Gasoline: fuel pump
Diesel fuel: fuel heater
R8
Rear window defogger
R9
Rear blower motor
R10
Front blower motor
R11
Accessory
R12
Starter
R13
Gasoline: Automatic shutdown
Diesel: ECM / PCM
R14
Front wiper High / Low
R15
On / off front wiper
R16
Gasoline: gearbox check
Diesel: lifting pump
R17
Loudspeaker