Ford C-MAX Hybrid (2017-2018) – fuse and relay box
Diagrams of fuse boxes and relays – Ford C-MAX Hybrid
Applies to vehicles manufactured in the years:
2017, 2018.
The Cigarette Lighter (Power Outlets) fuses are Fuse # 61 (Cigarette Lighter, Second Row Power Outlet) in the instrument panel fuse box and fuse F27 (luggage compartment outlet).
Passenger compartment
The fuse panel is located on the right side under the glove box (remove the bottom of the glove box).
Engine compartment
The power distribution box is located in the engine compartment.
Trunk
The fuse panel is located in the luggage compartment behind the left-hand wheel housing
Pre-fuse boxes
Your vehicle has a pre-fuse box attached to the transfer case.
The second pre-fuse box is connected to the 12 V battery terminal on the rear of the vehicle. They contain high-current fuses. If you need to replace one of these fuses, contact your authorized dealer.
Passenger compartment
| Number | Amperes [A] | Description |
| --- | --- | --- |
| F56 | 20A | Fuel pump supply. |
| F57 | – | Not used. |
| F58 | 5A | Not used (spare). |
| F59 | 5A | Passive anti-theft system. |
| F60 | 10 A. | Inner light. Driver door switch kit. Glove box lighting. Switch unit in the overhead console. |
| F61 | 20A | Lighter. Second row power point. |
| F62 | 5A | Automatic wiper module. Automatically dimming rearview mirror. |
| F63 | 10 A. | Not used (spare). |
| F64 | – | Not used. |
| F65 | 10 A. | Tailgate unlocking. |
| F66 | 20A | Driver's door unlock power. |
| F67 | 7.5A | Passport for a mobile phone ( C-MAX Energi). Multifunction display. GPS module. Synchronize. |
| F68 | 15A | Not used (spare). |
| F69 | 5A | Instrument cluster. |
| F70 | 20A | Central locking and power release. |
| F71 | 7.5A | Air conditioning module. |
| F72 | 7.5A | Steering wheel module. |
| F73 | 7.5A | Data link connector. OBD II power supply. |
| F74 | 15A | Headlamp power supply. |
| F75 | 15A | Fog lamp power supply. |
| F76 | 10 A. | Reversing lamp power supply. |
| F77 | 20A | Washer pump. |
| F78 | 5A | Ignition switch, start button. |
| F79 | 15A | Radio. Hazard warning light switch. |
| F80 | 20A | Not used (spare). |
| F81 | 5A | Strong sunshade. Remote receiving antenna. |
| F82 | 20A | Ground the washer pump. |
| F83 | 20A | Central lock on the ground. |
| F84 | 20A | Ground for unlocking the drive door. |
| F85 | 7.5 amps | Electronic 15 feed. |
| F86 | 10 A. | Restriction control module. Passenger airbag deactivation indicator. |
| F87 | 15A | Not used (spare). |
| F88 | 25A | Not used (spare). |
| F89 | – | Not used. |
Engine compartment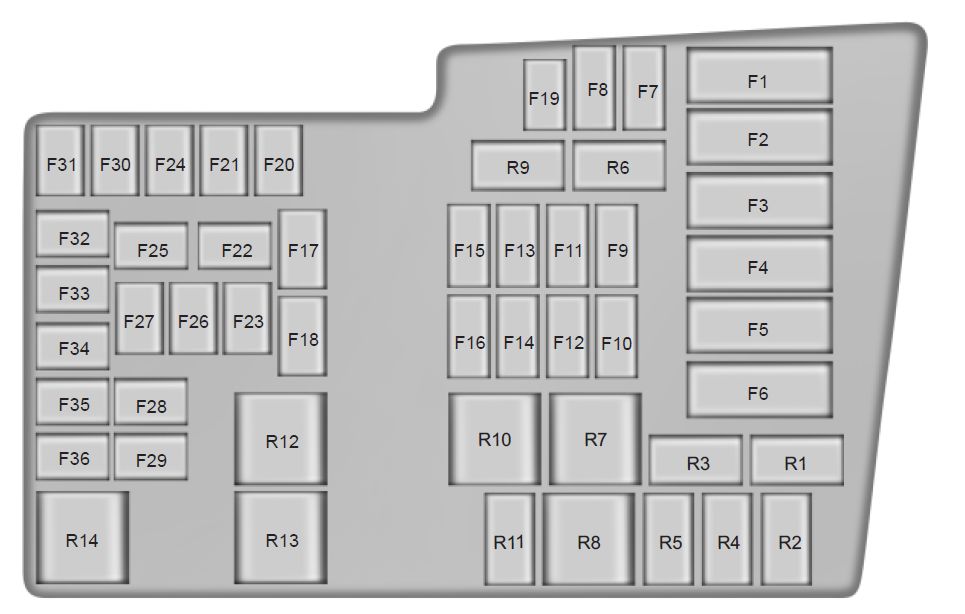 | Number | Amperes [A] | Description |
| --- | --- | --- |
| F1 | 50A Midi | Cooling fan module. |
| F2 | 50A Midi | Electric water pump. |
| F3 | 50A Midi | Body control module power 1. |
| F4 | 50A Midi | Body control module power 2. |
| F5 | – | Not used. |
| F6 | – | Not used. |
| F7 | 40A | Anti-lock brake system pump. |
| F8 | 30A | Anti-lock brake system valve. |
| F9 | 40A | Vacuum pump. |
| F10 | 40A | Heater blower motor. |
| F11 | 30A | Engine management. |
| F12 | – | Not used. |
| F13 | 25 A. | Powertrain control module relay. |
| F14 | 20A | Rear wiper. |
| F15 | 30A | KL30 body control module power supply. |
| F 16 | 20A | Body control module power 15. |
| F17 | 20A | Transmission oil pump ( C-MAX Energi). |
| F18 | 20A | Front wiper motor. |
| F19 | 5A | Anti-lock braking system and electronic stability program module. |
| F20 | 15 A. | Horn. |
| F21 | 5A | Stop light switch. |
| F22 | 5A | Vacuum pump monitoring. |
| F23 | 5A | Engine control module 15. Powertrain control module 15. Transmission fluid pump 15. |
| F24 | 5A | Relay coils. Light switch module. |
| F25 | 10 A. | Electronic engine cooling pump. |
| F26 | 5A | Electronic power steering module 15. |
| F27 | 5A | Air mass flow sensor. |
| F28 | 15A | Powertrain control module. |
| F29 | 10 A. | Electronic air conditioning compressor. Heater with positive temperature coefficient. |
| F30 | 10 A. | Engine control module. Powertrain control module. |
| F31 | 5A | Charging port light ring ( C-MAX Energi). |
| F32 | 20A | Vehicle power 2. |
| F33 | 15A | Vehicle power 4. |
| F34 | 10 A. | Injectors. |
| F35 | 10 A. | Vehicle power 3. |
| F36 | 20A | Vehicle power 1. |
| R1 | Micro relay | Vacuum pump. |
| R2 | Micro relay | Horn. |
| R3 | Micro relay | Hybrid drive system control. |
| R4 | Micro relay | Front wiper. |
| R5 | Micro relay | Vacuum pump. |
| R6 | Micro relay | Front and rear high-low wiper. |
| R7 | – | Not used. |
| R8 | Energy relay | Ignition supply. |
| R9 | – | Not used. |
| R10 | – | Not used. |
| R11 | – | Not used. |
| R12 | Energy relay | Cooling fan. |
| R13 | Mini relay | Heater blower. |
| R14 | Mini relay | Engine control relay. |
Trunk

| Number | Amperes [A] | Description |
| --- | --- | --- |
| F1 | 5A | Hands-free input module for loading hatch. |
| F2 | 10 A. | Vehicle module without a key. |
| F3 | 5A | Keyless vehicle door handles. |
| F4 | 25A | Front left door control unit. |
| F5 | 25A | Front right door control. |
| F6 | 25A | Rear left door control unit. |
| F7 | 25A | Rear right door control unit. |
| F8 | 25A | Passenger seat motor. |
| F9 | 25A | Driver seat motor. |
| F10 | 25A | Heated rear window. |
| F11 | 5A | Ignition relay. |
| F12 | 15A | Battery electronics control module. |
| F13 | – | Not used. |
| F14 | 10 A. | Charger ( C-MAX Energi). |
| F15 | – | Not used. |
| F 16 | – | Not used. |
| F17 | 10 A. | Battery electronics control module. |
| F18 | 15A | Battery electronics control module – fan. |
| F19 | 15A | Charger fan ( C-MAX Energi). |
| F20 | – | Not used. |
| F21 | 15A | Intelligent data link connector. |
| F22 | 10 A. | Active noise reduction. |
| F23 | – | Not used. |
| F24 | 30A | DC / AC power converter. |
| F25 | 25A | Electric loading hatch. |
| F26 | 40A | AC / DC charger ( C-MAX Energi). |
| F27 | 20A | Trunk outlet. |
| F28 | – | Not used. |
| F29 | 5A | Blind spot detection. |
| F30 | 5A | Parking assist module. |
| F31 | 5A | Rear camera. |
| F32 | 5A | DC / AC power converter. |
| F33 | – | Not used. |
| F34 | 20A | Driver seat heating. |
| F35 | 20A | Passenger seat heating. |
| F36 | – | Not used. |
| F37 | 20A | Strong sunshade. |
| F38 | – | Not used. |
| F39 | – | Not used. |
| F40 | – | Not used. |
| F41 | – | Not used. |
| F42 | – | Not used. |
| F43 | – | Not used. |
| F44 | – | Not used. |
| F45 | – | Not used. |
| F46 | 10 A. | Fuel system. |
| R1 | Energy relay | Rear relay 15. |
| R2 | Mini relay | Heated rear window. |
| R3 | Micro relay | Fuel door ( C-MAX Energi). |
| R4 | – | Not used. |
| R5 | – | Not used. |
| R6 | Micro relay | Rear wiper. |