Ford F-350 (1999-2001) – fuse and relay box
Scheme of fuse and relay boxes –
Ford
F-350
Applies to vehicles new in years:
1999, 2000, 2001.
Fuse box in passenger compartment
The fuse panel is located below and to the left of the handlebar next to the brake pedal. Remove the panel cover to access the fuses. To remove the fuse panel cover, turn the panel fasteners counterclockwise.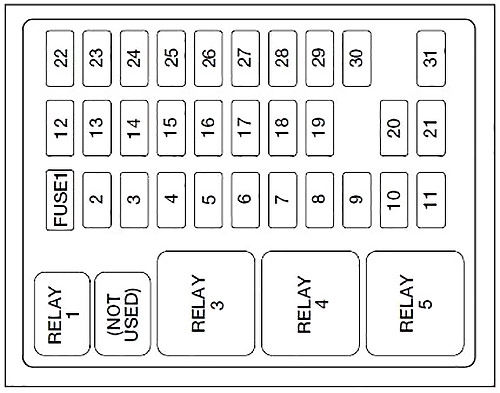 Number
Amperes [A]
Description
1
20
Direction indicators and hazard lights
2
5
1999: Instrument Cluster, Powertrain Control Module (PCM) keep memory alive
10
2000: Airbag module
3
20
Cigar lighter, data link connector
4
10
Lamp in the glove box, map lamps, power mirrors, lamp under the hood
5
–
Not used
6
–
Not used
7
5
Backlight for window switch / power lock
8
5
Radio, Headlight Switch Illumination, Remote Anti-Theft Personality Module (RAP) (1998)
9
–
Not used
10
15
2000-2001: Dual fuel tanks
11
thirty
Wiper Motor, Wiper / Park Run Relay Coil, Wiper Relay Coil, Washer Pump Relay Coil
12
15
Horn
13
20
Stop lamps, central high mounted stop lamp, trailer towing stop lamp, speed control
14
10
Dome Lamp, Charge Lamp, Ceiling Lamps, Running Lamps
15
5
1999: General Electronic Module (GEM), Powertrain Control Module (PCM), Anti-Lock System Module (ABS), Brake Shift Lock, Speed ​​Control
2000-2001: Stop Lamp Switch (Logic): General Electronic Module (GEM), Powertrain Control Module (PCM), Four-Wheel Anti-lock Braking System (4WABS), Brake Shift Lock, Cluster and PCM Hold Memory
16
15
Instrument cluster, high beam headlamps
17
–
Not used
18
5
2001: Audio
19
10
Auxiliary Powertrain Control Module (APCM) (diesel only), instrument cluster, GEM, overdrive cancel switch, idle confirm switch (diesel only), overhead console, clutch diesel PCM
20
15
Starter motor relay coil, clutch switch
21
–
Not used
22
10
Airbag module (2000-2001), passenger airbag activation / deactivation switch, blower motor relay coil
23
10
1999: electronic blinker
2001: Airbag module
24
10
1999: Mixed Door Actuator, Trailer Tow Battery Charging Relay Coil
2000-2001: A / C clutch, Mixed door actuator, Trailer tow battery charge relay coil, Four-wheel anti-lock brake system (4WABS), turn signal
25
5
1999: 4-wheel anti-lock braking system module (4WABS)
26
–
Not used
27
10
Ignition Mileage Supply (Customer Access)
28
15
Brake Shift Lockout, DRL Relay Coil, Speed ​​Control Module, Hazard Lamps, Trailer Tow Emergency Lamp Relay Coil, In-flight Electronic Hub Lock Solenoid, Vacuum Pump Motor
29
5
Instrument cluster (charging and airbag warning lights)
30
thirty
PCM Relay Coil, Ignition Coil (Gasoline Only), Fuel Heater (Diesel Only), Exhaust Throttle Solenoid (Diesel Only), Injector Driver Module Relay Coil (Diesel Only)
31
5
2001: Fog lamp switch

Relay

R1
Internal lamp
R2
Not used
R3
Horn
R4
One-touch power window
R5
Accessory
Fuse box in the engine compartment
The power distribution box is located in the engine compartment.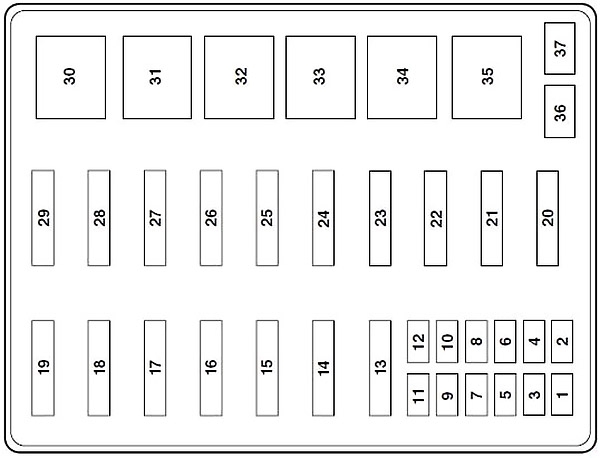 Number
Amperes [A]
Description
1
7.5
1998: Left Stop Lamp / Tow Trailer Direction
2
10
1999: Airbag module
2000-2001: Washer pump
3
7.5
Right stop / tow direction lamp
4
20
Trailer Tow Reverse Lamps, Trailer Tow Parking Lamps
5
20
Gasoline: PCM, fuel pump relay coil, mass air flow sensor, fuel injectors
5
Diesel: Dual "A" Pole alternator
6
10
Petrol: air conditioning (CASS)
Diesel: Single or dual "A" field alternator, regulator
7
20
Gasoline: Vapor Management Valve, HEGO Sensors, Intake Manifold Communication Control, EVR Solenoid, PCM, Canister Vent Solenoid
5
Diesel: Dual "A" Pole alternator
8
15
Trailer tow electronic brake lighting, Park lamps, Trailer tow park lamp relay coil
9
10
Left-hand headlight (low beam)
10
25
1999: Power Point
20
2000-2001: Power point
11
10
Right headlight (low beam)
12
10
1999: Daytime Running Lamp (DRL) Resistor
15
2000-2001: Daytime Running Lamp (DRL) resistor, Fog lamps
13
thirty
Multi-function switch, headlights
14
60
Wheel lock prevention system
15
thirty
1999: Windshield Wiper Motor
2001: Heated seats
16
thirty
Trailer tow battery charging
17
thirty
Electronic gear shifting on fly relay, transfer case shift motor
18
thirty
Electric seat, adjustable pedals (2001)
19
20
Fuel pump motor, PCM
20
50
Ignition switch (B4 and B5)
21
50
Ignition switch (B1 and B3)
22
50
Battery supply for the junction box / relay panel
23
40
Blower motor
24
thirty
1999: Power Distribution Box
2000-2001: Gasoline: PCM Power
20
2000-2001: diesel: PCM power
25
thirty
Power window
26
20
When equipped with a keyless remote control door unlock relay coil, all door unlock relay coil, all door lock relay coil, parking lamp relay, if not equipped with keyless remote entry and power lock motors
27
thirty
Diesel: injector driver module
28
thirty
Trailer tow electronic brake controller
29
20
Radio

Diode

36
Air conditioning clutch
37
PCM

Relay

30
The power of PCM
31
Blower motor
32
1999-2000: Gasoline: Two-speed fuel pump
2000-2001: Gasoline: CASS air conditioning
1999-2001: Diesel: Injector driver module power
33
Washer pump
34
Windshield wiper in park / start position
35
Windshield wiper
38
Trailer tow reversing lamp
39
Trailer tow battery charging
40
# 1 flight electronic gear shifting
41
Electronic flight shift # 2