Nissan Almera N15 (1995-2000) – fuse box
Nissan Almera N15 – fuse box diagram
Year of production: 1995, 1996, 1997, 1998, 1999, 2000.
The cigarette lighter fuse (power socket) on the Nissan Almera N15 is fuse 13 in the fuse box in the passenger compartment.
Locations
Description
mounting box for fuses and relays;
electronic engine control unit;
airbag control unit;
ABS electronic control unit;
engine control unit relay;
windshield wiper timer;
box for central locking of door locks;
starter lockout relay;
external lighting signaling control unit in the presence of a key in the ignition switch (instrument and starter switch);
relay breaker for direction indicators and alarm;
brake light switch;
fog lamp relay;
fuel pump relay;
rear window wiper time relay;
door switch harness connector;
connector for wiring harness in passenger compartment and engine compartment;
switch for windows and sunroof.
Passenger compartment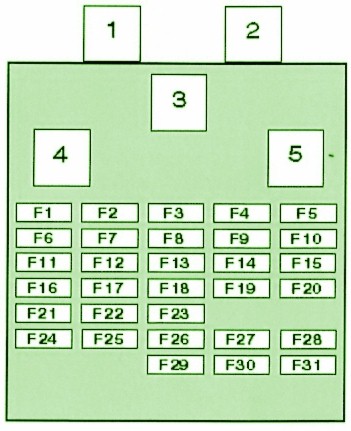 Relay
| | |
| --- | --- |
| 1 | Sunroof motor relay (without power windows) |
| 2 | Heated mirror relay |
| 3 | Heater blower motor relay |
| 4 | Main ignition circuits relay |
| 5 | Auxiliary ignition circuits relay |
Circuit breakers
F1
(15A) Heating, air conditioner
F2
(15A) Heating, air conditioner
F3
(20A) Heated rear window (without daytime running light)
F4
(15A) Front fog lamps
F5
(20A) Heated rear window (with daytime running light)
F6
(7.5A) Idle speed control valve – air conditioner, air conditioner shutdown system, heater, air conditioner
F7
(7.5 A) Diagnostic connector;

Power windows relay;

Sunroof Power Relay;

Rear window defogger timer;

Immobilizer control unit.

F8
(10A) Automatic gearbox control system;

Reversing lamps;

Instrument cluster;

Indicators.

F9
(10A) Rear window wiper
F10
(15A) Clock illumination, audio system
F11
(7.5A) Direction indicators
F12
(7.5A) Electronic ABS control unit
F13
(15A) Cigarette lighter fuse
F14
(10A) Stop lamps;

ABS electronic control unit.

F15
(10A) Alarm
F 16
(10A) Heated oxygen sensor
F17
(15A) Fuel pump;

Auxiliary air control valve.

F18
(10A) Heated seats
F19
(20A) Windshield wiper
F20
(7.5A) Internal lamps
F21
(3A) SRS (single airbag system) control module
F22
(10A) SRS (Dual Airbag System) control module
F23
(10A) Heated door mirrors
F24
(7.5 A) Glow plug relay;

Headlight range adjustment;

Clock;

Audio system;

Immobilizer control unit.

F25
(10A) e / m valve to clean the fuel vapor recovery system;

E / m valve for cleaning the EGR system;

Idle speed control valve (IAC) -SOHC;

Valve e / m variable valve timing;

Cooling fan motor relay;

Glow relay plug;

Feedforward control at part load;

Fuel shut-off valve e / m;

Air conditioning;

Start lock relay – automatic transmission;

Daylight controller;

Rear window heating relay;

Ignition ON signal to the electronic engine control unit (CD20E, diesel).

F26
(7.5A) Start signal to engine electronic control unit – CD20E diesel;

Daytime lighting control unit.

F27
Spare fuse
F28
Spare fuse
F29
(15A) Headlight cleaners
F30
Spare fuse
F31
Spare fuse
Engine compartment
The engine compartment contains 3 fuse and relay boxes. Two on the left next to the battery and one on the right. The number of components may vary and depends on the vehicle configuration.
The box next to the battery
Heating system before and after start-up 75A
C 30A ABS solenoid control relay
D 30A ABS hydraulic pump relay
E 30A Electric fan of the engine cooling system. Climate installation
F 25A Central door lock. Electric sunroof
G 75A On-board power supply
Н 30А Electric fan of the engine cooling system. Climate installation
I 30A Ignition switch power circuit or instrument and starter switch
30 7.5A Air-conditioner compressor electromagnetic clutch. Accelerated idle speed valve 2 activated
31 7.5A The power supply circuit of the generator voltage regulator
36 10A Headlamps (position light). Tail lights (side light)
37 – Reserve
38 – Reserve
39 15A Right headlight (low beam and high beam)
40 15А Left headlight (low beam and high beam), Main beam headlamp control lamp
41 7.5A Camshaft position and engine speed sensor, Air mass flow meter, Immobilizer
42 10A Audible signal
43 7.5A Rear lights (fog light)
44 10A Rear lights (side light). License plate light
45 10 Rear lights (side light)
Relay box
The markings are on the cover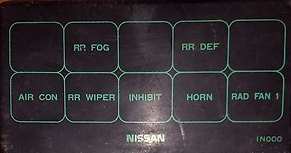 Cooling fan motor relay – low speed
Horn relay
Starter relay
Rear window wiper intermittent relay
Air conditioner relay
Cooling fan motor relay (high speed) SOHC – DKPP, DOHC, diesel
Cooling fan motor relay 2 – DOHC, air conditioning, diesel
Rear fog light relay