Opel/Vauxhall Combo D (2012-2015) – fuse and relay box
Diagrams of fuse boxes and relays – Opel/Vauxhall Combo D
Applies to vehicles manufactured in the years:
2012, 2013, 2014, 2015.
The cigarette lighter in the Opel Combo D is fuse number fuses F94, F95, F96 in the instrument panel fuse box and fuse F86 in the engine compartment fuse box.
Engine compartment
The fuse box is located on the right side of the engine compartment next to the battery.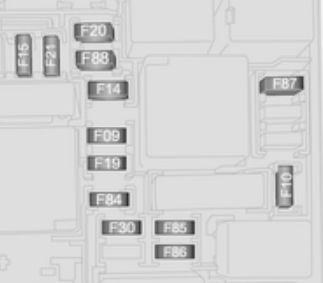 Number
Description
F09
Rear door switch
F10
Horn
F14
Traffic lights
F15
PTCI auxiliary heater
F19
Air conditioning system
F20
Heated rear window
F21
Fuel pump
F30
Fog lights
F84
CNG system
F85
Electric sockets
F86
Lighter;

Heated seats.

F87
Stop-start system
F88
Mirror heating
Instrument panel
The fuse box is located behind a cover on the driver's side of the lower instrument panel.
Number
Description
F12
Right low beam
F13
Left dipped beam;

Headlight range adjustment.

F31
Fuse box relays;

Body control unit relays.

F32
Door sill lights
F36
Diagnostic connector;

Air conditioning system;

Infotainment system.

F37
Instrument panel;

Braking system.

F38
Central lock
F41
–
F43
Windshield washer system
F45
–
F46
–
F47
Electric windows
F48
Electric windows
F49
Exterior mirrors;

Infotainment system;

Parking assistant.

F50
–
F51
Infotainment system;

Brake system;

Clutch.

F53
Instrument panel
F90
–
F91
–
F92
–
F93
–
F94
Electric socket load compartment
F95
Lighter;

Power socket.

F96
Lighter;

Power socket.

F97
Heated front seat
F98
Heated front seat