Peugeot 408 (2010-2018) – fuse box
Peugeot 408 – fuse box diagram
Year of production: 2010, 2011, 2012, 2013, 2014, 2015, 2016, 2017, 2018.
The cigarette lighter fuse (power socket) on the Peugeot 408 is fuse 9 (30A) in the fuse box in the passenger compartment.
Engine compartment
There are two fuse boxes in the engine compartment.
Main box
In the figure, it is marked under the number 1 and is closed with a protective cover
Description
F1 – 20A Engine ecu power supply.
F2 – 15A Sound signal.
F3 – 10A Windscreen washer.
F4 – 20A Headlight washer.
F5 – 15A Canister unloading solenoid valves, fuel pump.
F6-10A Vehicle speed sensor circuit, ABS / ESC system, automatic transmission processor.
F7 – 10A Power steering processor, brake.
F8 – 25A Starter switch.
F9-10A Coolant level sensor, manual headlight control.
F10 – 30A Elements of the electronic engine control system (on petrol: ignition coils, solenoid valves, lambda sensors, injectors, heating system elements, fuel pump, electronic thermostat).
F11 – 40A Air conditioning fan.
F12-30A Low / high speed windshield wiper.
F13 – 40A Power supply for intelligent switching unit (ignition switch).
F15 – 10A Right high beam headlamp.
F16 – 10A Left high beam.
F17 – 15A Left low beam.
F18 – 15A Right-hand dipped beam headlamp.
F19 – 15A Ignition coil.
F21-5A Engine cooling fan relay power supply.
Fuses on the battery cover
The fuse and fuse box are located on the battery terminal
Description
| | |
| --- | --- |
| 1 | 30A Valvetronic electric motor (1.6L 16V THP) |
| 2 | 30A electropump for sequential gearbox |
| 3 | Reserve 50A |
| 4 | 100A Switching unit and protection system |
| 5 | Heating system ECU 70A (diesel engine) |
| 6 | 80A Electric power steering pump |
| 7 | 15A transmission (sequential or automatic) |
| 8 | 15A diagnostic connector, daytime running lights |
| 9 | 5A Two functional brake contactor |
| 10 | Reserve |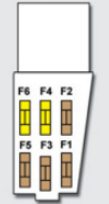 Type 2
F1 15A Automatic gearbox.
F2 15A Diagnostic connector.
F3 5A Contact for brake light.
F4 5 A Heated nozzles.
Passenger compartment
The fuse box is located on the left side under the dashboard.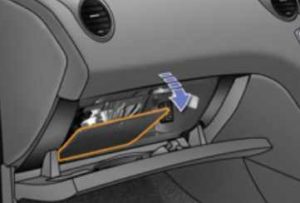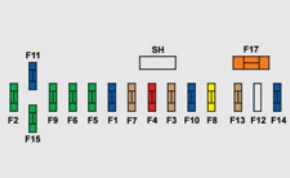 Description
F2 30 A Locking / unlocking system.
F3 5A Airbag / pretensioner processor, exterior mirrors.
F4 10A Clutch pedal contactor and dual-function switch for brake, air conditioning, steering wheel position sensor, automatic transmission, ESC system.
F5 30A Front impulse windows.
F6 30A Rear impulse windows.
F7 5A Front and rear lamps, single lamps, rear spot lamps, mirror lighting in the sun visor, glove box lighting.
F8 20A Car Radio, Multi-function Display, Aftermarket Burglar Alarm System pre-installed.
F9 30A front 12V socket, pre-installed aftermarket car radio mounting system.
F10 15A Automatic gearbox, STOP contactor.
F11 15A Weak Ignition Switch Circuit.
F13 5 A Electronic engine management system.
F14 15 A Instrument panel, airbags, air conditioning, multifunction display.
F15 30 A Locking / unlocking system.
F17 40A Heated rear window and exterior mirrors.