Chevrolet Camaro (2012-2015) – fuse and relay box
Scheme of fuse boxes and relays – Chevrolet Camaro
Applies to vehicles new in years:
2012, 2013, 2014, 2015.
Instrument panel
The fuse box is located on the driver's side of the instrument panel behind a cover.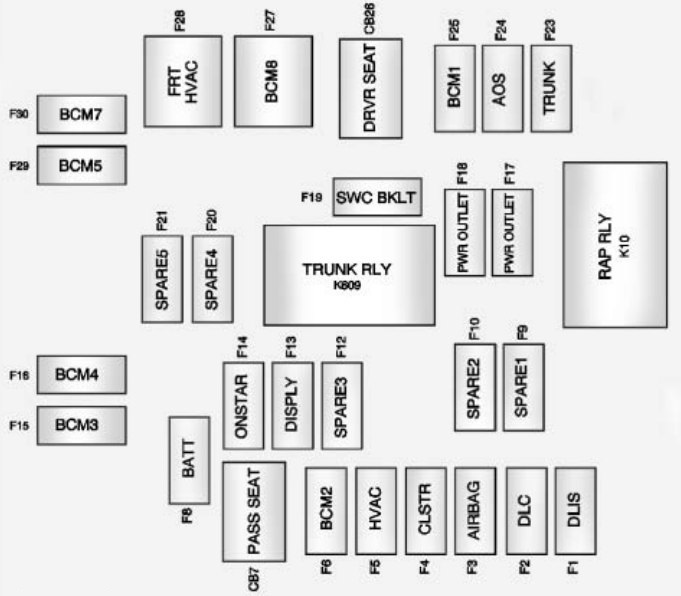 Number
Description
Fuses
F1
Discrete logic ignition switch
F2
Link diagnostic connector
F3
Airbag
F4
Group
F5
Heating, Ventilation, Air-conditioning, Controller
F6
Body control module 2
F8
Battery
F9
Reserve
F10
Reserve
F12
Reserve
F13
Display
F14
OnStar Universal Handsfree (if equipped)
F15
Body control module 3
F 16
Body control module 4
F17
Power socket 1
F18
Power socket 2
F19
Steering wheel control illumination
F20
Reserve
F21
Reserve
F23
Car trunk
F24
Automatic presence detection
F25
Body control module 1
F27
Body control module 8
F28
Front heater, ventilation and air conditioning
F29
2012-2013: Body control module 5
2014-2015: Not used
F30
Body control module 7
Circuit breaker
CB7
Passenger seat
CB26
The driver's seat
Relays
K10
Retained power of accessories
K609
Car trunk
RESERVE
RESERVE
Engine compartment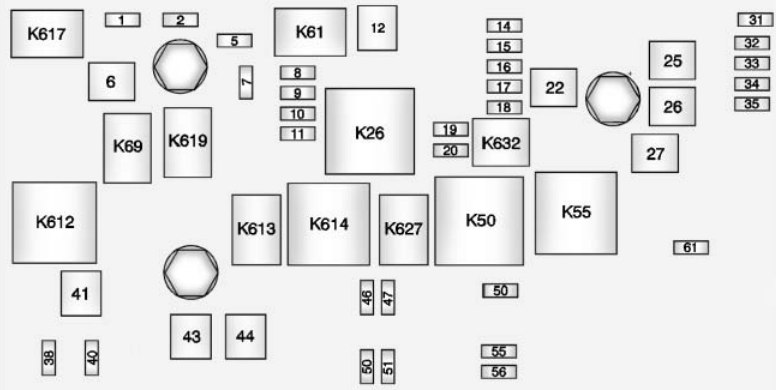 Number
Description
J-type fuses
6
Mat
12
Starter
22
Brake vacuum pump
25
Electric rear windows
26
Electric front windows
27
Rear demisting
41
High cooling fan
43
Anti-lock brake system pump
44
Cooling fan level low
Mini fuses
1
Air conditioning compressor clutch
2
Transmission control module
3
2012: Not used
2013-2015: Intercooler pump
5
Main engine control module
7
Oxygen sensor with pre-catalyst
8
Oxygen sensor after catalytic converter
9
Fuel Injectors – Even
10
Fuel Injectors – Odd
11
Cooling fan relay
14
Manifold airflow / chassis control
15
Ignition
16
Launch / Launch IP
17
Diagnostic / Ignition module detection
18
Gear / crank body
19
Transmission control module / ignition
20
Engine control module / ignition
31
Outside rearview mirror
32
Canister venting solenoid
33
Body Control Module # 6
34
Sunroof
35
Heated front seats
38
Front washer pump
40
Anti-lock braking system valves
46
HID headlight – left front
47
HID headlight – right front
50
Fog lights
51
Horn
52
Reserve
55
High beam headlamp – right front
56
High beam headlamp – left front
61
Heated mirror
Mini relays
K26
Drive system
K50
Run / Crank
K55
Rear demisting
K612
High cooling fan
K614
Cooling fan control
Micro relays
K61
Starter
K69
Wiper control
K613
Cooling fan level low
K617
Air conditioning compressor clutch
K619
Wiper speed
K627
High-intensity discharge headlamps
K632
Brake vacuum pump
K641
Intercooler pump
Trunk
The rear compartment fuse block is located on the right side of the luggage compartment behind the lid. Remove the convenient mesh mounts, rear side skirts, and passenger side mounts, then slide the trim aside.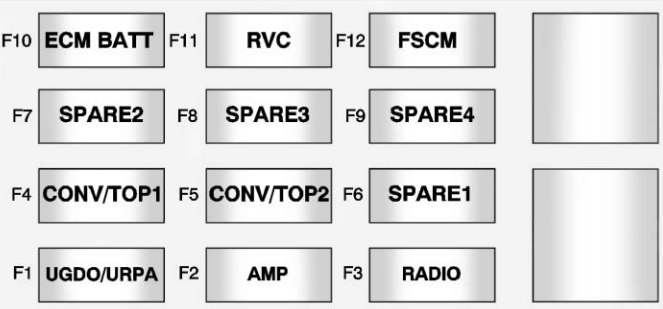 | Number | Description |
| --- | --- |
| Fuses | |
| F1 | Universal Garage Door Opener / Ultrasonic Rear Parking Assist / Interior Rearview Mirror |
| F2 | Amplifier |
| F3 | Radio |
| F4 | Top 1 convertible |
| F5 | Top 2 convertible |
| F6 | Spare 1 |
| F7 | Real-time suppression |
| F8 | Active exhaust flap |
| F9 | Spare 4 |
| F10 | Engine control module / battery |
| F11 | Adjustable tension control |
| F12 | Fuel system control module |
| | |
| Relays | |
| R1 | Reserve |
| R2 | Active exhaust flap |