Citroen C1 (2005-2007) – fuse box
Citroen C1 – fuse box diagram
Citroën C1 is a small car from the A segment. The vehicle is the smallest one offered by the French manufacturer. It is the same segment as Toyota Aygo or Peugeot 107 and 108. The most interesting thing is that all these cars are manufactured in the Czech Kolin, at the TPCA ( Toyota Peugeot Citroen Automobile) plant . The model presented here is the first version that has been produced since 2005.
Year of production: 2005, 2006, 2007.
The cigarette lighter fuse (power socket) on the Citroen C1 is fuse 11 in the fuse box under the dashboard.
Fuse box under the dashboard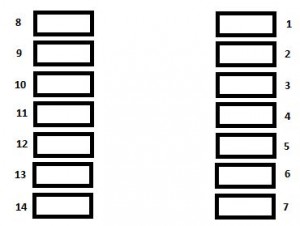 Number
Amperes [A]
Description
1
10
Brake lights;

ABS;

SensoDrive gearbox.

2
25
Central locking
3
20
Heated rear window
4
7.5
Rear lamps;

Number plate lighting;

Instrument panel;

Display.

5
7.5
Diagnostic socket
6
7.5
Rear fog lights;

Instrument panel;

SensoDrive gearbox.

7
–
Not used
8
7.5
ABS;

Power steering;

Air conditioning;

Cooling fan.

9
10
Rear lamps;

Central lock;

Electric windows;

Heated rear window;

Speed ​​indicator;

Air conditioning;

Heating;

Tachometer (option).

10
20
Windscreen and rear window wiper
11
15
Radio;

Electronic immobilizer;

12V accessory socket (max. 120 W).

12
7.5
Windshield and rear window wiper;

ABS;

Power steering;

Central lock;

Air conditioning;

Electric windows;

Heated rear window;

Speed ​​indicator;

Fan;

Tachometer (option).

13
15
Instrument panel;

Engine calculator;

Airbags;

SensoDrive gearbox;

Electronic immobilizer.

14
7.5
Air conditioning
Fuse box under the hood
Number
Amperes [A]
Description
1
50
SensoDrive gearbox;

Cooling fan (diesel engine).

2
20
Headlamps with daytime running lights
3
25
ABS control unit
30
ESP control unit
4
30
Ignition switch power
5
10
Emergency lights;

Warning lights on the instrument panel;

Direction indicators.

6
10
Headlights
7
15
Speed ​​indicator;

Interior lamp;

Radio;

Instrument panel;

Tachometer (option).

8
15
Motor controller
25
9
10
Horn
10
7.5
Cooling fan (petrol)
11
40
ABS
50
ESP
12
15
Power steering