Dodge Caliber (2006) – fuse and relay box
Diagrams of fuse and relay boxes – Dodge Caliber
Applies to vehicles manufactured in the years:
2006.
The lighter on the Dodge Caliber is fuse number 11 (Power Outlet), 13 (Acc Outlet Rear / Cigar Lighte) and 16 (2006-2008) (Acc Cigar Lighter) in the engine compartment fuse box.
The integrated power module (fuse box) is located in the engine compartment near the air filter assembly.
This hub includes blade fuses and mini fuses. A label identifying each item can be printed on the inside of the cover.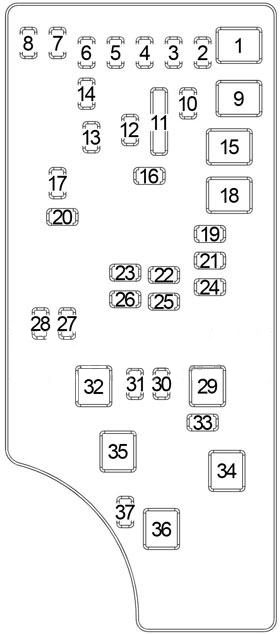 Fuse allocation in IPM (2006)
Recess
Cartridge fuse
Mini fuse
Description
1
40 amp green
Top feed
2
20 A yellow
AWD ECU channel
3
10 A red
CHMSL brake switch power
4
10 A red
Ignition switch power
5
20 A yellow
Tow trailer
6
10 A red
IOD Sw / Pwr Mir / Ocm;

Sdar / Hfm steering control.

7
30 A green
IOD Sense 1
8
30 A green
IOD Sense 2
9
40 Amp Green
Electric seats
10
20 A yellow
CCN power locks
11
15 Amp blue
Power socket
12
20 A yellow
Ign Run / Acc Inverter
13
20 A yellow
Pwr run / Acc Outlet RR
14
10 A red
IOD CCN / Indoor lighting
15
40 amp green
RAD fan relay battery supply
16
15 A mid. blue
IGN Run / Acc Cigar Ltr;

Sunroof.

17
10 A red
IOD Feed Mod-Wcm
18
40 amp green
ASD PWR Feed relay contact
19
20 A yellow
Power supply for PWR 1 and Amplifier 2
twenty
15 A mid. blue
Radio with 10D channels
21
10 A red
IOD Feed Intrus Mod;

Horn

22
10 A red
IGN RUN Hvac;

Compass sensor.

23
15 A mid. blue
ENG ASD Power supply for the relay 3
24
25 Amp Natural
Power sunroof
25
10 A red
Heated mirrors
26
15 A mid. blue
ENG ASD Power supply for relay 2
27
10 A red
IGN RUN ORC supply only
28
10 A red
IGN RUN ORC / OCM Feed
29
Vehicle heating (without fuse)
30
20 A yellow
Heated seats
31
10 A red
Headlight washer relay control
32
30 Amp Pink
POL ASD Control Feed 1
33
10 A red
ABS MOD / J1962 Combination / PCM
34
30 Amp Pink
ABS valve power supply
35
40 amp green
ABS pump power supply
36
30 Amp Pink
Headlight washer control; Intelligent windshield.
37
25 Amp Natural
110 Inverter
Relays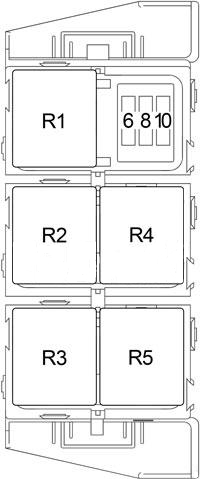 Number

Amperes [A]

Description
6
25
Diesel: Cabin heating relay No. 2
8
25
Diesel: Cabin heating relay No. 1
10
50
Diesel: Glow plug module
Relay
R1
Radiator fan (low / high)
R2
Radiator fan (series / parallel)
R3
Radiator fan (medium / high)