Dodge Caravan (2001-2007) – fuse and relay box
Diagrams of fuse and relay boxes – Dodge Caravan
Applies to vehicles manufactured in the years:
1996, 1997, 1998, 1999, 2000, 2001, 2002, 2003.
The lighter in the Dodge Caravan is fuse number F6 in the fuse box in the engine compartment.
Location of the fuse box
The integrated power module is located in the engine compartment near the battery.
This hub includes maxi fuses, mini fuses and relays. A label identifying each item is printed on the inside of the cover.
The scheme of the fuse box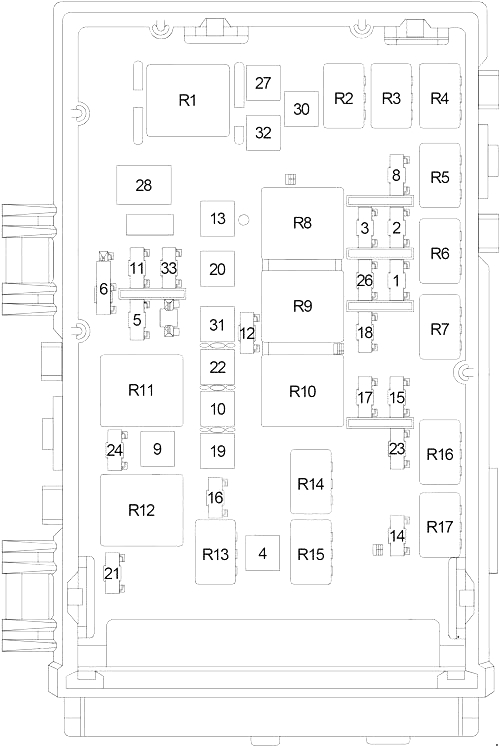 Assignment of fuses and relays in the IPM
| Recess | Amperes [A] | Description |
| --- | --- | --- |
| | Maximum fuse: | |
| F4 | 30 Amp Pink | Front wipers |
| F9 | 40 amp green | Anti-lock brake system (ABS) pump |
| F10 | 40 amp green | Front blower |
| F13 | 40 amp green | Electronic backlight (EBL) |
| F19 | 40 amp green | Body Control Module (BCM) Power 1 |
| F20 | 30 Amp Pink | Central amplifier |
| F22 | 30 Amp Pink | Seats |
| F27 | 40 amp green | Radiator fan |
| F28 | 40 amp green | Power windows |
| F30 | 40 amp green | Headlight washers (export only) |
| F31 | 40 amp green | Electric sliding door |
| F32 | 40 amp green | Electric lifting gate |
| | | |
| | Mini fuse: | |
| F1 | 20 A yellow | Fog lights |
| F2 | 15 A blue | Left parking light / tail light |
| F3 | 15 A blue | Right parking light / tail light |
| F5 | 20 A yellow | RDO / IP ignition |
| F6 | 20 A yellow | 12V ignition or battery |
| F8 | 20 A yellow | Vlaxon |
| F11 | 20 A yellow | EWD / rear wiper |
| F12 | 25 Amp Natural | Rear blower |
| F14 | 20 A yellow | Consumption After Ignition Off (IOD) |
| F15 | 20 A yellow | Electronic automatic transmission (EATX) battery |
| F 16 | 25 Amp Natural | ASD |
| F17 | 20 A yellow | Fuel pump |
| F18 | 15 A blue | Air conditioning clutch |
| F21 | 25 Amp Natural | Anti-lock brake system (ABS) module |
| F23 | 10 A red | Ignition switch |
| F24 | 20 A yellow | Emergency lights |
| F26 | 20 A yellow | Stop light |
| F33 | 15 A blue | Front and rear sprinkler |
| | 20 A yellow | Backup (DPO) |
| | | |
| Relay | | |
| R1 | | Automatic shutdown |
| R2 | | Starter |
| R3 | | Accessory |
| R4 | | Reserve |
| R5 | | Headlight washer (export) |
| R6 | | Park lamp |
| R7 | | Horn |
| R8 | | Front fog lamp |
| R9 | | Demister |
| R10 | | Air conditioning compressor clutch |
| R11 | | Rear blower motor |
| R12 | | Fuel pump |
| R13 | | Front blower motor |
| R14 | | Transmission control |
| R15 | | Reserve |
| R16 | | Front wiper height / low height |
| R17 | | On / off front wiper |