Fiat Punto 2012 (2018) – fuse and relay box
Diagrams of fuse boxes and relays – Fiat Punto 2012
Applies to vehicles manufactured in the years:
2018.
Engine compartment
Number
Amperes [A]
Description
F09
twenty
Hi-Fi sound system with radio;

Control unit and subwoofer speaker.

F10
10
One-tone horn
F14
15
Left-hand dipped beam headlamp;

Right high beam headlamp.

F15
thirty
Additional heater
F19
7.5
Air conditioning compressor
F20
thirty
Heated rear window
F21
15
Electric fuel pump in the tank
F30
15
Left fog light;

Right fog lamps.

F84
7.5
Methane system power management solenoid valves
F85
–
Socket (setting)
F86
15
Socket in the passenger compartment;

Lighter.

F87
5
Battery charge status sensor
F88
7.5
Defroster in the driver's side mirror;

Defroster in the passenger side mirror.
Dashboard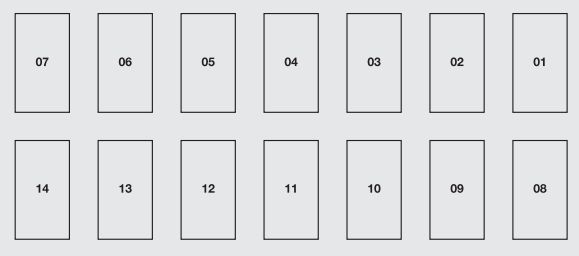 Number
Amperes [A]
Description
01
7.5
Right low beam (option)
08
7.5
Left dipped beam (option)
08
5
Headlamp leveling corrector
13
5
Feeding the relay switch coils on the engine fuse box and the relay switch coils on the Body Computer control unit
02
5
Front ceiling light;

Rear ceiling light;

Viewfinder lights;

Door marker lights;

Luggage compartment lighting;

Glove box lighting (optional).

05
10
Power supply and battery for EOBD diagnostics;

Automatic air-conditioning control unit;

Alarm;

Radio;

Blue & Me switchboard.

11
5
Instrument panel INT power supply;

Brake pedal switch (NO contact);

Third brake light.

04
twenty
Door locking / unlocking motors;

Latch actuating motors;

Tailgate unlocking motor.

06
twenty
Windscreen / rear window washer pump
14
twenty
Electric window motor in the front door on the driver's side
07
twenty
Electric window motor in the front passenger side door
12
5
INT power supply for control lamps on the dashboard, parking control unit, tire pressure control unit, electric movement of side mirrors, rain sensor, sunroof control unit, My Port infotelematic system socket, electrochromic rear view mirror
03
5
Instrument panel
10
7.5
Brake pedal switch power (NC contact), clutch pedal switch, interior heating unit, Blue & Me control unit, radio setting system, voltage stabilizer control unit, bumper reversing light, diesel filter water sensor, plug heating control unit, brake servo sensor , relay coils on the engine fuse box, flow meter
Trunk
| Number | Amperes [A] | Description |
| --- | --- | --- |
| 17 | twenty | Electric solar roof opening system |
| 14 | 7.5 | Alarm system management control unit |
| 04 | 10 | Electric lumbar movement in the driver's seat |
| 10 | twenty | Electric window system (engine, control unit) in the right door |
| 16 | – | Available |
| 08 | 10 | Driver seat heating control unit |
| 07 | – | Tow bar system (aftermarket fuse installation possible) |
| 05 | 15 | Power socket in luggage compartment |
| 11 | twenty | Electric window system (engine, control unit) in the left door |
| 13 | 5 | ITPMS control unit (tire pressure monitoring system) |
| 09 | 10 | Front passenger seat heating control unit |
| 01 | – | Available |
| 02 | – | Available |
| 03 | – | Available |
| 06 | – | Available |
| 15 | – | Available |