Fiat Punto II (1999-2010) – fuse and relay box
Diagrams of fuse and relay boxes – Fiat Punto II
Applies to vehicles manufactured in the years:
1999, 2000, 2001, 2002, 2003, 2004, 2005, 2006, 2007, 2008, 2009, 2010, 2011.
Fuse box on the dashboard
Number
Amperes [A]
Description
F12
10
Right dipped beam headlamp
F13
10
Left-hand dipped beam headlamp;

Headlight adjustment device;

Headlamp setting device.

F31
7.5
Reversing light;

Manual air conditioning;

Engine compartment ECU remote switch coils;

Parking assist control unit.

F32
15
Lighting system
F33
–
–
F34
–
–
F35
10
Water sensor in the diesel filter (diesel versions);

Electric power steering.

F36
15
Subwoofer system
F37
10
Instrument panel and warning lights (powered ignition switch);

Brake lights;

Additional brake light (third brake light).

F38
twenty
Door locking system
F39
10
Boot;

Ceiling lighting;

+30 tools (sound system, mobile phone presets, EOBD diagnostic socket).

F40
25
Heated rear window
F41
7.5
Heated rear view mirrors
F42
7.5
ABS control unit (powered ignition switch);

Brake pedal switch.

F43
thirty
Windshield / rear window washer pump;

Windshield wiper.

F44
twenty
Lighter
F45
15
Heated front seats
F46
15
Sunroof
F47
twenty
Left front power window
F48
twenty
Right front power window
F49
7.5
+ 15 tools (sound system, cruise control, ASR system switch, mobile phone settings, indicator lamps on the dashboard, seat heating switch, ESP sensors, rain sensor, seat belt warning lamp)
F50
7.5
Airbag system
F51
7.5
Dashboard lighting;

Lighter;

License plate lighting.

F52
15
Heated rear window;

Rear window wiper.

F53
10
Emergency lights;

Direction indicators;

Instrument panel and warning lights (battery powered).
Fuse box in the engine compartment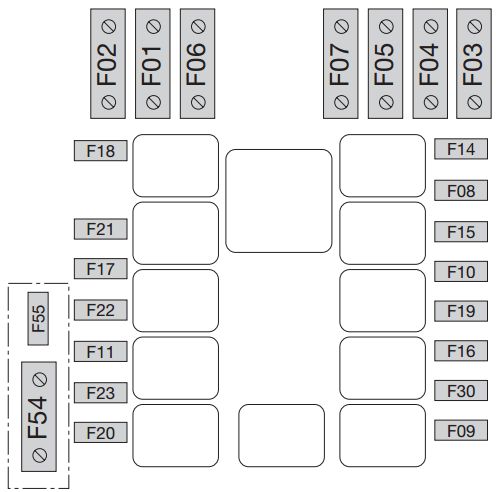 Number
Amperes [A]
Description
F01
70
Dashboard Power: Standard Features
F02
40
Dashboard power supply: optional functions
F03
twenty
Ignition switch
F04
60
ABS / ESP system
F05
60
Electric power steering
F06
thirty
Single-speed radiator fan (1.28V version with heater);
Radiator fan speed 1 (1.28V versions with manual air conditioning).
F07
50
Radiator fan second speed (1.28V version with manual air conditioning)
F08
thirty
Passenger compartment fan
F09
twenty
Headlight washer
F10
15
horn
F11
10
Engine control system secondary loads;

Glow plug controller;

Exhaust gas recirculation solenoid valve;

Tachometer generator;

Lambda probe.

F14
10
Right high beam headlamp
F15
10
Left high beam
F 16
7.5
Engine control unit (powered ignition switch);

Engine cooling system relay.

F17
10
Engine control unit (power)
F18
7.5
Engine control unit (+ battery);

Engine cooling system relay.

F19
7.5
Manual air conditioning compressor
F20
twenty
Heated diesel filter
F21
15
Fuel pump
F22
twenty
Ignition coils;

Injectors;

Fuel pump (version 1.28V).

F24
7.5
15/54 electric power steering control unit
F30
15
Fog lights
F54
60
Glow plug heating system