Infiniti QX50 (2007-2017) – fuse and relay box
Fuse and Relay Box Diagrams – Infiniti QX50
Applies to vehicles manufactured in the years:
2007, 2008, 2009, 2010, 2011, 2012, 2013, 2014, 2015, 2016, 2017.
Fuse box in passenger compartment
The fuse panel is located on the lower driver's side behind the foot pad.
Number
Amperes [A]
Description
1
–
–
2
10
Airbag diagnostic sensor unit, passenger classification system control unit
3
10
Right and left headlight aiming motor, shift lock relay, automatic speed control device (ASCD) brake switch, intelligent cruise control (ICC) brake switch, adaptive front lighting system (AFS) control unit, AFS switch, data link connector, LDW switch, Sonar control unit, Lane departure warning buzzer, Unified A / C meter and booster, Heated seat relay, AV control unit, Sonar cancel switch, Ambient monitor control unit, Buzzer, Tel adapter module, Compressor, Automatic anti-dazzle interior mirror, Lane Camera, Stop Lamp Switch, Warning System Switch, Ionizer, Exhaust Gas / Odor Detection Sensor
4
10
Combined meter, backup lamp relay
5
–
–
6
10
Key Socket, Smart Audible Key Warning Buzzer, Data Link Connector, Unified A / C Booster, Rear Seat Power Return Control, Rear Seat (Left) Release Relay, Rear (Right) Seat Release Relay, Clock, Anti-dazzle Auto Interior Mirror, Control Unit camera monitor around the vehicle, display unit, Tel adapter unit, satellite radio tuner, daytime running light relay, combination meter
7
10
Stop lamp switch, BCM (Body Control Module), Intelligent Cruise Control (ICC) brake hold relay
8
20
BOSE amplifier
9
10
Key socket, ignition button
10
10
Seat Memory Switch, Auto Drive Positioning Control Unit, Driver Seat Control, Outside Mirror, BCM (Body Control Module)
11
10
Combination meter, all-wheel drive (AWD) control unit, unified meter air conditioning booster
12
–
–
13
10
Exterior mirror defogger
14
20
Rear window defogger
15
20
Rear window defogger
16
–
–
17
–
–
18
15
Front power socket
19
10
Combination Meter, Unified A / C Meter and Amplifier, Display, Multi-Function Switch, AV Control Unit, iPod Adapter, BCM (Body Control Module), Sonar Control Unit, Tel Adapter Unit, Camera Control Unit, Exterior Mirror Remote Control Switch, Satellite Radio Tuner the monitor control unit around the view
20
15
2007-2012: Console power socket
20
2013-2017: Console power socket
21
15
Blower motor
22
15
Blower motor

Relay

R1
Ignition
R2
Rear window defogger
R3
Accessory
R4
Front blower
Engine compartment fuse box №1
Near the battery.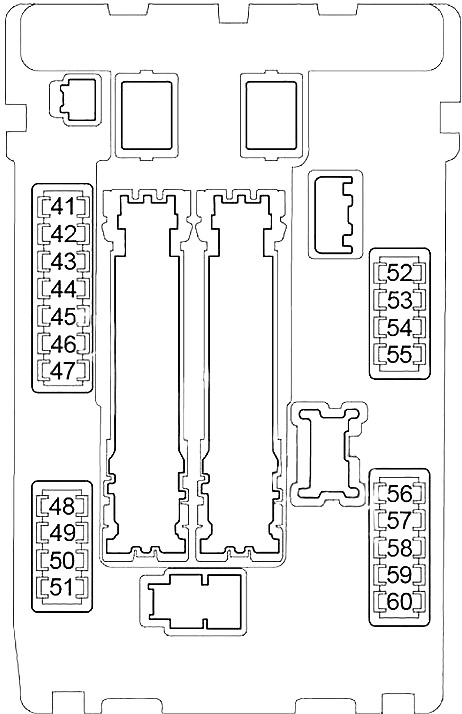 Number
Amperes [A]
Description
41
15
Fuel pump relay
42
10
Cooling fan relay
43
10
Snow Mode Switch, Transmission Control Module (TCM)
44
10
Injectors, Engine Control Module (ECM), BCM (Body Control Module)
45
10
ABS, Integrated Intelligent Cruise Control (ICC) Sensor Module, Steering Angle Sensor, Yaw / Side G Sensor, Power Steering Control Unit, All Wheel Drive (AWD) Control Unit, Brake Assist Control Unit, Blind Spot Control (BSW), Radar side
46
15
Air fuel ratio sensors, Heated oxygen sensors
47
10
Combination switch
48
10
2007-2012: Steering lock relay
49
10
Air conditioner relay
50
15
Engine Control Module Relay (Intake Valve Purge Solenoid, Condenser, Ignition Coils, Engine Control Module, Mass Air Flow Sensor, EVAP Canister Purge Volume Control Solenoid, Exhaust Valve Timing Magnetic Retarder, EVAP Canister Purge Control Valve, Floating Valve event and hoist (VVEL) control module)
51
15
Throttle control motor relay
52
10
Front combination lamp
53
10
Rear combination lamp, license plate lamp, VDC switch, Adaptive Front Lighting System (AFS) switch, LDW switch, combo switch (coiled cable), clock, AV control unit, glove box lamp, control device, sonar cancel switch, sight Around the monitor control unit, power return switch (left and right), snow mode switch, heated seat switch (driver and passenger side), exterior mirror remote control switch, roof module (console lamp), warning system switch, front power socket, IBA Circuit Breaker,, Multifunction Switch
54
10
Headlight – left main beam
55
10
Headlight – right main beam
56
15
Headlight – left dipped beam
57
15
Headlight – right dipped beam
58
15
2007-2012: Front fog lamp relay
10
2013-2015: Front fog light relay
15
2016-2017: Front fog lamp relay
59
10
2016-2017: Daytime running lights relay
60
thirty
Front wiper relay
Engine compartment fuse box №2
Near the battery.
2007-2013
2013-2017

Number
Amperes [A]
Description
31
15
Horn relay, generator
32
thirty
Rear seat power return control, rear seat (left) release relay, rear (right) seat release relay
33
10
All-wheel drive (AWD) control unit
34
15
Audio, AV control unit, iPod adapter, Ambient monitoring control unit, Woofer, Camera control unit, Tel adapter unit, Satellite radio tuner, Woofer
35
15
Heated seats relay
36
10
Transmission Control Module (TCM)
37
10
2013-2017: Horn relay 2
38
15
2007-2012: Horn relay 2
F.
50
Cooling fan relay
G.
thirty
Ignition relay (Fuses: "2", "3", "4"), IPDM E / R
H.
40
Fuse: "61", "63"
i
–
–
J.
–
–
K.
40
BCM (Body Control Module), Circuit Breaker (Auto Drive Positioner Control Unit, Driver Seat Control, Lumbar Support Switch)
L.
thirty
ABS
M.
50
ABS
N
50
2013-2017: Variable event and lift actuator motor relay (VVEL)
o
–
2013-2017: –

Relay

R1
Horn
R2
Shift lock
Engine compartment fuse box №3
2013-2015
2016-2017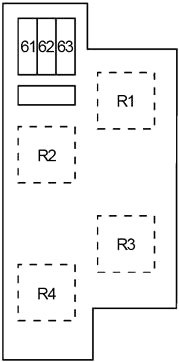 №
AND
Protected circuit
61
10
Accelerator pedal actuator
62
–
–
63
10
Brake booster control unit

Relay

R1
2013-2015: Cooling fan
2016-2017: Daytime running lights
R2
Intelligent Cruise Control (ICC) Holding the brake
R3
–
R4
Horn (№2)
Fusible link block
| Number | Amperes [A] | Description |
| --- | --- | --- |
| A | 140 | Generator, fuse: "B", "C" |
| B | 100 | Fuse: "F", "G", "K", "L", "M", "N", "31", "32", "33", "34", "35", "36", "37", "38" |
| C. | 80 | Ignition relay (Fuses: "41", "42", "43", "44", "45", "46", "47"), Fuses: "48", "49", "50", "51 " |
| D | 60 | Headlamps Upper Relay (Fuses: "54", "55"), Headlamp Low Level Relay (Fuses: "56", "57"), Tail Lamp Relay (Fuses: "52", "53"), Fuse: "58" "," 59 "," 60 " |
| E. | 80 | Accessory relay (fuses: "18", "19", "20"), rear window defogger relay (fuses: "13", "14", "15"), blower relay (fuses: "21", "22" ), Fuses: "6", "7", "9", "10", "11" |