Jeep Grand Cherokee (2020-2021) – fuse box
Jeep Grand Cherokee – fuse box diagram
Year of production: 2020, 2021.
The cigarette lighter (power sockets) fuses on the Jeep Grand Cherokee are fuses F90 / F91 (power socket (rear seats), F93 (cigarette lighter) and F104 (power sockets (instrument panel / center console / rear trunk – if fitted) ) in the fuse box engine compartment.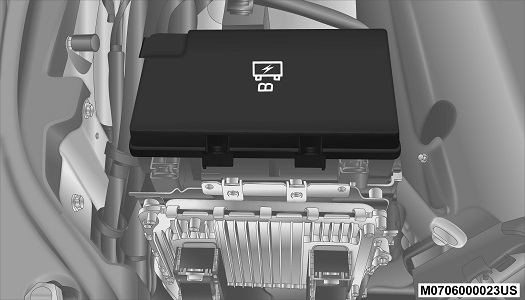 The fully integrated power module is located in the engine compartment next to the battery terminals. This hub includes blade fuses, microfuses, relays and circuit breakers. A description of each fuse and component may be stamped on the inner cover, otherwise the slot number of each fuse is stamped on the inner cover as shown in the table below.
2020
Recess
Cartridge fuse
Microfuse
Description
F03
60 A yellow
–
Radiator Fan – If equipped
F05
40 A green
–
Air Suspension Compressor – If equipped
F06
40 A green
–
Anti-blocking pump / electronic stability control
F07
30 Amp Pink
–
Starter solenoid
F09
30 Amp Pink
–
Diesel fuel heater (diesel engine only);

Brake vacuum pump.

F10
40 A green
–
Body controller;

Outdoor lighting # 2.

F11
30 Amp Pink
–
Electric Brake For Trailer Towing – If Equipped
F12
40 A green
–
Body Controller # 3;

Power locks.

F13
40 A green
–
The front of the blower motor
F14
40 A green
–
Body Controller # 4;

Outdoor lighting # 1.

F15
40 A green
–
Low temperature cooler (LTR);

Engine Cooling Pump – If Equipped.

F17
30 Amp Pink
–
Headlight washer – if equipped
F19
20 A blue
–
Headrest Solenoid – If equipped
F20
30 Amp Pink
–
Passenger door module
F22
20 A blue
–
Engine control module
F23
30 Amp Pink
–
Interior lighting # 1
F24
30 Amp Pink
–
Driver door module
F25
30 Amp Pink
–
Front wipers
F26
30 Amp Pink
–
Anti-lock brake / stability control module, ECU and valves
F28
20 A blue
–
Trailer Tow Reverse Lamps – If Equipped
F29
20 A blue
–
Trailer Towing Park Lamps – If Equipped
F30
30 Amp Pink
–
Trailer towing (socket);

Towing a trailer (separate electric brake);

Trailer Towing (BUX) – If Equipped.

F32
30 Amp Pink
–
Powertrain control module
F34
30 Amp Pink
–
Slip Differential Check – if equipped
F35
30 Amp Pink
–
Sunroof – If equipped
F36
30 Amp Pink
–
Rear defroster
F37
25 A Clean
–
Rear Blower Motor – If equipped
F38
30 Amp Pink
–
115V AC Inverter – If Equipped
F39
30 Amp Pink
–
Electric Liftgate – If equipped
F40
–
10 A red
Daytime running lights / headlamp leveling
F42
–
20 A yellow
Horn
F44
–
10 A red
Diagnostic port
F45
–
5 A Tan
Cyber ​​security gateway
F49
–
10 A red
Integrated central chimney / climate control
F50
–
20 A yellow
Air Suspension Control Module / Skid Differential – If Equipped
F51
–
15 A blue
KIN / RF Hub / Steering Column Lock – If equipped
F53
–
20 A yellow
Trailer Towing – Left Turn / Stop Lights – If Equipped
F56
–
15 A blue
Extra Content (Diesel Engine Only)
F57
–
20 A yellow
NOX sensor – if equipped
F58
–
15 A blue
Left HID headlights – if equipped
F59
–
10 A red
Cleaning pump (diesel engine only)
F60
–
15 A blue
Transmission control module
F61
–
10 A red
Transmission control module;

PM sensor (diesel engine only).

F62
–
10 A red
Air conditioning clutch
F63
–
20 A yellow
Ignition coils;

Ignition coil capacitors;

Short Stance Valve Actuator – If Equipped (Gas);

Urea heater (diesel).

F64
–
25 A Clean
Fuel injectors;

Drive system.

F66
–
10 A red
Sunroof;

Rain sensor;

Interior rearview mirror;

USB port;

DSCR;

DTV – If Equipped.

F67
–
15 A blue
CD / DVD / UCI port;

USB charging port.

F68
–
20 A yellow
Rear wiper motor
F69
–
15 A blue
Spotlight channel – if equipped
F70
–
20 A yellow
Fuel pump motor
F71
–
30 A green
Amplifier / ANCM – If Equipped
F72
–
10 A red
ECM
F73
–
15 A blue
HID RT Headlight – If equipped
F75
–
10 A red
Dual Battery Control – If Equipped
F76
–
10 A red
ABS system;

Electronic stability control.

F77
–
10 A red
Powertrain control module;

Front Axle Disengage Module – If Equipped.

F78
–
10 A red
Engine control module / electric power steering
F80
–
10 A red
Universal garage door opener;

Anti-theft module – depending on equipment;

Siren – If Equipped.

F81
–
20 A yellow
Right turn / stop lamps for trailer towing – if equipped
F82
–
10 A red
Steering column control module;

Cruise control;

DTV – If Equipped.

F83
–
10 A red
Fuel filler door
F84
–
15 A blue
Instrument cluster
F85
–
10 A red
Airbag module
F86
–
10 A red
Airbag module
F87
–
10 A red
Air suspension – if equipped
F88
–
15 A blue
Dashboard cluster / SGW / ITBM – if equipped
F90 / F91
–
20 A yellow
Power socket (rear seats / luggage compartment) to choose from
F92
–
10 A red
Rear Console Light – If equipped
F93
–
20 A yellow
Lighter
F94
–
10 A red
Gear / transmission module
F95
–
10 A red
Rear camera;

Blind Spot Sensor – If equipped.

F96
–
10 A red
Rear seat heating switch;

Flash charger – If equipped.

F97
–
20 A yellow
Heated rear seats and heated steering wheel – where fitted
F98
–
20 A yellow
Ventilated / Heated Front Seats – If Equipped
F99
–
10 A red
Air conditioning systems module;

Driver assistance;

HALF;

Parking assistant.

F100
–
10 A red
Active Damping – If Equipped
F101
–
15 A blue
Temperature sensor;

Humidity sensor.

F102
–
15 A blue
Reserve
F103
–
10 A red
Cab heater (diesel only) / rear heater, ventilation and air conditioning if equipped
F104
–
20 A yellow
Power Outlets (Instrument Panel / Center Console / Rear Trunk – If Equipped)
Relay
K1
Radiator fan (low speed)
K2
Radiator fan (high speed)
K3
Pneumatic suspension
K4
Selective Catalytic Reduction (SCR)
K5
Auto Shutdown (Powertrain Control Module)
K6
Ignition (Startup / Accessory No.1)
K7
Starter
K8
Ignition (Run / Start)
K9
Fuel heater (No. 1);
Air pump (No.2)
K10
EBL
K11
–
K12
Ignition (Run / Only No.2)
K13
Frame heater
K14
Ignition (Startup / Accessory No.2)
K15
Ignition (Start / No.1 Only)
K16
Blower motor
2021
Recess
Cartridge fuse
Microfuse
Description
* If equipped
F01
–
–
Reserve
F02
–
–
Reserve
F03
60 A yellow
–
Rad Fan *
F04
–
–
Reserve
F05
40 A green
–
Air suspension compensation *
F06
40 A green
–
ABS pump
F07
30 Amp Pink
–
Starter solenoid
F08
–
–
Reserve
F09
30 Amp Pink
–
HTR diesel (diesel only) *;VAC pump *.
F10
40 A green
–
CBC # 2;

Outdoor light.

F11
30 Amp Pink
–
Electric brake for towing a trailer *
F12
40 A green
–
CBC # 2;

Central locking power supply

F13
40 A green
–
HVAC BLWR MTR
F14
40 A green
–
CBC # 4;

Outdoor light

F15
40 A green
–
(LTR) Engine cooling *
F 16
–
–
Reserve
F17
30 Amp Pink
–
Headlight washer *
F18
–
–
Reserve
F19
20 A blue
–
Electromagnetic headrest *
F20
30 Amp Pink
–
Passenger door modification
F21
–
–
Reserve
F22
20 A blue
–
ECM *;

PCM *.

F23
30 Amp Pink
–
CBC # 1;

Interior light.

F24
30 Amp Pink
–
Modification of the driver's door
F25
30 Amp Pink
–
Wipers
F26
30 Amp Pink
–
ESP / ECU valves
F27
–
–
Reserve
F28
20 A blue
–
TRLR Towing B / U *
F29
20 A blue
–
TRLR tow park *
F30
30 Amp Pink
–
TRLR Towing power *
F31
–
–
Reserve
F32
30 Amp Pink
–
DTCM
F33
–
–
Reserve
F34
30 Amp Pink
–
ELSD *
F35
30 Amp Pink
–
Sunroof *
F36
30 Amp Pink
–
EBL
F37
25 A Clean
–
HVAC RR Blower MTR *
F38
30 Amp Pink
–
115V AC inverter *
F39
30 Amp Pink
–
PLG
F40
–
10 A red
DRL;

LVL reflector *.

F41
–
–
Reserve
F42
–
20 A yellow
Horn
F43
–
–
Reserve
F44
–
10 A red
Diagnostic port
F45
–
5 A Tan
Cyber ​​security gateway
F46
–
–
Reserve
F47
–
–
Reserve
F48
–
–
Reserve
F49
–
10 A red
ICS / HVAC
F50
–
20 A yellow
MOD * air suspension;ELSD *.
F51
–
15 A blue
KIN / RF Hub / Steering Column Lock – If equipped
F53
–
20 A yellow
Trailer Towing – Left Turn / Stop Lights – If Equipped
F54
–
–
Reserve
F55
–
–
Reserve
F56
–
15 A blue
PCM *
F57
–
20 A yellow
NOX SNSRS *;

PM SNSR *;

Fuel heater *

F58
–
15 A blue
HID LT headlamps *
F59
–
10 A red
SCR pump relay *
F60
–
15 A blue
TCM
F61
–
10 A red
PM sensor
F62
–
10 A red
Air conditioning clutch
F63
–
20 A yellow
Ignition coils *;

DSL SNSRS *

F64
–
25 A Clean
Fuel injectors / PCM / ECM
F65
–
–
Reserve
F66
–
10 A red
Sunroof * / LRSM * / RVM / DSCR;USB / DTV port *.
F67
–
15 A blue
CD / DVD / UCI Port / USB Port
F68
–
20 A yellow
Rear wiper
F69
–
15 A blue
Spot LT Channel *
F70
–
20 A yellow
Fuel pump
F71
–
30 A green
Amplifier * / ANCM *
F72
–
10 A red
ECM * / PCM *
F73
–
15 A blue
HID RT headlamps *
F74
–
–
Reserve
F75
–
10 A red
CTRL double whip *
F76
–
10 A red
ESP
F77
–
10 A red
DTCM / ELSD *
F78
–
10 A red
ECM / PCM / EPS
F79
–
–
Reserve
F80
–
10 A red
UGDO / ITM / SIREN
F81
–
20 A yellow
TRLR Hol RT / Stop *
F82
–
10 A red
SCCM / cruise control / DTV *
F83
–
10 A red
Fuel filler door
F84
–
15 A blue
group
F85
–
10 A red
ORC (airbag)
F86
–
10 A red
ORC (airbag)
F87
–
10 A red
Air suspension modification *
F88
–
15 A blue
Cluster / SGW / ITBM *
F89
–
–
Reserve
F90
–
–
Reserve
F91
–
20 A yellow
Power socket (rear seats / luggage compartment) to choose from
F92
–
10 A red
Console lamp RR * RR PWR
F93
–
20 A yellow
Lighter
F94
–
10 A red
SBW / Transfer SW
F95
–
10 A red
Rear Camera / Snsr Blind Spot *
F96
–
10 A red
Right seat heater SW *
F97
–
20 A yellow
RIGHT HTD STS / HTD STR WHEEL *
F98
–
20 A yellow
HTD STS front / STS vent *
F99
–
10 A red
HVAC / DASM / HLFM / PRKTRONX
F100
–
10 A red
Active suppression *
F101
–
15 A blue
ECCM / SMRT HI-Beams *
F102
–
15 A blue
Reserve
F103
–
10 A red
Cab heater (diesel only) / rear heater, ventilation and air conditioning if equipped
F104
–
20 A yellow
Power Outlets (Instrument Panel / Center Console / Rear Trunk – If Equipped)
Relay
K1
Radiator fan (low speed)
K2
Radiator fan (high speed)
K3
Pneumatic suspension
K4
Selective Catalytic Reduction (SCR)
K5
Auto Shutdown (Powertrain Control Module)
K6
Ignition (Startup / Accessory No.1)
K7
Starter
K8
Ignition (Run / Start)
K9
Fuel heater (No. 1);
Air pump (No.2)
K10
EBL
K11
–
K12
Ignition (Run / Only No.2)
K13
Frame heater
K14
Ignition (Startup / Accessory No.2)
K15
Ignition (Run / No.1 Only)
K16
Blower motor