Jeep Wrangler (2022) – fuse and relay box
Diagrams of fuse boxes and relays – Jeep Wrangler
Applies to vehicles manufactured in the years:
2022.
Power distribution center (PDC)
The Power Distribution Center is located in the engine compartment near the battery. This center contains cartridge fuses, mini fuses, and relays. The PDC top cover is labeled with each serviceable fuse/relay location, function, and size.
CAUTION:
When installing the power distribution center cover, it is important to ensure the cover is properly positioned and fully latched. Failure to do so may allow water to get into the power distribution center and possibly result in an electrical system failure.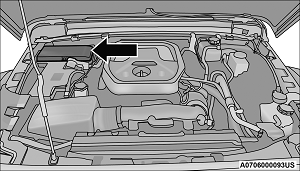 Power Distribution Center Location – Gasoline Engine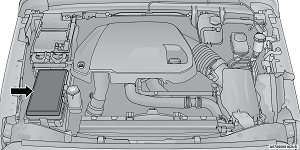 Power Distribution Center Location – Diesel Engine
Power Distribution Center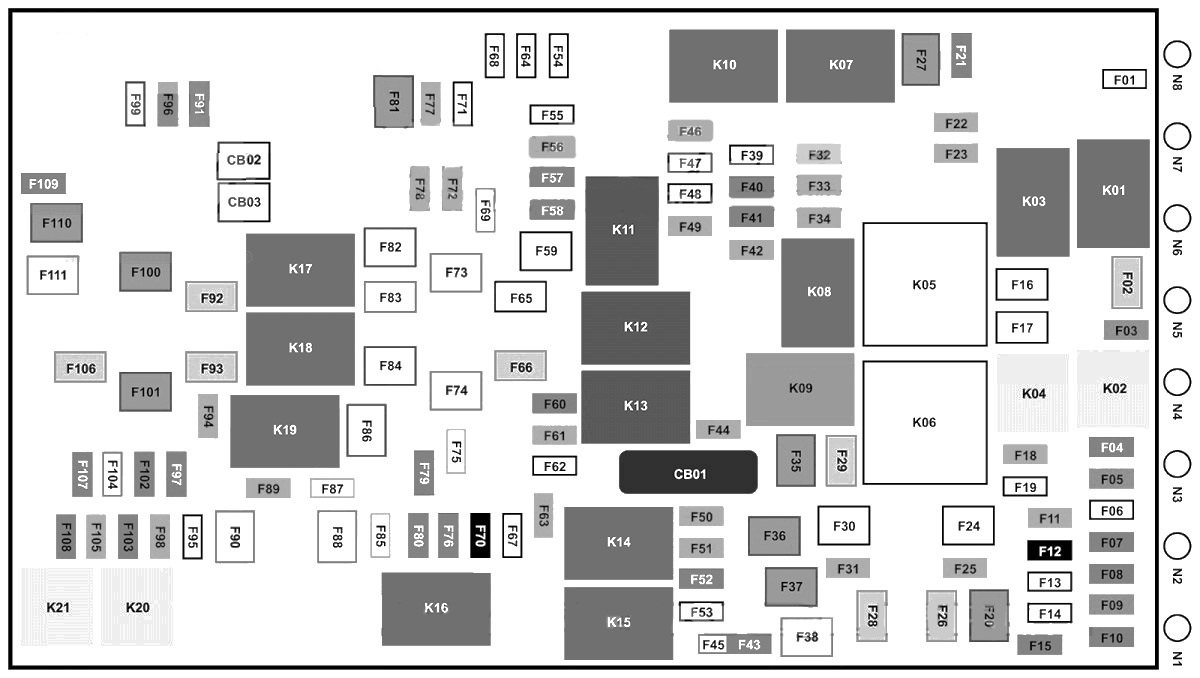 Cavity
Cartridge Fuse
Micro Fuse
Description
* If Equipped
F01
–
–
Spare
F02
40 Amp Green
–
Starter
F03
–
5 Amp Tan
Intelligent Battery Sensor (IBS)
F04
–
20 Amp Yellow
Fuel Pump MTR/FPCM
25 Amp Clear
Fuel Pmp (6.4) *
F05
–
5 Amp Tan
Security Gateway
F06
–
–
Spare
F07
–
15 Amp Blue
Low Temp Radiator Cooling Pump (LTR)*
F08
–
15 Amp Blue
Trans Control Module TCM-8HP CYGNUS
F09
–
–
Spare
F10
–
15 Amp Blue
Key Ignition Node (KIN);

Radio Frequency Hub (RF HUB);

Electric Steering Column Lock (ESCL).

F11
–
10 Amp Red
UCI Port (USB & AUX)
F12
–
25 Amp Clear
HIFI Amplifier
F13
–
–
Spare
F14
–
–
Spare
F15
–
15 Amp Blue
Instrument Panel Cluster (IPC);

Switch Bank-Heavy Duty Electrical Pkg (SWITCH BANK-HD ELEC)

F16
–
–
Spare
F17
–
–
Spare
F18
–
10 Amp Red
Air Conditioning Clutch (AC CLUTCH)
F19
–
–
Spare
F20
30 Amp Pink
–
Central Body Controller (CBC) 1-INTERIOR LIGHTS
F21
–
20 Amp Yellow
REAR WIPER
F22
–
10 Amp Red
Engine Control Module (ECM);

Powertrain Control Module (PCM);

Motor Generator Unit (MGU) WAKE UP;

Power Pack Unit (PPU) WAKE UP.

F23
–
10 Amp Red
Powertrain Control Module (PCM);

Engine Control Module (ECM).

F24
–
–
Spare
F25
–
10 Amp Red
Module Shift By Wire (MOD_SBW)
F26
40 Amp Green
–
Central Body Controller (CBC) 2-EXTERIOR LIGHTS #1
F27
30 Amp Pink
–
Front Wipers
F28
40 Amp Green
–
Central Body Controller (CBC) 3-POWER LOCKS
F29
40 Amp Green
–
Central Body Controller (CBC) 4-EXTERIOR LIGHTS #2
F30
–
–
Spare
F31
–
10 Amp Red
DIAGNOSTIC PORT
F32
–
10 Amp Red
Heating Ventilation Air Conditioning Mod (HVAC CTRL MOD);

Steering Column Lock (SCL);

Occupant Classification Module (OCM);

Driver Presence Detection Module (DPDM).

F33
–
10 Amp Red
ParkTronics System (PTS);

Infrared Camera Module (IRCM);

Airbag Disable Lamps (AIRBAG DISABLE LMPS).

F34
–
10 Amp Red
Electronic Stability Control (ESC);

Electric Hydraulic Power Steering (EHPS);

Smart Bar Control Module (SBCM) WAKE UP.

F35
30 Amp Pink
–
BRAKE VAC PMP*
F36
30 Amp Pink
–
TRAILER TOW ELEC BRK MOD*
F37
30 Amp Pink
–
TRAILER TOW CONN 7W*
F38
20 Amp Blue
–
Engine Control Module (ECM)
F39
–
15 Amp Blue
MGU Coolant Pump (3.6)*
F40
–
15 Amp Blue
DriveTrain Control Module (DTCM);

Axle Lock (AXLE LOC) FT_RR.

F41
–
15 Amp Blue
Instrument Cluster (IC);

Security GateWay (SGW) WAKE UP.

F42
–
10 Amp Red
Power Control Relay Control Feed (Electric Stop/Start)*
F43
–
20 Amp Yellow
PWR OUTLET (CARGO) BATT
F44
–
10 Amp Red
InfraRed Camera (IRCAM) HEATERS
F45
–
20 Amp Yellow
PWR OUTLET (CARGO) IGN
F46
–
10 Amp Red
AUTO HDLP LVL MOD/LVL MTR/HDLP SW
F47
–
–
Spare
F48
–
–
Spare
F49
–
10 Amp Red
Occupant Restraint Controller (ORC)
F50
–
10 Amp Red
HD ACC*
F51
–
10 Amp Red
Digital TV (DSRC);

USB;

InSide RearView Mirror (ISRVM);

Compass Module (CSGM).

F52
–
20 Amp Yellow
CIGAR LTR
F53
–
–
Spare
F54
–
–
Spare
F55
–
10 Amp Red
Central Vision Processing Module (CVPM)
F56
–
10 Amp Red
IN-CAR TEMP SENSOR/PTC HTR COIL FEED
F57
–
20 Amp Yellow
Driver Heated Seat
F58
–
20 Amp Yellow
Pass Heated Seat
F59
–
–
Spare
F60
–
15 Amp Blue
Comfort Steering Wheel Module (CSWM) (HTD STR WHEEL)
F61
–
10 Amp Red
Left Blind Spot Sensor (LBSS);

Right Blind Spot Sensor (RBSS).

F62
–
–
Spare
10 Amp Red
Exhaust Sol *
F63
–
10 Amp Red
Occupant Restraint Controller (ORC)
F64
–
–
Spare
F65
–
–
Spare
F66
40 Amp Green
–
HVAC BLOWER MTR Front
F67
–
–
Spare
F68
–
–
Spare
F69
–
5 Amp Tan
Motor Generator Unit MGU Belt Starter Generator (BSG)*
F70
–
25 Amp Clear
INJ/IGN COIL (GAS)/GLO PLUG MOD (DSL)
F71
–
–
Spare
F72
–
10 Amp Red
HD ELEC ACC PKG*
F73
20 Amp Blue
–
PWR TOP LT
F74
20 Amp Blue
–
PWR TOP RT
F75
–
10 Amp Red
Power Pack Unit – Battery Pack Control Module & Auxiliary Power Module (PPU-BPCM & APM) Belt Starter Generator (BSG)*
F76
–
20 Amp Yellow
ECM (GAS)/PCM (DSL)
F77
–
10 Amp Red
HEATED MIRRORS
F78
–
10 Amp Red
INTRUSION MOD/SIREN/INTRUSION SENSORS
F79
–
20 Amp Yellow
SMART BAR CTRL MOD
F80
–
15 Amp Blue
Powertrain Control Module (PCM) / SOL 1,2 BLOCK SHIFT
10 Amp Red
Vapor Blocking Valve (BSG)
F81
30 Amp Pink
–
Rear Defrost (Electric Backlight *
F82
30 Amp Pink
–
FUEL HTR*
F83
60 Amp Yellow
–
GLOW PLUG*
F84
30 Amp Pink
–
UREA HTR CTRL UNIT*
F85
–
10 Amp Red
PM SENSOR*
F86
30 Amp Pink
–
BRAKE VAC PMP 2*
F87
–
10 Amp Red
SUPPLY/PURGING PMP*
F88
20 Amp Blue
–
NOx SENSOR #1/ #2*
F89
–
10 Amp Red
Steering Column Control Module (SCCM);

Cruise Control (CRUISE CTL);

Digital TV (DTV);

EVIC;

Airbag Disable Lamp.

F90
20 Amp Blue
–
TRAILER TOW PARK LMP*
F91
–
20 Amp Yellow
HORN
F92
40 Amp Green
–
HD ACCY #2*
F93
40 Amp Green
–
HD ACCY #1*
F94
–
–
Spare
F95
–
–
Spare
F96
–
10 Amp Red
PWR MIRROR SW
F97
–
20 Amp Yellow
RADIO/TBM
F98
–
10 Amp Red
SW BANK-HD ELEC/OFF ROAD
F99
–
–
Spare
F100
30 Amp Pink
–
ESC-ECU & VALVES
F101
30 Amp Pink
–
DriveTrain Control Module (DTCM)
F102
–
15 Amp Blue
DUAL USB PORT
F103
–
15 Amp Blue
HD ACCY #3*
F104
–
15 Amp Blue
PPU COOL PUMP*
F105
–
10 Amp Red
Integrated Center Stack (ICS);

Heat Ventilation Air Conditioning (HVAC).

F106
50 Amp Red
–
ESC -PUMP MTR
F107
–
20 Amp Yellow
TRAILER TOW STOP/TURN LT*
F108
–
15 Amp Blue
HD ACCY #4*
F109
–
20 Amp Yellow
TRAILER TOW STOP/TURN RT*
F110
30 Amp Pink
–
POWER INVERTER
F111
20 Amp Blue
–
TRAILER TOW BACKUP*