Mercedes-Benz CLA C117 (2014-2019) – fuse box
Mercedes-Benz CLA C117 (2014-2019) – fuse box diagram
Year of production: 2014, 2015, 2016, 2017, 2018, 2019.
The cigarette lighter fuses (power socket) on the Mercedes-Benz CLA-Class are fuses 70 (rear center console socket), 71 (luggage compartment socket) and 73 (front cigarette lighter socket, internal power socket) in the passenger compartment fuse box.
Passenger compartment fuse box
Location of the fuse box
The fuse box is located under the floor near the passenger seat.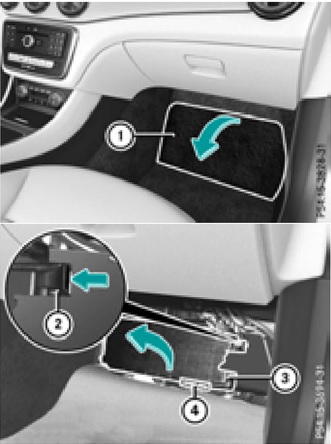 Remove the mats.
Fold out the perforated floor covering (1) in the direction of the arrow.
Press down on the retaining clip (2) to release the cover (3).
Tilt the cover (3) in the direction of the arrow towards the catch.
Pull off the cover (3) to the front.
The fuse location table (4) is located in the lower right part of the cover (3).
The scheme of the fuse box

Assignment of fuses and relays in the passenger compartment
Number
Description
Amperes [A]
21
Valid for diesel engine:

PTC heater amplifier

150
22
Additional battery relay for the ECO start / stop function
200
23
Left front door control unit
30
24
Right front door control unit
30
25
SAM control unit
30
26
Additional ECO start / stop battery connector sleeve
10
27
Engine compartment fuse and relay module
30
28
Sound generator control unit in the interior of the vehicle
5
29
until 02/11/2014:

Trailer socket;

as of November 3, 2014:

Trailer recognition control unit.

15
30
Trailer recognition control unit
5
31
4MATIC:

All-wheel drive controller.

5
32
Steering wheel lamp module control unit
5
33
Audio / COMAND control panel
5
34
ACC control and operating unit
7.5
35
Rear window heating
40
36
Driver seat control unit;

Driver seat lumbar support adjustment control unit.

7.5
37
Audio / COMAND display
7.5
38
Supplemental restraint system control unit
7.5
39
Suspended control unit control unit
10
40
Valid for engine 651 (EU6 emission standard):

Powertrain control unit

15
41
Panoramic sliding sunroof control module
30
42
Radio(Audio 5 USB, Audio 20 CD, Audio 20 CD with CD changer);

COMAND control unit.

5
42
Radio (Radio 20, Audio 20 USB)
25
43
Parking system control unit
5
44
Left front reversible emergency tension retractor
40
45
Right front reversible emergency tensioner
40
46
Front passenger seat control unit;

Front passenger seat lumbar support adjustment control unit.

7.5
47
Navigation module
7.5
47
Adaptive damping system control unit
25
48
Not used
–
49
Drive Kit control unit for iPhone®
7.5
49
COMAND fan motor
5
50
Camera cover control unit
5
51
Not used
–
52
Not used
–
53
Not used
–
54
Not used
–
55
Telematics services communication module;

KEYLESS-GO control unit.

5
56
Steering wheel lamp module control unit
10
57
Lane Keeping Assistant:

multifunctional control unit for a special purpose vehicle.

30
57
Special vehicle:

multifunctional control unit for a special purpose vehicle.

7.5
58
Emergency vehicle fuse box
30
59
Front passenger seat control, uni
30
60
Driver seat control unit
30
61
Sound system amplifier control unit
40
62
Valid for gearbox 711:

Electric steering lock.

20
63
Fuel system control unit
25
64
Electronic toll collection control unit;

Dedicated control unit for short-range communications.

1
65
Lamp in the glove box
5
66
Emergency vehicle fuse box
15
67
Not used
–
68
Not used
–
69
Not used
–
70
Rear center console socket
25
71
Trunk socket
25
72
Front cigarette lighter with ashtray lighting;

Vehicle interior power socket.

25
73
Electric parking brake control unit
30
74
Electric parking brake control unit
30
75
Trailer recognition control unit
20
76
Trailer recognition control unit
25
77
Trailer recognition control unit
25
78
Trunk lid / tailgate control unit;

Emergency vehicle fuse box.

40
79
SAM control unit
40
80
SAM control unit
40
81
Blower regulator
40
82
Suspended control unit control unit
10
83
Electronic ignition lock control unit
7.5
86
FM, AM and CL [ZV] antenna amplifier

from 01/06/2016:

Antenna amplifier / compensator for a mobile phone system

5
87
Diagnostic connector
10
88
Instrument cluster
10
89
Exterior lights switch
5
90
Left rear bumper smart radar sensor;

Smart radar sensor for the right rear bumper.

5
91
Pedal operation monitor switch;

Footwell lighting switch.

5
92
Fuel system control unit
5
93
Electric parking brake control unit
5
94
Supplemental restraint system control unit
7.5
95
Front passenger seat occupancy recognition i

ACSR weight detection system (WSS) control unit

7.5
96
Tailgate Wiper Motor
15
97
Mobile phone electrical connector
5
98
SAM control unit
5
99
Tire pressure monitor control unit
5
100
Valid for engine 133:

DIRECT SELECT INTERFACE

5
101
4MATIC:

All-wheel drive controller

10
102
Stationary heater remote control receiver

Valid for AMG vehicles from 01/09/2015:

Transmission mode control unit

from 01/06/2016:

Antenna switch for telephone and heating

5
103
Emergency call system control unit;

Telematics services communication module;

HERMES control unit.

5
104
Multimedia interface control unit;

Multimedia connection unit.

5
105
Digital Audio Broadcasting control unit;

Satellite digital audio radio (SDAR) control unit.

5
105
Tuner module
7.5
106
Multifunctional camera
5
107
Digital TV tuner
5
108
until May 31, 2016:

Reversing camera.

5
108
from 01/06/2016:

Reversing camera.

7.5
109
Electrical connector for the charging socket
20
110
COMAND radio control;

Engine sound driver.

30
Relay
A
Circuit 15 of the relay
B
Rear window wiper relay
C.
Relay circuit 15R2
D
Heated rear window relay
E.
15R1 circuit of the relay
F.
Relay circuit 30g
G.
Not used
Fuse box in the engine compartment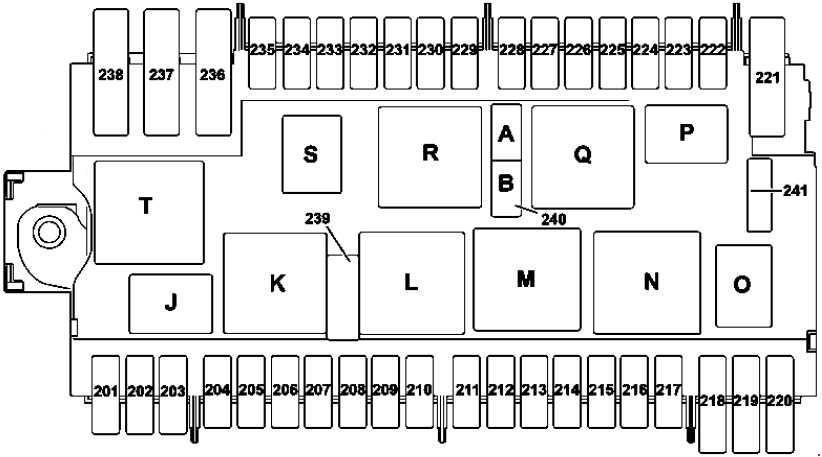 Number
Description
Amperes [A]
201
Alarm siren
5
202
Stationary heater control unit
20
203
LED headlight:

Right front lamp unit

15
204
Electronic stability program control unit
25
205
Left horn fanfare;

Right horn fanfare.

15
206

Valid for engine 651:

CDI control unit;

Valid for engine 607:

Powertrain control unit.

5
207
Valid

for diesel engine:

Circuit relay 87M

5
208

Valid for engine 133, 607:

Circuit relay 87

7.5
209
LED headlight:

Left front lamp unit

15
210
Heated windshield relay
5
211
Not used
–
212

Valid for engines 133, 270:

Connector sleeve, circumference 87M3;

Valid for engine 651:

Heating element of the deaeration hose;

Coolant thermostat heating element;

Exhaust gas recirculation cooler bypass diverter valve;

Valid for engine 607 (EU5 emission standard):

Oxygen sensor in front of the catalyst;

Boost pressure positioner;

Valid for engine 607 (EU6 emission standard):

Oxygen sensor in front of the catalyst;

Valid for engine 607:

CDI control unit.

15
213

Valid for engines 133, 270, 651:

Connector sleeve, circuit 87 M2e;

Valid for engine 607 (EU5 emission standard):

Camshaft;

Hall sensor;

CDI control unit;

Quantity control valve;

Valid for engine 607 (EU6 emission standard):

Oxygen sensor after catalytic converter;

CDI control unit;

15
214

Valid for engines 133, 270, 651:

Connector sleeve, circuit 87 M4e.

10
215

Valid for gasoline engine:

Cylinder 1 ignition coil;

Cylinder 2 ignition coil;

Cylinder 3 ignition coil;

Cylinder 4 ignition coil;

Cylinder 4 ignition coil;

Valid for engine 651:

Quantity control valve;

Valid for engine 607:

CDI control unit;

Boost pressure positioner ;

Quantity control valve;

20
216

Valid for gasoline engine:

ME-SFI control unit;

Valid for engine 607:

Powertrain control unit.

5
217

Valid with the 724 gearbox:

Dual clutch gearbox fully integrated gearbox control unit,

25
218
Electronic stability program control unit
5
219
Not used
–
220
Circulation pump for coolant to the gearbox
10
221
Not used
–
222
Not used
–
223
Not used
–
224
Electric controller DISTRONIC;

COLLISION PREVENTION ASSIST driver.

7.5
225
Not used
–
226
Not used
–
227
Not used
–
228
Not used
–
229
Left front lamp
5
230
Electronic stability program control unit
5
231
Right front lamp
5
232
Headlamp control unit
15
233
Not used
–
234

Valid for engine 607:

Powertrain control unit

5
235

Valid for engine 607:

Fan motor;

Radiator shutter actuator.

7.5

Valid for engine 133:

Charge air cooler circulation pump;

Charge air cooler circulation pump.

7.5
236
SAM control unit
40
237
Electronic stability program control unit
40
238
Heated windscreen
50
239
Wiper speed 1/2 relay
30
240A
Starter circuit relay 50
25
240B
Circuit 15 Relay (Not Latched)
25
241
Not used
7.5
Relay
J.
Fanfare horn relay
K.
Wiper speed 1/2 relay
L
Windshield wiper on / off relay
M.
Starter circuit relay 50
N
Circuit relay 87M
O

ECO start / stop:

Relay for gearbox coolant circulation pump

P.
Backup relay (F58kP)
Q
Circuit 15 Relay (Not Latched)
R
Circuit 15 relay
S
Circuit 87 relay
T.
Heated windshield relay
Front electric fuse box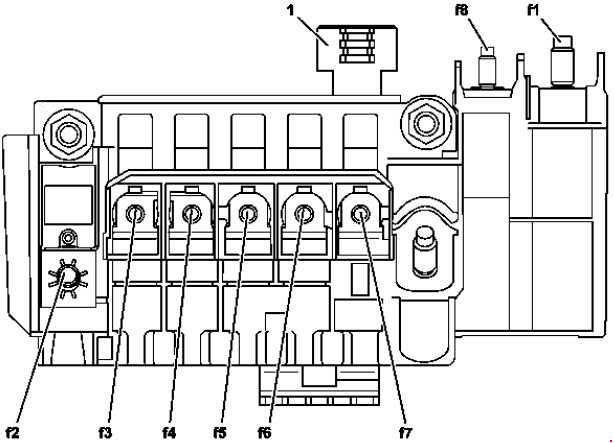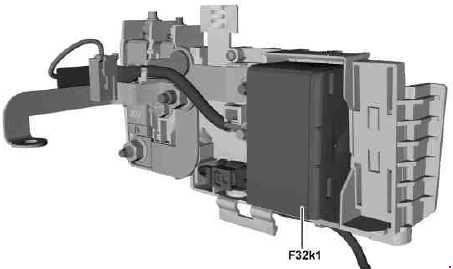 Number
Description
Amperes [A]
1
Alternator
300
2
Vehicle interior fuse box
200

Valid for diesel engine:

Vehicle interior fuse box

250
3
Electric power steering controller
100
4
SAM control unit
40
5
Fan motor
80
6

Valid for engine 607:

Fuel heating control unit

70
7

Valid for engine 607 (EU5 emission standard):

Control unit supporting DPF regenerative heater

125
8

Valid for engines 607, 651:

Glow output stage

100
Relay
F32k1
Decoupling relay