Mitsubishi Grandis (2003-2011) – fuse and relay box
Diagrams of fuse and relay boxes – Mitsubishi Grandis
Applies to vehicles manufactured in the years:
2003, 2004, 2005, 2006, 2007, 2008, 2009, 2010, 2011.
The cigarette lighter (power sockets) on the Mitsubishi Grandis is provided by fuse No. 9 in the instrument panel fuse box and fuse No. 7 in the engine compartment fuse box.
Fuse box in passenger compartment
Location of the fuse box
The fuse box is located in the instrument panel (driver's side) behind a cover (or glove box).
Left-hand drive vehicles
Right-hand drive vehicles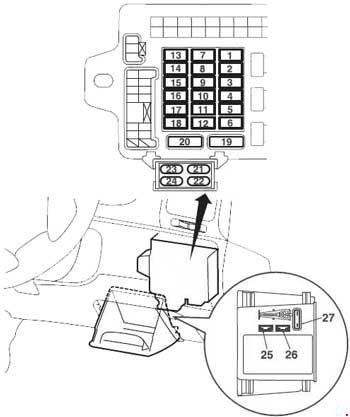 | Number | Description | Amperes [A] |
| --- | --- | --- |
| 1 | The ignition coil | 10 |
| 2 | Meter | 7.5 |
| 3 | Reversing lamp | 7.5 |
| 4 | Cruise control | 7.5 |
| 5 | Relay | 7.5 |
| 6 | Heated exterior mirror | 7.5 |
| 7 | Wipers | 30 |
| 8 | Engine control | 7.5 |
| 9 | Accessory socket | 15 |
| 10 | – | – |
| 11 | Outside rearview mirrors | 7.5 |
| 12 | Engine control | 7.5 |
| 13 | – | – |
| 14 | Rear window wiper | 15 |
| 15 | Central door locks | 15 |
| 16 | Rear fog light | 10 |
| 17 | – | – |
| 18 | – | – |
| 19 | Heater | 30 |
| 20 | Rear window defogger | 30 |
| 21 | Sunroof | 20 |
| 22 | Heated seat | 20 |
| 23 | Rear air conditioning | 20 |
| 24 | Starter | 10 |
| 25 | Spare fuse | 30 |
| 26 | Spare fuse | 20 |
| 27 | Spare fuse | 30 |
Fuse box in the engine compartment
Location of the fuse box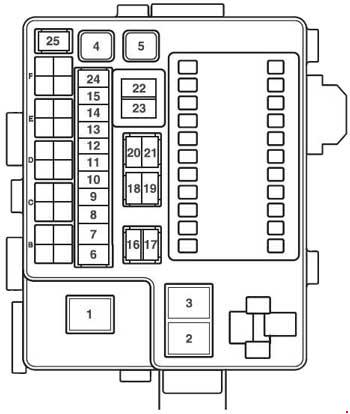 | Number | Description | Amperes [A] |
| --- | --- | --- |
| 1 | Gas: – | – |
| 1 | Diesel: battery | 60 |
| 2 | Gasoline: Radiator fan motor | 50 |
| 2 | Diesel: Radiator fan motor | 40 |
| 3 | Wheel lock prevention system | 30 |
| 4 | Wheel lock prevention system | 40 |
| 5 | Electric window system | 40 |
| 6 | Front fog lamps | 15 |
| 7 | Gasoline: AC powered, accessory socket | 15 |
| 7 | Diesel: Accessory socket | 15 |
| 8 | Horn | 10 |
| 9 | Gasoline: engine management | 20 |
| 9 | Diesel: engine management | 10 |
| 10 | Air conditioning | 10 |
| 11 | Stop lamps | 15 |
| 12 | Gasoline: Horn, wiper, defroster | 15 |
| 12 | Diesel: – | – |
| 13 | Gasoline: Alternator | 7.5 |
| 13 | Diesel fuel: Starter | 25 |
| 14 | Emergency lights | 10 |
| 15 | Gasoline: Automatic gearbox | 20 |
| 15 | Diesel: – | – |
| 16 | High beam (right) | 10 |
| 17 | High beam headlamp (left) | 10 |
| 18 | Low beam (right) | 10/20 |
| 19 | Dipped beam headlamp (left) | 10/20 |
| 20 | Rear lamp (right) | 7.5 |
| 21 | Rear lamp (left) | 7.5 |
| 22 | Reserve | 15 |
| 23 | Radio | 10 |
| 24 | Fuel pump | 15 |
| 25 | Gasoline: Electric tailgate | – |
| 25 | Diesel: – | – |
Auxiliary fuse box (Diesel)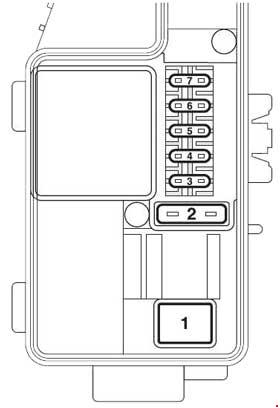 | Number | Description | Amperes [A] |
| --- | --- | --- |
| 1 | Condenser fan | 30 |
| 2 | Engine control | 30 |
| 3 | Control hatch | 10 |
| 4 | Lighting relay | 10 |
| 5 | Valve block | 10 |
| 6 | Immobilizer | 7.5 |
| 7 | Heating pipe | 10 |